Lead Management Software System: A Lead Tracker
The growing focus on managing customer relationships is leading to the automation and increasing penetration of lead management software all around the globe. One of the most crucial aspects of impressive marketing campaigns, sales, and rerun business is the change in the company's approach toward managing large-scale client management and customer relationships.
Enquiries received by a business convert into Leads after first integration, these are the initials inputs in any sales process. To convert a lead into a deal, you need to secure a proper Lead management system for your business unit. SalesBabu CRM Lead Management Software is specifically designed for all vendors, which makes the process easy & convenient to store new leads, capture the existing ones & track the future sales prospects. Since, it is a very crucial task, because a nurtured lead can turn out to be great revenue for any type of set-up.
Leads Database
Lead Management Software helps you to capture all the generated leads in one cloud platform including the customers' interest pertaining to particular products or services. It helps you to have all the records of generated leads with their nature & interest for future references as well.
Lead Database in SalesBabu CRM is an online cloud-based repository where all the leads generated are stored. This helps us to get organised and convert those leads into sales. It is flexible and a powerful solution for running a business.
Leads Source
Lead Management Software helps you to track down your lead sources which help your marketing team to manage their campaigns for lead generation & second to your sales team, who will come to know, how customers inquired about their product or service.
SalesBabu CRM provides you with lead tracking software. It saves time by following up with the leads inside. Using our software, work becomes very easy for salespeople.
Lead Assignment
Lead management software helps you to assign leads to different individuals on one platform, simultaneously. You can assign as many leads to your sales team easily, without any confusion or hurdles, so that they can do all justice to the leads.
We have powerful lead assignment tools integrated into Lead Management Software hosted by SalesBabu CRM software. If you are looking for a cost-effective way to consolidate, assign, and convert leads contact us for a free CRM demo.
Leads Management
Lead Management Software, helps you to filter all your leads according to their priorities and interest. With the scope for future follow-ups & sales pipeline, it helps your sales team to evaluate their lead database according to their degree of interest, which helps in future closures.
Our software is widely used. It helps in effective and efficient lead management initiatives to generate new business revenue, increase visibility and improve the general attitudes of potential clients.
Leads Follow Ups
Lead Management software helps you to make a funnel of overall leads and allows your sales force to make necessary follow-ups of day to day activities on one single platform, which enhances the probability of more closures and more revenue generation for the business
Our CRM software provides tools, and tips and suggests a system for following up with prospects to get clients and make sales in your home business. It is a guide to help you strategize your lead follow-ups.
Leads Qualification
Lead Management software helps you in the qualification of the interested leads. It tells the prospective opportunities for sales, which helps your sales department to draw effective focus on the leads and moreover helps to decide to take all necessary majors & efforts to close fruitful deals.
For a company, businesses categorise a qualified lead as a customer who has been contacted and so is further down the sales process.
Lead management software system features are widely used by sales teams to track, manage, and record source leads. When a company get a fresh lead, a lead management system will guide in routing the lead to a new salesperson. This software may even provide predictive analytics that is helpful in grading the strength of the lead. By implementing online lead management software sales teams in a company are able to increase their desired output in an efficient way.
Our CRM software is developed with a very effective online lead management software feature that helps to boost business growth. The marketing team also utilize this software to track the output and effectiveness of their campaigns. Once a lead is picked up through a marketing campaign, the team can track and monitor the life of the lead. By this process, they will be able to identify which campaigns are successful both in terms of captured leads and percentage of leads converted making it easier to decide where to invest marketing bandwidth.
Our Sales Lead Management system is playing a significant rise for SMBs and Large Enterprise and the trend is expected to continue in the near future. A big thanks to the significant proliferation of the Internet. The report offers a complete study of the market by evaluating the development trends, restraints, driving forces and opportunities in detail.
It also provides an analytical assessment of the key challenges, the market is likely to face in the near future. This helps market participants in understanding the problems that can occur while operating in this market in the long run. Now you can track and manage leads with a highly efficient sales lead management app that SalesBabu CRM has integrated with its software.
SalesBabu CRM is a cloud-based software and has efficient and effective lead management system features. We provide the best sales lead management software for a company to grow their business. The adoption of our cloud-based lead management software is increasing due to the rising demand for cloud-based solutions.
This is identified as one of the key trends that will stimulate growth in the lead management software market during the estimated period. Our online CRM software and its lead management app simplify the access. The deployment of lead management software in the cloud will continue to gain traction because they offer scalability.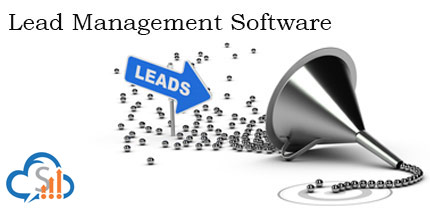 Organise & manage your leads, tasks & followups with our cloud-based Lead Management Software. Show the impact of your marketing activities on your sales pipeline and invest your time on the hottest leads through online Lead Tracking Software. By tracking your leads with lead tracking software, your business will get the most return from its limited resources, convert more leads to opportunities, and win more deals. Are You Identifying Your Potential Lead Source?
Prioritize Leads
During peak business hours the sales team often deals with a large number of leads. However, not every lead offers potential business opportunities and may not require an immediate course of action. But you need to prioritize the profitable lead. The lead management module in the CRM application makes you capable to classify valuable leads and help process them faster. Track crucial leads that require immediate attention and share them across your sales team for better results.
Lead Distribution
Sometimes managing a lead can be quite exhausting without a smooth team collaboration. Across your team members ensure equal distribution of leads by pre-defining workflow rules and route leads efficiently to optimize follow-ups without any misses. You can smoothly segment your leads based on custom criteria such as demographics, location, customer preferences, etc., and distribute leads accordingly. Assign the segment leads to the sales reps who have experience in handling customers from that particular location.
Track and Discover Lead Status
Have you ever wondered why you win or lose a deal? Our online lead management software can now support you to monitor lead status and keep a record of the reasons for the failure or success of each deal in your sales pipeline. The cloud-based lead management software tracks your sales pipeline for new, pending, and untouched deals to enable easy monitoring and supervising of various business opportunities.
Effective Lead Analytics
Gain access to powerful and effective real-time lead analytics, reports, and dashboards, which help your team plan efficient business strategies and make informed decisions faster. Our online lead management application eases this process by displaying easy-to-understand graphical representations of custom data reports. Data analytics are available in different forms of representations like pies, bars, graphs, charts, etc. You can also generate daily, weekly, monthly, quarterly, or annual performance reports of your sales team and appreciate the best-performing employee.
Convert more leads into Opportunities
Organise & manage your leads, tasks & followups with SalesBabu Sales Lead Management Software. Show the impact of your marketing activities on your sales pipeline and invest your time on the hottest leads through SalesBabu Lead Tracking Software. By tracking and scoring your leads with lead tracking software from SalesBabu, your business will get the most return from its limited resources, convert more leads to opportunities, and win more deals. Are You Identifying Your Potential Lead Source?
Delegate leads to the right people for fast processing
Our lead tracking software helps you track all the information about your CRM leads. The rich activity screen shoot on the dashboard lets you see and access the most up-to-date contact information while understanding best practices and relevant documents using Sales Reports. You can even see where a marketing campaign lead came from, read relevant insights, you can act on, and write and track emails from the Sales Lead Management Software. It's everything you need to convert more leads and even faster.
Graphical Report – Generate smart 360* lead performance reports with MIS
With SalesBabu MIS, start pulling custom leads performance reports that give you a 360 view of your leads. You can compare lead performance v/s assigned resource, products, lead or prospect type and custom time periods. This helps you to evaluate and visualize your performance in managing opportunities.
Enquiry Log/History – Glean valuable insights about your prospects
Analyze, review, and learn valuable customer insights by viewing the history of customer interactions. The lead management software stores the details of emails exchanged and quotations generated in an all-in-one-cloud-platform. Also, check for any attached remarks or team notes. This process helps you optimize and manage your lead management workflow.
How SalesBabu Lead Management System can help you get more sales conversions?
For every organization, it's a big challenge to get the highest rate of conversions from the acquired leads. A lead management software or lead management CRM helps organizations to successfully engage with more prospects and acquire more sales conversions.
First of all, the lead management system automates streamlining all the acquired leads into an omnichannel dashboard. Afterwards, the lead management tools give you the option to systematically track the acquired leads, distribute sales leads, track conversions and assign a dollar value to every converted sales lead. The lead management system also accelerates the handing-over of qualified leads to your sales team.
At this point, our sales CRM system helps organizations successfully manage and convert sales leads.
Why do you need a Lead Tracking System?
For most organizations, having to collect data about the journey of an acquired lead can be a big challenge. A lead tracking system automates tracking all your generated leads from the initial touchpoint to the point of final conversion.
An omnichannel lead management software or lead tracker app integrates all the lead sources and creates an individual profile for each lead. This creates complete online lead management complete with tracking prospect interactions through different touchpoints, managing contact info etc…
In short, the lead tracking software allows you to recognize the best sources of sales leads.
The lead management system can empower the sales enablement to distribute and assign sales leads to teams, track leads and improve conversions for the acquired leads.
Different stages in a Lead Management process
Lead capture automation:
The leads should get captured automatically in your system with implementing Lead capture automation. There are infinite sources of lead generation in today's world and when the lead volume is high, it is not realistic to enter each lead into the system manually. Lead capture automation also ensures that each lead is entered into the system right at the point of origin, preventing lead leakage of any sort.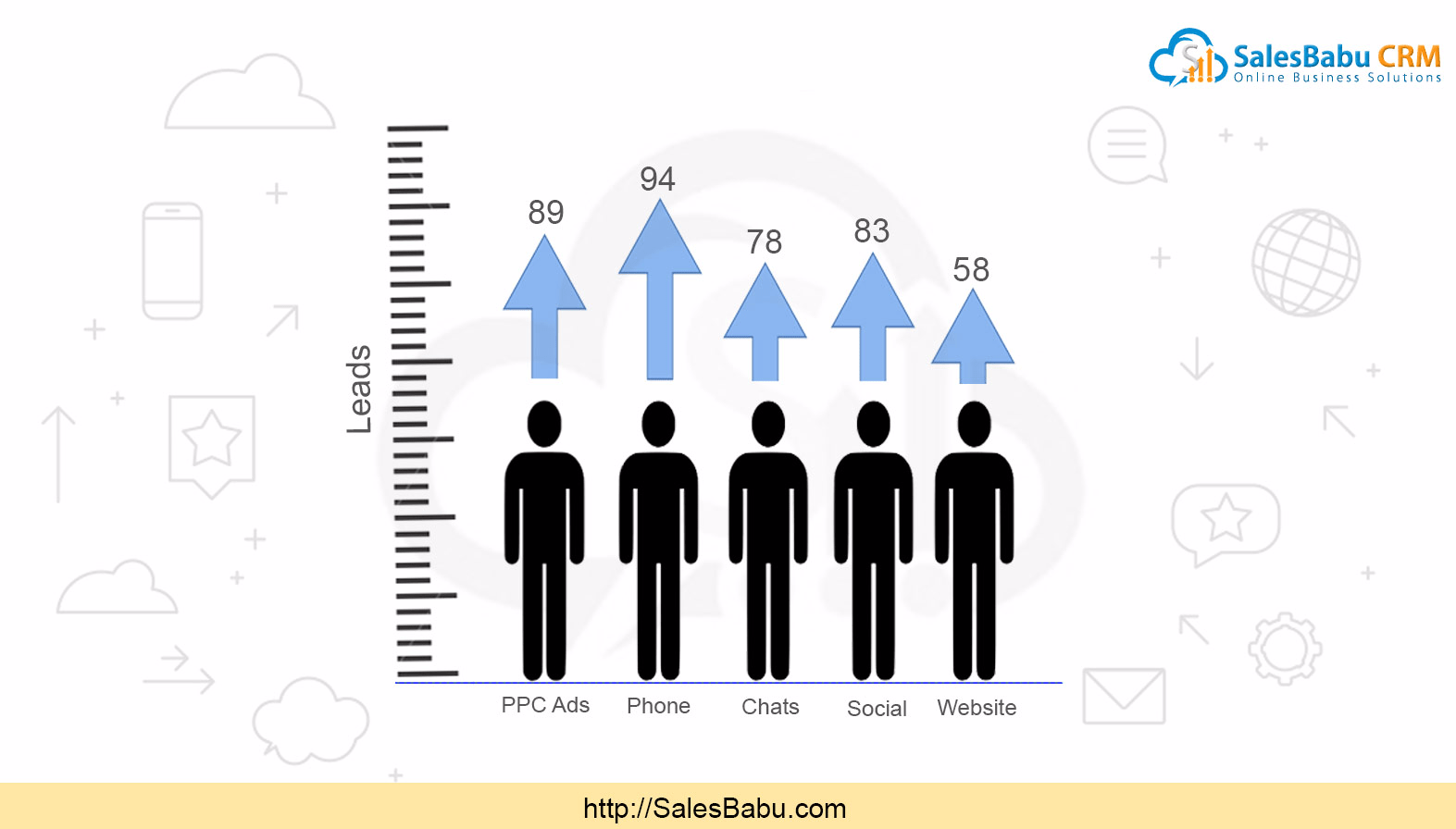 Another form of lead capture automation is the capability to automatically assess sources generating most number of leads and revenue for your business. You can easily and comfortably identify both – the high profit and the money draining lead generation sources. This data is very important for business intelligence and marketing teams as they can re-imagine their budget with this information.
Lead tracking:
When a lead is captured, lead tracking software or the lead management software would start tracking the activities and behaviour of that lead – the forms they are filling, the pages they are visiting, and the time they are spending on your blogs etc. Essentially, it gives you the valuable insights about your leads which you would otherwise not have. Modern day lead tracking app or lead management software also tracks conversations over the phone or chat.
Lead distribution:
Once the lead is captured, you need to pass them on to the relevant sales rep/people. Again, if you do it manually, it will take a long long time. A lead distribution system assign the leads based on any logic that you define in your lead management software.
In most of the businesses, if a company is able to contact the lead before their competitors, they would get a definite advantage. (Because if a lead fills up your inquiry form, in all probabilities, they have done the same for few more services similar to yours). With lead distribution system, you can significantly reduce the response time and make sure that the lead is chased by the most relevant sales rep/person, so that the lead captured can enjoy a consistent experience, as soon as they make a query (enter your lead management app/system).
Assign, attend and close Leads at the earliest with our Lead Management Software. Be sure that every lead gets attended at the earliest with the comprehensive ticketing system. The mobile lead tracking app lets you assign the latest leads to the right sales rep/team. This translates to better customer attention and service and faster lead closure.
Lead qualification:
At this stage leads are checked to identify if they are worth pursuing or not. These qualified leads are also called sales-ready leads. Some CRM and Lead Management systems like SalesBabu give a score to each lead based on the chances of their closure. This scoring is called Quality Scoring. Quality score can be customised by the business on the basis of their ideal buyer persona.
Lead nurturing:
There is nothing called as a dead lead. Some leads may not buy at the moment/point, but that can very surely change in the future. Some of them might never buy, but if you give them a good experience in whatever they wanted from you – some freebies, you have a brand advocate for life. The moment you come to know why a lead is not interested, you get an idea of how you can get him interested. Thus, this category probably makes the largest portion of leads in your database. The ones who are not immediately interested. The Maybe's.
Those somewhat interested leads go into lead nurturing cycle and would come out from there and passed along to sales whenever they become ready to be sold to.
Lead nurturing is made up of regularly engaging the leads across multiple channels. By sharing content they will find interesting. Now, this multi-channel engagement might be through triggered emails (or drip emails), email campaigns, SMSs or even through social media by means of remarketing. So, these are the necessary elements that make up a lead management system.
Now, that you know what is lead management system and why you need it, you must be thinking of which lead management software or lead management app fits best for your company. Let's find out in the next:
The SalesBabu Lead Management tool helps you manage targeted lead nurturing process to engage and convert your customers in the long-term. Increase the chances of your leads getting converted into customers. The sales lead management and sales lead tracking app tool helps you set-up trigger-based email delivery system to engage with your entire customer base.
---
Lead Tracking App
Manage leads efficiently, automate your sales process & convert faster
---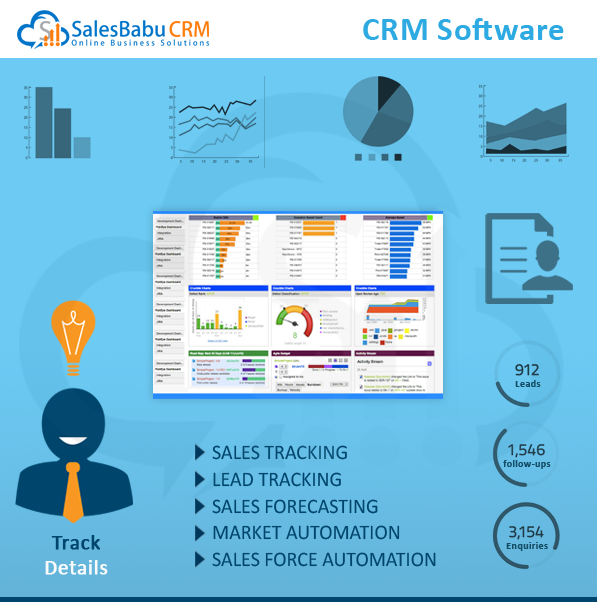 A lead tracking app will catapult your sales productivity and make customer happy & satisfied:
A lead tracking app is an extremely effective way to boost/enhance customer satisfaction. It makes an impressive difference in an organisation's ability to maintain all its accounts. It also helps companies plan resources by providing a clear vision of the future with respect to their sales forecast. Find out why you need a lead tracking app and equip your sales rep as soon as possible to work smart.
Relationship management, contact management, collaboration and more..
What's so important about a lead tracking app? For one thing sure, it helps an organisation keep everything organised. Whether you are working within a team or working alone, you can handle your accounts and related account activities in a central location. Higher management/managers can see where things are at as well as individual contributors.
Run reports, set reminders and easily assess how things look in every stage of the sales process for every deal that is on your radar right now on your mobile/tab with the lead tracking app. It will help you win more deals and better serve clients' needs and make them happy and satisfied.
High producing sales reps/professionals have several common qualities, including charisma, motivation, and organisation. If you need help in the organisation department, a lead tracking app eliminates the need for spreadsheets and whiteboards. It puts your CRM system software in your hands because you can access it from anywhere.
Getting started with a lead tracking app.
There are software options that take a lot of effort, time, and money to deploy & implement. But with a lead tracking app you don't need to plan and struggle with. So don't wait now and start using SalesBabu CRM and it's lead/sales pipeline tracking tool which is easy to handle and hassle-free. It is simple and should just work for your sales team.
SalesBabu-a lead tracking app made for you.
Implementation is a breeze with SalesBabu with affordable price. Sign up now and start taking more control of your business and your future to grow your revenue. We have developed the fastest growing lead tracking app software on the market. Our lead tracker app will dramatically improve your sales and customer relationships. Get started today.
Which Lead Management Software System Should You Buy?
As per our expertise, I would like to start by saying that every business uses lead management software/lead management app/lead management tracking software differently. Even nature of businesses that look very similar may implement it differently, because their processes and needs may differ.
In few cases, something as simple as your mobile phone can act as your lead management app software, and in others you would need a complex CRM system to manage your leads. This difference depends largely on the industry and the size/volume of the business.
Which Lead Management Software System best fits your needs?
Before you start looking for a lead management software or lead management app you should sit down and make a blueprint of your lead management process. Once you draw the sketch of your lead management process, then you should start looking for different vendors and try to map your requirements with their features to optimise your lead management process.
Below are some questions that will help you get some clarity on what you might actually need.
Q1 – What's the purpose of implementing lead management system software?
First thing comes in mind, what's the purpose of the lead management software into my business? Start by listing down the things you as an owner want to achieve with it. It could be some or all of the below points:
1. Increase sales
Here, the aim of the online lead management software is to combine marketing and sales efforts to converge to a common goal, i.e, – Increase Sales. Apart from behaving/acting like a lead database, the system tracks the activities of all the leads and triggers marketing actions like sending offers and promotions via SMS and email. Sales rep/team is notified when a lead performs an important action like : checking for the pricing and spending a lot of time on the sales centric pages.
2. Increasing/Growing the number of leads
No one can or wants to sell on the first go. Some of the companies would need to gather data first from various channels and then strike their conversation by periodic SMSs or emails. In this way, such companies would often look out for a solid/confirmed lead capture mechanism from all the major lead generation channels and integration with tools like popups, surveys and other lead capture widgets.
3. Analytics
Most of the companies wish to get insights of what's going on in the lead funnel. For example – the source that is generating the most revenue, the conversion analytics at each and every stage, the communication lagging point, the response time of the sales rep/team etc. These all insights are invaluable and play an important role in strengthening the whole lead management process. The requirement of such kind of lead management system software is to have access to powerful and customized reporting.
Q2. Does the lead management system software mould to my business?
As the lead management process differs for each business, you need to make sure that the process you implement is flexible enough to adapt to your existing business lead management system.
For example : If you are running a financial organization and want to sell insurance policies, you would like to map the lead attributes like salary, Aadhar number, etc. And then, you might want to validate those details within your lead management software system. You should check out if your lead tracking software maps these lead attributes correctly. Apart from that, you should really check if your lead tracker software maps your customer stages well. It's the right time to choose Sales Babu's best sales lead management software suited for your business.
Q3. Does my lead tracking software capture leads from all my major lead sources?
Today there are endless channels for lead generation and that is only going to increase. Whether you want to expand your database, or increase the sales, lead capture automation remains one of the most important features in a lead tracking software.
Make sure you have the potential to automate lead capture from all your major sources of lead generation. Apart from telephone and chat, and email, you should also consider lead capture from the third party listing websites like – Sulekha, Justdial, Shiksha, Commonfloor, 99acres etc. depending on your type of industry. You have other unpaid and paid sources to consider as well, like social media channels, Google Adwords, your content resources etc.
Q4. Do I have a field salesforce (SFA) team to manage?
This is a very crucial question to answer. Because if your business mainly relies on a field sales rep/team, then you need to be able to track the team's activities as well.
A field sales rep/team might be responsible for going from shop-to-shop and enrolling new partners/customers for you. For an example: A business that relies on local vendors, or they might simply be liable for going and demonstrating your product to the already interested prospects. For example: Software businesses with a complex offering, or large sized deals where customised solution is needed as per your requirement.
If this is the case, your lead management software should allow your field sales team/reps to manage or control leads from their hand-held devices, because a laptop might become impractical – both cost-wise and logistically. So, your lead tracking software should have the provision to:
Enter the lead data while on the move from a mobile lead tracker app.
Even capture incoming calls as leads.
While reps are on the move, allow them to check the lead details, their interests and their specific requirements because on-the-spot solution might be needed.
Set tasks and check their meeting calendars on their mobile phones using lead tracker app.
Make them more efficient, because working on a mobile app while on the move is going to be easy as compared to laptop.
As their manager it would also allow you to :
Track their positions/locations to see if they are really attending the meetings they are supposed to attend.
Analyse and evaluate their performance based on the number of meetings attended everyday (if logging their activities is too time-consuming, your reps would avoid doing it, messing your reports up).
Setup a better incentive structure for them, because you'd be able to compare the distance they travelled, the meetings they attended, against the actual deals they closed.
Thus, if you have a field sales force set-up, your online lead management features should be able to handle and sync the data across devices.
Q5. Do I have a multiple organization centre?
For a multiple organization centre you would need an online lead distribution feature in your lead management software. It makes it easier and simple for the leads to travel without manual intervention.
Again, if you work with a multi-centre setup, it becomes very crucial to manage certain things, to increase efficiency and avoid manual errors. Your online lead management software features should be able to:
Distribute/assign leads automatically using location/region and other lead attributes to directly distribute leads to particular centres and sales rep. This system helps to avoid manual errors and makes the prospect experience better. Because sometimes communicating in local language might be required and reduces manual intervention, making the lead assignment instant thereby reducing the response time.
Show you analytics for different organization centres so that you are able to evaluate if a particular centre is getting you the return you expect on the amount you are investing there.
It should also be able to show you the centres performing the best, and the worst, so that you are able to plan your next action.
Have a central lead management system in place, but still restrict/prevent users from viewing confidential information. For example: You may not want to allow sales managers from one centre to view or modify the data for another centre
Therefore, once again these are a few things your best sales lead management software system must be able to take care of if you have to manage your multi-location organization on it.
So, before concluding this chapter, I hope now you know the importance of understanding your individual business processes, mapping out all the elements you would need, and then heading out in the pursuit of a good lead management system software. Else, you might find yourself surrounded/running in circles, limited or dissatisfied in one feature or other.
Lead Management Software vs. CRM
Certainly, lead management software and CRM (Customer Relationship Management) are two different things. But, sometimes the distinction is not totally evident because there are quite a few features that overlap each other. In fact, both the terms are used quite loosely, and interchangeably to describe a system that manages the complete customer life-cycle. The primary difference is evident in the names itself.
Lead management system software in a nutshell, is a system that keeps/store all your leads, from all possible sources in a centralised place, all the while tracking their interests and activities. This enables sales and marketing teams to work together on the leads, without missing any interaction or touch-points.
Customer Relationship Management systems (CRM), can easily and essentially do the similar things as well, but they are used for much more functionalities. CRM is used not only to manage the full customer lifecycle from capture to conversion but beyond as well to retain the customer, find more opportunities to up-sell and up-sell wherever possible.
To get more clarity let's check out the customer life cycle: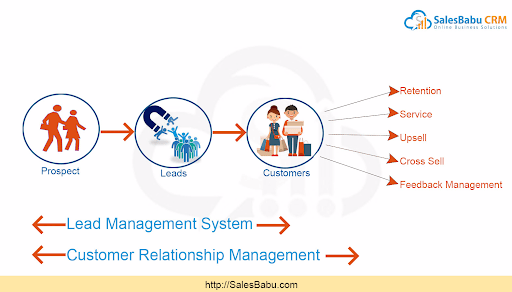 Both differs in:
Their position in the customer acquisition process
Essentially, you can say that the work of Lead Management System/lead tracker ends with a lead becoming a customer, however a CRM carries on still and helps manage customer relationships even after with many advanced features.
CRM for SME offer Features Galore:
Businesses where the interaction with a customer ends/completes with the sale would prefer to go for a pure lead management system, with nothing monitoring the customer lifecycle. However, for businesses where a one-on-one relationship needs to be nourished/maintained with the client would go for a CRM system.
Now, we must remember that many business house would choose to use either both CRM and lead management, or a single system that'll take care of both their use cases, something like SalesBabu CRM.
Feature Rich and Hassle Free Lead Management System
Map your entire lead management process from capture till conversion

Lead Capture Automation
Lead Capture
Automate your lead capture from all sources and cut your lead leakage to zero

Lead Qualification
Lead Qualification
Use lead quality and activity scoring to identify and chase the best leads on top first

Email Integration
Email Integration
Sync your email inbox with SalesBabu to capture all prospect conversations

Lead Distribution
Lead Distribution
Assign leads to relevant sales rep/team automatically, based on any rules you set

Tasks And Reminders
Tasks And Reminders
Automatically set tasks for your sales people/team based on lead actions

Sales Alerts
Sales Alerts
Notify sales rep whenever their leads take an important action

Sales Tracking
Sales Tracking
Track everything – your sales rep, their performance and revenue

Source Tracking
Source Tracking
Identify or find the lead generation sources working the best for you

Mobile CRM
Mobile CRM
User friendly mobile CRM App to run your entire field sales operations
Many Businesses trust SalesBabu, including: