Get 360° Vision of all yours leads base
---
Lead Management Software System: a Lead Tracker
Lead Management Software System – a Lead Tracker: The growing focus on managing the customer relationship is leading to the automation and increasing penetration of lead management software all around the globe. One of the most crucial aspect for impressive marketing campaigns, sales, and rerun business is the change in the company's approach toward managing and large-scale client management and customer relationships.
Enquiries received by a business convert into Leads after first integration, these are the initials inputs in any sales process. To convert a lead into deal, you need to secure a proper Lead management system for your business unit. SalesBabu CRM Lead Management Software specifically designed for all vendors, which makes the process easy & convenient to store new leads, capturing the existing one & track the future sales prospects. Since, it is a very crucial task, because a nurtured lead can turn out to be great revenue for any type of set up.
---
Lead Management Software helps you to capture all the generated lead in one cloud platform including the customers interest pertaining to particular product or services. It helps you to have all the records of generated leads with their nature & interest for future references as well.
Lead Database in SalesBabu CRM is an online cloud based repository where all the leads generated are stored. This helps us to get organised and convert those leads into sales. It is flexible and a powerful solution for running a business.
Lead Management Software helps you to track down your lead sources which helps your marketing team to manage their campaigns for leads generation & second to your sales team, who will come to know, how customers inquired about their product or service.
SalesBabu CRM provide you with a lead generation software. It saves time by following up with the leads inside. Using our software tasks become very easy for sales person.
Lead management software helps you to assign leads to different individuals on one platform, simultaneously. You can assign as many as leads to your sales team very easily, without any unexpected confusions or hurdles, so that they can do all justice to the leads.
We have a powerful lead assignment tools integrated in Lead Management Software hosted by SalesBabu CRM software. If you are looking for a cost effective way to consolidate, assign, convert leads contact us for free CRM demo.
Lead Management Software, helps you to filter all your leads according to their priorities and interest. With the scope for future follow ups & sales pipeline, it helps your sales team to evaluate their lead database according to their degree of interest, which helps in future closures.
Our software is widely used. It helps in effective and efficient lead management initiatives to generate new business revenue, increase the visibility and improve the general attitudes of potential clients.
Lead Management software helps you to makes a funnel of overall leads and allows yours sales force to make necessary follow ups of day to day activities on one single platform, which enhance the probability of more closures and more revenue generation for the business
Our CRM software provides tools, tips and suggest a system for following up with prospects to get clients and make sales in your home business. It is a guide to help you strategize your lead follow ups.
Lead Management software helps you in the qualification of interested lead. It tells the prospective opportunities for sales, which helps your sales department to draw effective focus on the leads and moreover helps to decide to take all necessary majors & efforts to close a fruitful deals.
For a company, businesses categorise a qualified lead as a customer who has been contacted and so is further down the sales process.
Lead management software System features are widely used by sales teams to track, manage, and record source leads. When a company get a fresh lead, lead management system will guide in routing the lead to a new salesperson. This software may even provide predictive analytics that is helpful in grading the strength of the lead. By implementing online lead management software sales teams in a company are able to increase their desired output and in an efficient way. Our CRM software is developed with very effective online lead management software feature that helps to boost the business growth. Marketing team also utilize this software to track the output and effectiveness of their campaigns. Once a lead is picked up through a marketing campaign, the team can track and monitor the life of the lead. By this process, they will be able to identify which campaigns are successful both in terms of captured leads and percentage of leads converted making it easier to decide where to invest marketing bandwidth.Our Sales Lead Management system is playing a significant rise for SMBs and Large Enterprise and the trend is expected to continue in the near future. A big thanks to the significant proliferation of the Internet. The report offers a complete study of the market by evaluating the development trends, restraints, driving forces and opportunities in details. It also provides an analytical assessment of the key challenges, the market is likely to face in the near future. This helps market participants in understanding the problems they can occur while operating in this market in the long run. Now you can track and manage leads with a highly efficient sales lead management app that SalesBabu CRM has integrated in its software.
SalesBabu CRM is a Cloud-based software and have an efficient and effective lead management system features. We provide the best sales lead management software for a company to grow their business. The adoption of our cloud-integrated lead management software is increasing due to the rising demand for cloud-based solutions. This is identified as one of the key trends that will stimulate growth in the lead management software market during the estimated period. Our Cloud-based CRM software and it's lead management app software simplifies the access. The deployment of lead management software in the cloud will continue to gain traction because they offer scalability.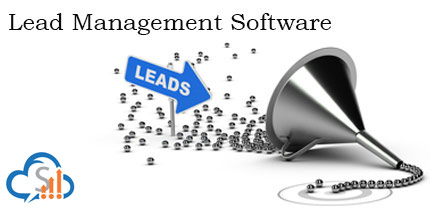 Organise & manage your leads, tasks & followups with SalesBabu Sales Lead Management Software. Show the impact of your marketing activities on your sales pipeline and invest your time on the hottest leads through SalesBabu Lead Tracking Software. By tracking and scoring your leads with lead tracking software from SalesBabu, your business will get the most return from its limited resources, convert more leads to opportunities, and win more deals. Are You Identifying Your Potential Lead Source?
Convert more leads into Opportunities:
SalesBabu lead tracking software help you track all the information about your CRM leads. The rich activity screen shoot on dashboard lets you see and access the most up-to-date contact information while understanding best practices and relevant document using Sales Reports. You can even see where a marketing campaign lead came from, read relevant insights, you can act on, and write and track emails from the Sales Lead Management Software. It's everything you need to convert more leads and even faster. Won More Leads with SalesBabu CRM Software
Delegate leads to the right people for fast processing :
Set up automatic lead routing to ensure leads never fall through the cracks, and that the right sales reps follow up on leads.
Take your business to new hights with SalesBabu Sales Lead Management Software. From lead generation to scoring to conversion, SalesBabu Lead Tracking Software ensures proper follow-up to move your leads through the sales funnel.