CRM For Service Industry
Automate and Streamline your Business Process
by Implementing SalesBabu CRM Industry Vertical Solutions.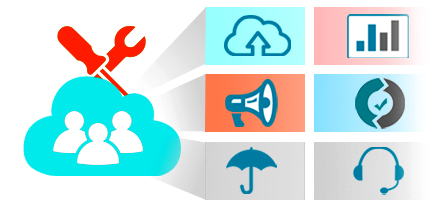 CRM for Service Industry is an intelligent tool to track each and every service activity. It gives you flexibility to manage service operations like amc pending, service engineer's scheduling, product's history and PMS visits
Unlimited note taking ability.
Automated email statements, invoices, notices, and marketing collateral
Stored documents, service history, maintenance contracts, sales history, past and current billing, installation notes, system notes
Synchronize with customers and contacts within your QuickBooks records
Boost Sales and Services
Enable recurring tasks for account maintenance or services for easy task management
Read More – CRM for Service Industry
Customer Contact History
Your customer will reach you if he has any service enquiry or Complaint against your product or services. CRM streamline multiple contacts for one customer, customer contact history, product and services brought by him, pending and processed services request. Online access to customer information helps customer service team to provide him quick answer in any case.
Quick view customer contact details
Details of product and services brought by customer
Reports on similar issues reported by customer
Help making customer retention strategies
Gain customer loyalty
Increase recurring business
Centralised Database
CRM offer common database for customer details, product details, customer contact history, knowledge database for common problems etc. This centralised information sharpens customer service activities to support customer enquiries and provide them best service esurance. That leads to:-
Less time solving customer enquiries
Providing best solution to customer problems
Comprehensive 360 degree view of customer contacts for making future strategies
Manage customer contract renewal reminders
Identify cross selling opportunities.
Thus increased satisfied customers and more recurring business
Service Scheduling
Best customer service is to help your customer on time. Remembering schedule for 1000's customers at a time is not possible for human mind. CRM for service Industry offer task/activity scheduling facility will offer on-screen, mobile and email reminders for activity scheduled and rescheduled to serve your customer. CRM help
Activity rescheduling easy.
Multiple channel to get notifications.
Get comprehensive view of customer communication
Problem escalation
Workforce utilization
Provide efficient service
Make more happy customers
Manage SLA by reducing service time
Read More – How CRM Boost Your Customer Service & Overall Customer Experience
Enhance Service Capability
CRM for service industry is a specific customer centric solution which helps companies, to not only centralize complete customer information also to have a strong feedback management system in customer service process. Managers can easily inspect service activities, define case nature, set priorities and escalate activities.
Less time in lead filtering
Inspect Service Activities
Visibility of Warranty / AMC
Complaint Severity/Priority
Complaint Allocation / Escalation
Approvals and Workflow
Auto Replies and Templates
Problems & Resolutions
Reporting and Analytics
Get actionable insights into your service performance with dashboards and reports offered by CRM for service industry.
Define proactive actions based on real market data
Planning and reporting of service visits
Overview on all cross-/up-selling opportunities
The Role of a Cloud CRM in Customer Support Services
The route businesses use to interact with customers have changed over time. Early business practices relied on written communications and face-to-face interactions. Latest and modern businesses have added electronic communications to the mix, including call, email, live chat, and social media.
In today's world of technology, as the number of contact points has increased, the challenge of aggregating and organizing that data has also increased. The details and purchase history of a customer may now be spread among several channels and multiple employees. While the challenge of managing that data has grown, the importance of maintaining access to it has remained constant.
Businesses working to advance their customer support services may benefit from a customer relationship management (CRM) system that can help make customer interactions much more efficient and effective.
Read More – How Service CRM Helps Your Business
The Benefits of Using Online CRM for Customer Service Support
An Online CRM software has benefits for multiple business sectors. It has an important role in lead management and sales, which makes it beneficial to marketing teams and sales rep. Both can use the cloud CRM data to keep track of potential customers, learning when and how to share messages to each other.
However, Online CRM support for customer service has a crucial role because customer service blends marketing, sales, support and retention efforts. In particular, cloud based CRMs have proven themselves to be highly valuable in addressing five key issues many customer service centers face:
Scaling with the business efficiently
Sharing data in real time with all team members
Automating data entry for consistent, accurate information
Using analytics to verify processes and increase accountability
Reducing costs to make customer service more efficient
SalesBabu Business Solutions Pvt. Ltd.
No.38/11, 3rd Cross, G Block, Sahakarnagar, Bangalore – 560092
Bangalore, Karnataka
560092, India

Starting at
₹
1000
/user/month
(Billed Annual)
Customer Contact History
Centralised Database
Service Scheduling
Feedback Management
User Management
Reporting & Analytics
Register here to Schedule an One to One Online Session at your Convenient time.
Many Businesses trust SalesBabu, including: