Get all your Contacts on One Platform!
---
CRM – Account Management Software
Coordinating customer-facing activities and events is critical to closing business and managing customer relationships. SalesBabu CRM Accounts Management Software allows you to track all account-related activity on a real-time basis and get sales alerts.
You may even schedule, delegate and share activity assignments with different departments/users and generate detailed reports for analysis. The account management feature makes it easy for the sales team to close more deals by giving a complete overview of a company's contacts, deals, and tasks in one place.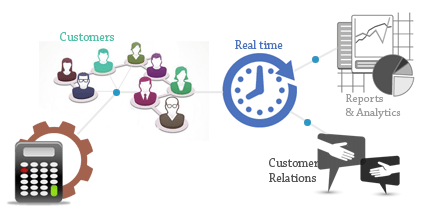 ---
360° View of Contact Base
By the help of Accounts Management Software, you will get a convenience of having a broader view over all your customers, whether existing or prospected. It helps you to keep all the information of your customers on one single platform.
By the help of Accounts Management, you can get the previous details of any particular customer, it shows, how many times that particular client has made the inquiry, how many time you have share your commercial to any particular client & how many time a particular client has ordered your product or service.
By the help of Accounts Management, you can come to know about the person who dealt with you on behalf of any particular account for final closure last time, even it gives the complete details of that individuals too.
Track Record of A Customer
By the help of Accounts Management Software, you can come to track the previous record of any particular customer in term of their payments schedules, which make you more prepare for next deal with the same customer.
Segregate Division & Sub-Division
By the help of Accounts Management Software, you can segregate the mother branch and the sub division accordingly, since every branch has it own entity. So it is necessary for you to maintain this difference to avoid any future confusions
Since, by the help of Accounts Management Software, you can have a complete overview of all existing and prospected clientele, you have this opportunity to touch-base them on personal level and enhance the opportunity for more sound and cordial relation.
Understanding what your customer wants and anticipating their needs goes a long way in building loyalty. SalesBabu online account management software keeps customer relationships as the focus of your organization by providing you with a single system to nurture and manage even the toughest customers.
See the whole picture : View all your information from a single location, including the latest customer activity, associated contacts, pending deals, ongoing conversation, and more. A complete view of your account makes collaboration easy, regardless of how the business changes.
Identify your most valuable accounts and deals with reports : With a wide range of available reports, you can quickly assess your priorities and complete tasks for important customers in a timely manner. Reports also help you see which accounts are your most valuable, so you can assign your best team members to those accounts.
Cross department interaction : Online account management software display a history of customer interaction with interaction dates irrespective of the departments. You get all interaction on the single platform for a better understanding of the position of any customer prospect, better decision making.