Never Miss any Follow-up!
---
Online Task Management Software
To effectively manage consecutive follow-ups, in response to all enquiries/leads, you are required to keep a sharp eye on each lead conversation.  Online task management software captures all the actions, taken for gearing up the sales process. Using SalesBabu CRM online task management software you may Instantly create task/follow ups, assign them , set reminders for the due dates, and drive to completion.No need to schedule a meeting just to followup on action items from a previous meeting.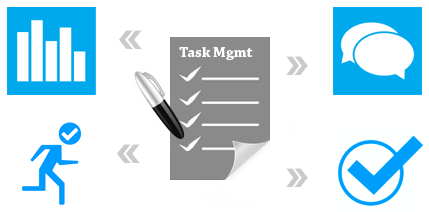 ---
Create Follow-Ups Activities
Online Task Management Software offers access to your interactive user interface with any internet enable browser, to store follow-up activities required at every stage of sales process, be it lead generation, orders or delivery. Logging complains, assign tasks, mark follows and closing complaint with customer remarks, made easy with task management software.
Set reminders to all your follow-up activities for any particular date, so when you open your screen on the set date, reminder pop up will suddenly appear on your home screen.
Pending Activity Visibility
With the use of online task management software you can keep a close eye on all the pending follow-up of your sales team, so that you can gear them up for further required actions. SalesBabu CRM offer a dashboard snapshot with all open activity in different colors.
"Save Some Clicks", means, you don't have to go any where or any other window to make another follow up for any particular lead, you can set follow up from the single tab on the same screen.
Maintain the complete remarks and notes in a single window, so that whenever you are calling back the same lead again, from the same screen you get the details of last conversation.
Smooth Customer Touch-base
Never Break the Frequency of Follow up activities. Do rigorous follow ups on your leads base & which is also compatible to the customer's timings which make smoother the process of sales dealings
Online task management software enables you to streamline your daily activity maximize your team's productivity, communication and overall customer happiness. It record all enquires, opportunities and follow-up process for convert them into leads. It is so easy to assign them, set reminders and drives to completion with the help of task management software. Since, it is an online software you can manage all your task from anywhere with the help of device (computer or mobile) connected to internet and will not miss any opportunity.
Manage Team Tasks Over The Web?:
View, prioritize, and rearrange your team's tasks with total flexibility with online task management software. Manage your own calendar and see daily, weekly and monthly work load at a glance. See task list sorted by owner and due date. Focus on a single task, and use Flow's task tracking tools to bring it to completion. Add task notes for helpful instructions. Due date reminders for work scheduling, manage workloads by assigning tasks, add subscribers so that right person can be involved, add comments to give help full feedback and use tags to organize task even further.
Work from anywhere:
Keep your team's projects and tasks moving forward, regardless of location or device. SalesBabu Online task management software is an easy-to-use, online task management tool, that will enable your company to be more productive than ever. Available on multiple platforms, and integrated with the tools you already use, It provides access to task lists at any time, from anywhere. Manage work in real time. Access task and to-do lists, files, calendars, and comments from any device, wherever you are.
Multiple Views, Scheduling, Reporting:
View your task list your way. Use Grid to organize tasks; create timelines; Calendar to visualize due dates; and, create online task boards. Create tasks and subtasks, and assign items to individuals on your team. Schedule tasks, set dependencies, and include alerts and reminders. Build custom reports and dashboards to identify tasks that are due, at-risk, or not yet assigned. Track status and metrics across your to-do lists in real time. Automate recurring reminders, alerts, and notifications to be sent via email. Keep your task list at your fingertips when you're on the go. Access and update tasks with mobile application.
How SalesBabu Online Task Management Software help you managing multiple sales tasks.