Streamline your Inventory Process!
---
SalesBabu Inventory Management Software: Cloud Based Online Inventory Software
SalesBabu cloud-based online inventory management software helps to keep your customer happy and satisfied by creating sales strategies, maintain reorder point. We provide on demand complete & best inventory software India. Simplify inventory control process with SalesBabu Easy Inventory Management Software. We provide best and an advanced inventory management system for an affordable price. Our simple inventory software for business houses is user friendly and easy to use. We have developed best online inventory management software and many of our customers have rated us the top in Inventory Software India.
Inventory Management Software
Manage Your Stock Online
Effective & Easy Solution.
---
Inventory control software can significantly boost your business and optimise your profitability. Inventory planning and tracking is enhanced even more when integrated with the purchase management software module that helps to provide further analysis of inventory performance.
Inventory management system software
(Inventory Planning) offers comprehensive reporting capabilities to keep you on top of real time inventory status. It is helpful in planning new or improved purchase policies, sales policies, pricing methods and also effective and enhanced customer service. By leveraging our cloud based online inventory management system software system, you get the tools to create an inventory system with the goal to meet your business needs for future. For basic inventory management software
free demo contact us
.

SalesBabu Inventory Management Software-On-Demand solution provides the level of control by offering high-end features normally reserved for large companies, including light manufacturing capabilities, serial number tracking, and multi-warehouse support. Setup various vendors and multiple product line with details. Maintain reorder levels and minimise order quantities. Generate GRN reports, quality Analysis, Sales and Purchase Returns Reports. Many happy and well organised business houses rely on our Inventory Control Software that helps them to track certain adequate inventory levels to satisfy their customer demand. Many of our customer have rated our software as the best easy inventory management software based on they experience.

We have developed Inventory Management System Software (Inventory Planning) which is 100% Cloud Platform with Real Time Data for growing businesses. Simplify, Optimize & Automate your Inventory Process for Efficient Inventory Management. Easy to set up best online Inventory Software. Manage your stock Online, Easily & Effectively, to be more productive. Increase your sales and keep track of every unit with our powerful Online Inventory Management Software, order fulfillment, and inventory control software. Our best online Inventory Management Software is affordable for all Small Medium Enterprise (SME) and Startup companies – Simple pricing. No surprises. Value for money.

Benefits of SalesBabu Inventory Management Software
Tracking at segregate Stock Levels such as BOM,FG,Semi FG
Allow to do Product Level Bifurcation
Maintain all the GRN's (Good Receipt Note) on single screen
Facilitates Returnable GRN's
Facilitates Returnable DC's
Facilitates Product Sampling
Track entire Sales Returns by Customer END
Facilitates Vendor's Mapping with multiple products
Get real time Inventory Status & MIS
Facilitates Integrity & Consistency on entire inventory process loop
Centralized & Synchronize entire information @ single Screen
Facilitates Purchase Returns
Reduce the chance of forgery
Avoid Stock Mismanagement
Facilitates inventory Evaluation on single computer screen
Facilitates Material wastage or Material Scrap tracking
Facilitates Material Movement Tracking
Enable to check Internal Inventory levels
Moreover, SalesBabu Online Inventory Management System Software System helps companies to streamline & synchronize entire stock levels and Inventory work force at single screen. Our inventory control software facilitates company with such a robust basic Inventory Management Software. Therefore, they can handle entire inventory tasks in lucrative manner and can keep track all the material movement (In & out),manage Bill of Materials, allow to do Material GRN and can manage all the Delivery challan on one platform. The application (Inventory Management Software) simplifies and automates the order and inventory management processes, empowering businesses to grow.
Moreover, SalesBabu Online Inventory Management Software System helps companies to streamline & synchronize entire stock levels and Inventory work force at single screen. Our inventory control software facilitates company with such a robust Inventory Management Software. Therefore, they can handle entire inventory tasks in lucrative manner and can keep track all the material movement (In & out),manage Bill of Materials, allow to do Material GRN and can manage all the Delivery challan on one platform.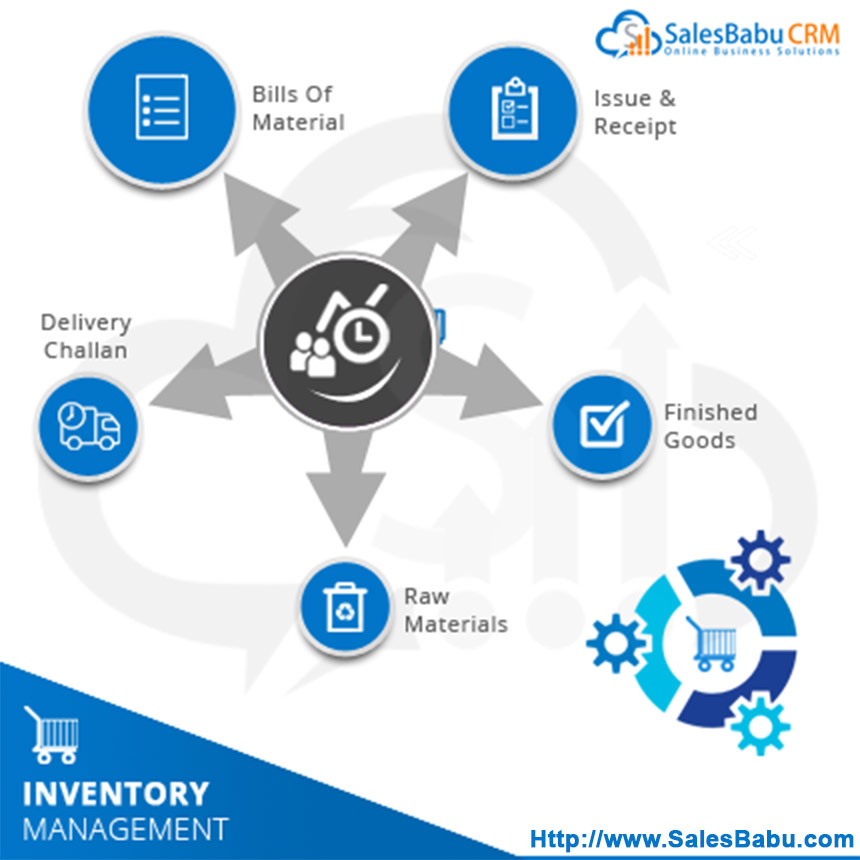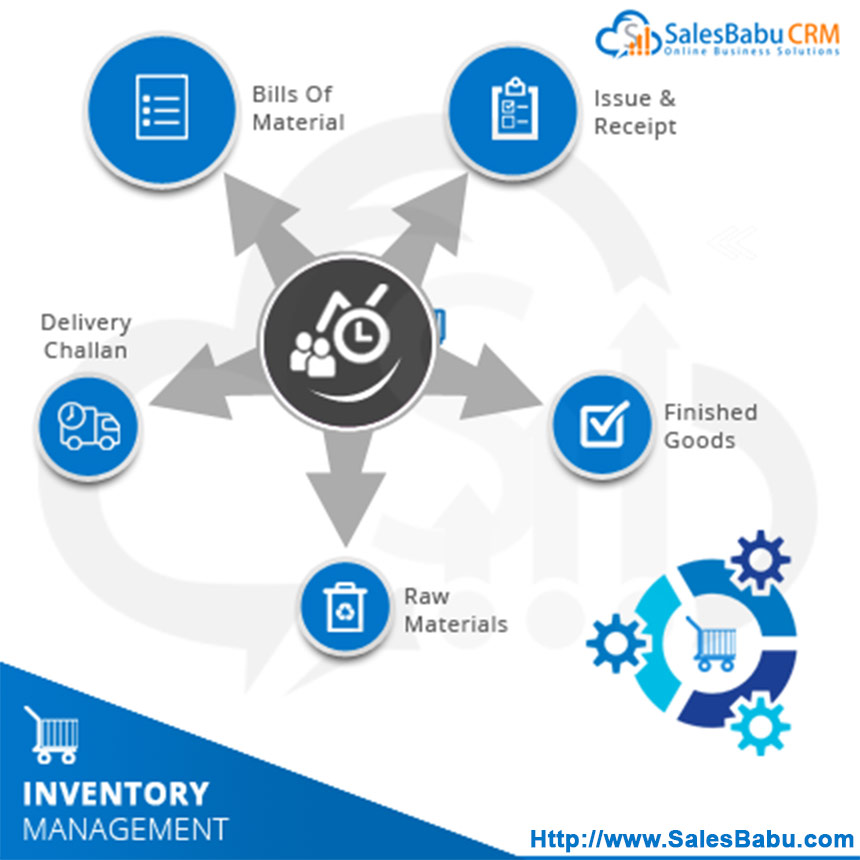 Features Of SalesBabu Inventory Management Software
Basic Inventory Control –
This is one of the most crucial and tops in the features list (Inventory Planning). It gives a systematic process to honestly manage and control your inventory across all of your sales channels. Generally a new businesses work with spreadsheet where formulas can break and a manual effort is needed to keep track of inventory. This is considered to be the first level of business automation. As this is growing and need a better and more efficient way to grow and manage their business. This will help them to position themselves for future growth and optimise their profit.

Centralized storage –
It becomes more difficult to manage and govern orders and direct products to the right customers if you have more stock locations. You can track the availability of all products and services and maintain customers and promptly informed on the status of their orders with an adequate and appropriate best online inventory management software tool in place.

Efficient stock operations –
Good and smart inventory control management is the base pillar of any healthy retail business. It saves both the time and effort required to manage stock manually. With a collaborative management system in place, your employees does not require to write daily reports and run back-and-forth through them to give customers an answer, but rather have data ready and regularly updated on their devices.

Enhanced sales productivity –
Many business houses have reported significant and tremendous improvement in their closed deal rates after implementing their first SalesBabu Inventory Management Software Solution. This has become possible due to accurate inventory control software that prevents from losing customers and minimizes common mistakes made by human such as reporting products out of stock and forwarding clients to various stores.

Manage Orders
Manage your orders online with our efficient inventory order management system. Also, you can create purchase orders, GRN, Delivery Challan (DC), Stock Adjustment, all in a single inventory management application. Our online inventory control software covers other features like Purchase Indent, Purchase Return, Invoice, Sales Return, Item Issue, Item Receipt and MIS for pulling reports. Automate your Order Management Process with our best Inventory Software.

Warehouse Management System
Check stock level, manage inter-warehouse transfer, and generate reports for specific warehouses with few clicks is few seconds. Online Warehouse inventory management System, at your fingertips.

In-Time Delivery –
One of the core advantage of implementing our easy inventory management software is, it helps to blow delivery deadlines and prevent customers from waiting time for their product to arrive. Advanced programs will also involve them in the process giving them a realistic outlook of the status of their order and allow them to track the product's movement from purchase to arrival.

Adjusted order frequency –
As the distributors considering the stock shortages to be the worst possible scenarios we would ascribe that attribute to overstocks to avoid this situation. Leaving products to waste or paying for their storage and maintenance is the area where business houses lose the most of their fund, and that is why inventory control software is so useful for our company. With the help of this software you track the actual stock supplies and companies can re-order from vendors at the correct time or adjust the inventory order frequency in a more suitable and effective manner.

No more hidden costs –
Another competitive and crucial edge of quality best inventory software systems is that they adjust quickly and easily to sudden increase in your sales and you get to twist them in line with sudden increase and drops. For the purpose, you won't have to pay extra storage fees, while in the best possible scenario you will also get a product that prepares, packs, and ships products for you.

Satisfied customers –
With accurate responses and personalised service at any moment, your customers will be more happy and satisfied than ever. They will have faith and trust you more. And They can track the status of shipped products without facing the risk of a late notice that the product they expect is no longer available.

Accurate planning and forecasting –
Our basic inventory management software help you forecast and plan in advance and become more proactive as they track the status of your products, manage negative trends and opportunities, and retrieve crucial historical data to predict the progress of your sales. Indeed, best online inventory software are mostly packed with analytic features that free your precious time, and still pull off all important indicators that measure productivity of your business.

Centralise All Information –
Cloud (On line) based Bill Of Material (BOM) centralises the information flow that makes the task easy and thus prompts inventory level in reduced cost. It gives clear visibility of all the required information related to inventory.

Demand Forecasting –
Demand forecasting is fundamental key to planning what and when to order so you allocate resources wisely. With the proper and efficient tools in place, you can get idea and lean more than just which products are selling and which channels are performing well. Having the skill to drill down into the aspects of your sales, like size, color, and material, provides you crucial and essential information thats helps to keep accurate levels of inventory. And this helps us to make better and effective decisions for inventory like what and how much to buy.

The Stores Manager can see the snapshot of the current status in Stores using the Inventory Management Software:
Item below reorder level: All the Items below Reorder level in Stock is displayed here, based on which your Stores department will issue Purchase Indent.
Pending Indent: All the Indents issued based on Work Order by the Production department, but the Items are still not issued (Pending) is displayed here.
Pending returnable GRN : Goods Received which need to be returned back, but if it is still there in stock after the scheduled Returnable Date it gets displayed here.
Pending Returnable DC: Items send out of stores with an Expected Return Date, but still Goods not received back is displayed here.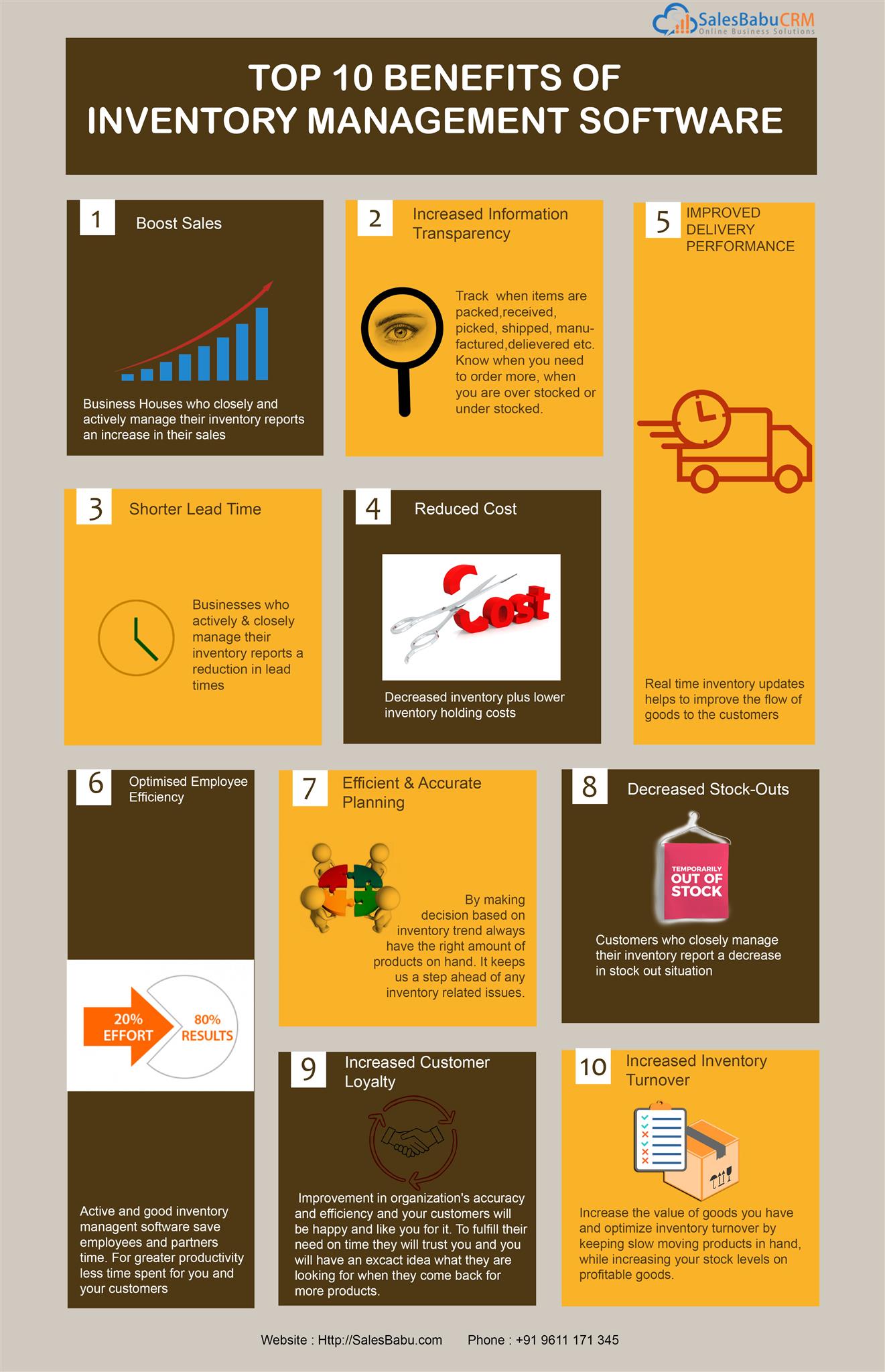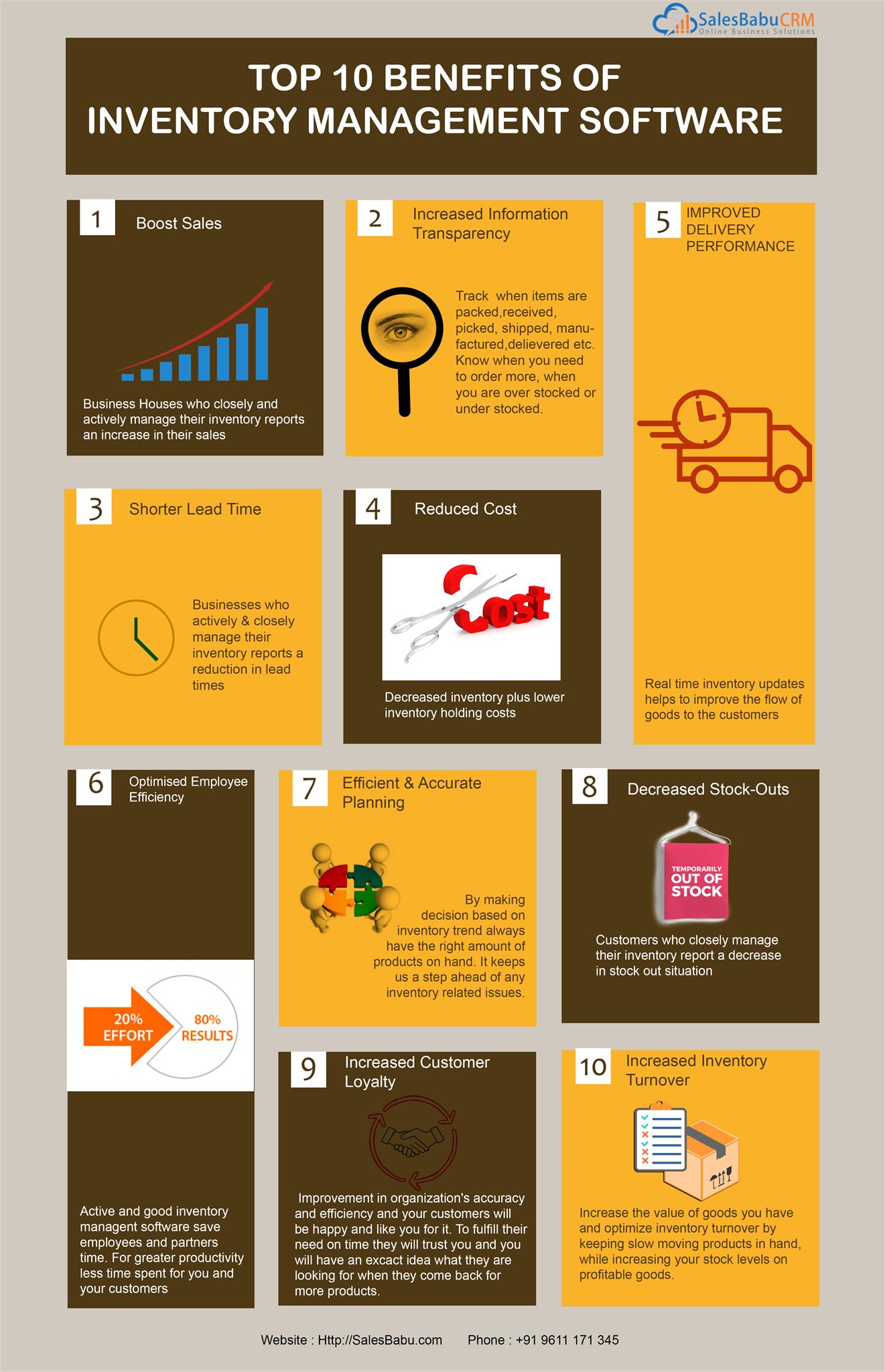 Many Businesses trust SalesBabu, including: