Online Sales and Distribution Management System Software
Automate and Streamline your Business Process
by Implementing SalesBabu CRM Industry Vertical Solutions.
Our Sales and Distribution CRM software would put your team on a path of operational transformation by providing a complete sales force automation platform for managing sales, marketing and distribution of goods.
Plan and make a blueprint of your sales with clear targets and achieve the highest ROI for your sales & distribution partners. Say no to stressful daily planning and sales team meetings. Smoothly plan, monitor and track your sales team activities and enable them to do more every day. 
The Online CRM For Sales and Distribution will empower the sales team to take new orders and effectively track orders & inventory statuses, even while they are on the move with our mobile app. Grow accounts, find customers, and close more deals faster. The path to success starts here with SalesBabu CRM for Sales and Distribution.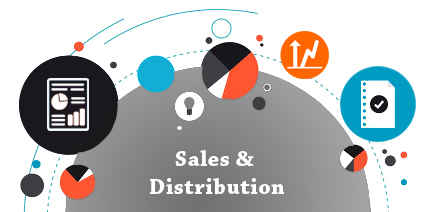 Our Cloud CRM For Sales and Distribution is simple to use and would empower your entire team to work together as a cohesive unit and take accurate and timely decisions to manage and achieve your primary and secondary business goals. Generate reports in MIS and maintain configurable dashboards for each of your workflows and team members to track their performance and deliver to their best capabilities.
Read more – Channel Management with SalesBabu CRM
Visibility of Primary & Secondary Sales has enabled companies to devise strategies for timely delivery of goods to Distributors, Dealers and Retailers enabling. With S&D Solution, the stock status at every level of transaction is updated in real-time with alerts & reminders for any deviation in set standards.
Efficient Inventory Management
Streamline your sales team to increase your revenue and profits
Strategic Product Distribution
Better Visibility on Secondary Sales
Enhanced Automation of Downstream Distribution Process
Reducing Communication Gaps across all Levels
Lesser Inventory Handling Times
Faster Stock Replenishment causing Opportunity and Revenue Gains
Accurate MIS Reports for Management
Above all, Peace of Mind and Better Focus on Root Functional Activities
Make accurate and timely decisions supported by powerful insights
Increases sales force productivity, coverage and revenues per outlet
Reduce inventory costs with streamlined order management
Extract maximum benefits from your distribution network by making it agile and responsive to changes in the market conditions.
Streamline Sales Funnel
Sales & Marketing is a crucial task in every business, CRM helps you to track productivity at every level of your business, which helps you to improve customer satisfaction and increase customer retention as well as add new customer in your Sales Bucket.
Maximize Channel Sales
Gain insights into channel performance by setting periodic targets, monitoring net sales, calculating occupancy costs, etc.
Analyze channel business by monitoring days of receivables, days of inventory stock etc
Monitor partner performance with real time accurate and updated data
Enable single point for partner to raise purchase orders, track order status, delivery dates, back-orders, etc.
Synchronize Primary & Secondary business tier
Primary sales are those made to channel partners who are effectively customers that resell multiple units of products and services.CRM for Sales & Distribution provides comprehensive visibility of Primary & Secondary Sales that enables partners to formulate strategies that wrap other products and service together to create a differentiated value proposition for customers and timely delivery of goods to Distributors, Dealers and Retailers.
Customer Retention
CRM helps you to Retain those Customers who left your services. This should become a part of the strategic sales & marketing planning process of any firm. It is important to define customer retention and also to understand how it can be measured.
Enable Communication Bridge
CRM enable to you to manage a Communication Bridge between Primary and Secondary level of your sales ,where you need to put extra efforts .At primary stage of your business you are bound to manage your existing Distributors/Dealers/ Retailers, and on the other hand your channels of sales looking for new End users of your Product.
Starting at
₹
1000
/user/month
(Billed Annual)
Sales Force Automation
Distributor & Retailer Management
Primiary and Secondary Sales
Maximize Channel Sales
Customer Retention
MIS Reports
Register here to Schedule an One to One Online Session at your Convenient time.
Many Businesses trust SalesBabu, including: