CRM for Real Estate Industries
Automate and Streamline your Business Process
by Implementing SalesBabu CRM Industry Vertical Solutions.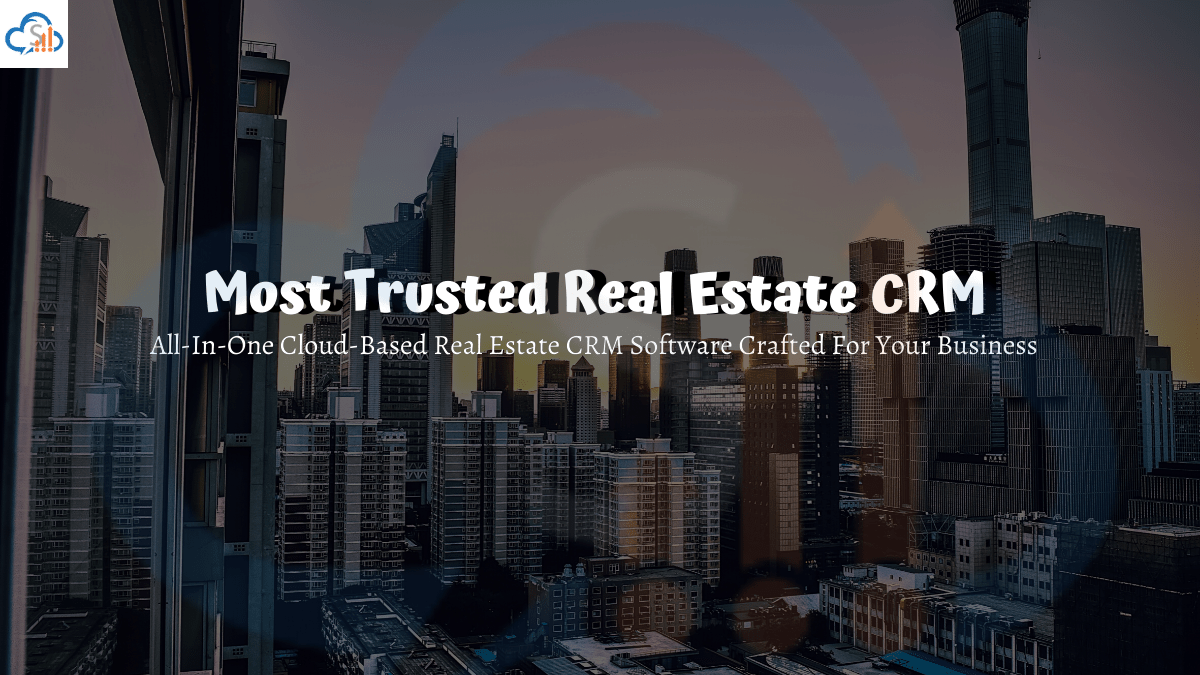 The exponential growth in the real estate sector has triggered stiff competition. Keep up with the pace with SalesBabu CRM for Real Estate. Built for real estate agencies of all sizes, SalesBabu CRM offers cutting edge sales process management, property management, and automation for real estate agents, real estate developers, and brokerage firms. With the all-in-one cloud-based real estate CRM platform that's crafted for your business, win more deals.
The exponential growth in the real estate sector has triggered stiff competition. Keep up with the pace with SalesBabu CRM for Real Estate.
Our online real estate CRM software can transform the whole process of your sales team including organizing scheduling, follow-ups, streamlining and lead nurturing. Our best CRM for real estate eliminates all the manual efforts required to collect and manage data pertaining to customers, vendors, partners, etc. through its meticulous design.
Work smartly with our CRM software for real estate and save time, money and achieve customer satisfaction and enjoyment. Real estate lead management software assists you in finding new leads, tracking them, managing brokers and agents.
SalesBabu Real-Estate CRM software helps the industry to manage pre and post-sales customer management which includes leads, quotations, booking, documentation. etc. Real Estate developers have to keep track of each and every enquiry status to maintain a better relationship with their customers. Real-Estate CRM bridges the gap between builder and their customers.
What makes SalesBabu CRM so imperial for the Real Estate Industry?
Simplified and affordable Online CRM software.
Maximise Conversion Rates
Make the process of sales more smooth & transparent
Get updated information for yours Sales Executives activities
Proficient follow-ups and Easy follow-ups.
Manage detailed information related to Builders, their projects/pricing
Store details of completed booking for future references
Reminders for pending/up-coming payments, documentation etc
Scalable solution to drive growth of SMEs to large unit.
Pending Task Pop Up.
Workflow & Dashboard Visual Reports.
CRM Performance Report – Exclusively for Dept. Heads
Efficient collaboration and Eliminates sales' expense
Simple monitoring and Intelligent reporting
Read more – Growing Real Estate Business With CRM
Segmentation of Customers
CRM help Real Estate companies to easily segment & target the customers. It allows companies to get focused approach over the clients according to NEED BASED ANALYSIS.
They can segregate customer's interest as per their terminology that helps them to perceive about customer requirements.
It helps them to undertake their marketing campaign to lure more customers towards them.
It helps them to concentrate on a particular set of customers at a time that improves their efforts.
Proper Coordination & Communication
Companies can facilitates a smooth communication flow with proper coordination with in the department
By the help of CRM, the companies can communicate & even circulate any important information effectively.
There is less chance of any miscommunication or misunderstanding.
Enables the complete transparency within the organization
Manage Sales Cycle
CRM enable the companies to keep a proper track of sales process. Evaluate executive performance and calculate future revenue & profitability .
Filter out all the interested customers, where the executives needs to focus more.
Manage the complete sales pipeline.
Track communication
Supports in forecasting of sales
Property Masters
CRM can keep the complete details of the builders & projects at one place.
Make sales pitch smoother for sales guys, since all the information of their product is available at one place.
Keeps all the details of particular project, along with its price & size of the units.
While feeding the enquiry details the executive can easily fetch the demanded details & tagged with that, which helpful for them
MIS & Reports
At the end of the day, companies require some reports to measure the performance & CRM is highly capable of generating these reports.
Gives a complete performance report according to property or executive users.
Reports can be downloaded in excel formats.
Manage pending Enquiries, with their sources. That can be helpful in evaluating the source's usefulness.
Daily call reports of the executives, helps the organizations to track, what they have done all-day
It does not end here. Real estate CRM software helps to streamline numerous other processes necessary for marketing and salespeople. Whether it is email marketing or targeted marketing, everything is just a click away with CRM for Real Estate Industries.
Key factors of Real Estate CRM software facilitates storage of leads with proper information, timely follow up of potential leads, increase in ROI with lead analysis and identifying prospect needs. All the factors supported in SalesBabu's CRM software for Real Estate agents ensure agility and productivity in your daily sales tasks.
Our best CRM for real estate makes sure that you are following up on your leads at the right time so that you can strengthen your sales and boost your organization's growth. Our Real Estate Lead management software is set up on cloud technology with a user-friendly dashboard; gives way to your employees to improve their analytical skills and allows them to close the most potential leads.
Strong Reason To Adopt Real Estate CRM Software
If you pull out automation from the process of customer acquisition, you will realize that it gets tough. It's an uphill battle that many real estate marketing teams face. How many times have you missed manually update in your excel sheet with the information of a lead you just got? Or that other time you misplaced a prospect's card you bought at a networking event? Not to mention the effort and amount of time it takes you to enter lead information manually. Unfortunately, every lead lost equals losing a possible source of income.
SalesBabu Real Estate CRM Is The Most Trusted Tool For Real Estate Business
In the real estate business, agents deal with multiple prospects and clients at the same time, each at different stages of closure. And most of the potential buyers expect realtors to be their advisors throughout the buying process. Our real estate CRM software provides a 360-degree view of all your customers and their past engagements with the company on a single cloud-based dashboard. With our real estate CRM solutions, agents can view appointments, communication history, tasks to be completed, and email to understand and make personalized meaningful and fruitful conversations.
SalesBabu Business Solutions Pvt. Ltd.
No.38/11, 3rd Cross, G Block, Sahakarnagar, Bangalore – 560092
Bangalore, Karnataka
560092, India

Starting at
?
750
/user/month
(Billed Annual)
Segmentation of Customers
Proper Coordination & Communication
Manage Sales Cycle
Property Masters
MIS & Reports
Record of all Documents
FAQ
1) Can enquiries be managed in your Real Estate CRM?
Yes, very well.
2) How to analyse the source of lead generation?
There is a field of lead source during the creation of new enquiries.
3) How to do follow up on enquiries received?
Once the enquiry is captured, the team executive can create follow ups and capture the discussions.
4) How to track the unattended enquiries?
A reminder will be displayed on dashboard on the followed date, if follow up is not done on the new enquiry received day.
5) Can we manage Property Master in your CRM?
Yes
Register here to Schedule an One to One Online Session at your Convenient time.
Many Businesses trust SalesBabu, including: