Track Order Finalization & Be in Win-Win Situation!
Best Online Sales Order Management software
A Simple Online Sales Order Management software can give you a competitive edge by speeding up the traditional process. The speed at which an order is dealt with internally can make or break a business because customer expectations are so high.
Whether the sales order is imported from online selling platforms or created manually, you need to be able to act on it and ensure it goes straight into processing and delivery, so you're exceeding your customers' expectations every time.
SalesBabu Sales Order Management Software allows salespeople to convert positive opportunities to sales orders without re-entering pricing and discount information. Customer service can easily locate customer orders to verify the delivery status. Order fulfilment personnel can associate tasks and activity history with each order.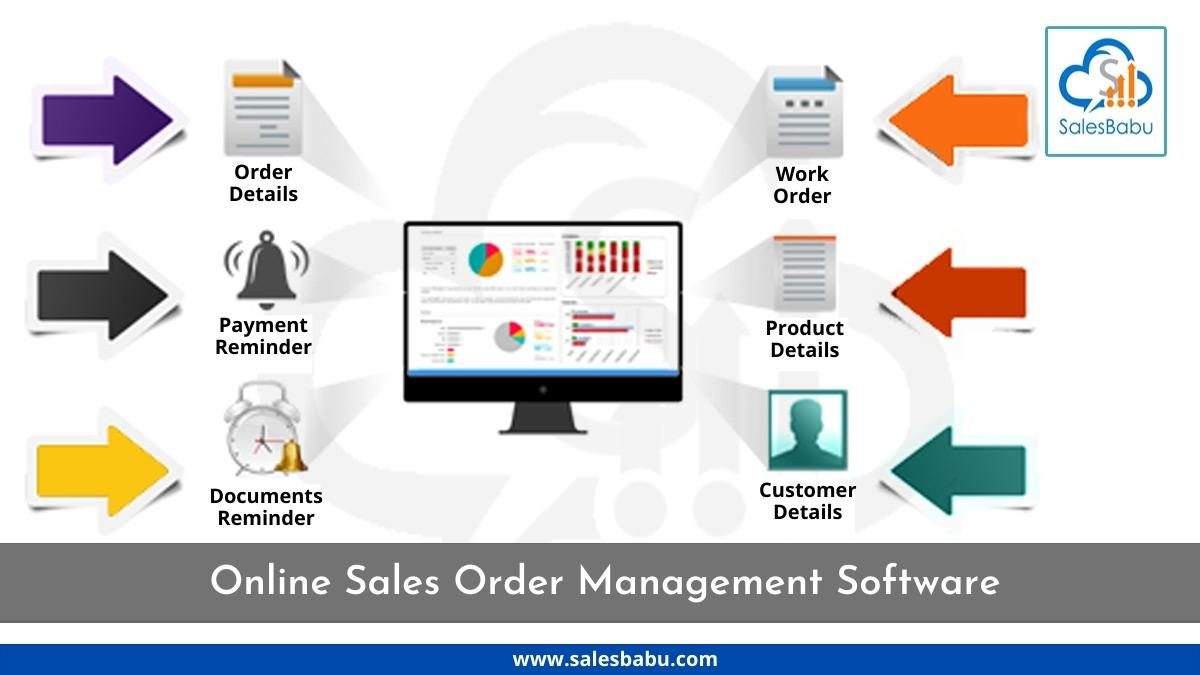 By the help of Sales Order Management Software, you can give inputs to order management process. You can input the details of payment mode and delivery mode, moreover you can denote Purchase order too.
Pending Payments Reminder
Majority of the business, runs on partial or full credit, so it is necessity to maintain an proper data of that & keep reminders for the same. Sales Order Management software, you can schedule reminders for pending payments, so that you have full idea, when & from where you have to collect the money.
Pending Documents Reminder
There are various kinds of documents, which you need to collect against the sales that you done to your customers. Our Sales Order Management Software give this convenience to store all the required documents and allows you to set reminders for their collections from the customers.
Sales Order Management Software allows you to assign work orders from a single platform, which make your order's dispatch and after sales process more efficient & flawless. With this you can also update work order notes in regards to the order or customer, to make it more convenient.
By the help of Sales Order Management Software, you get this convenience of final inputs in regards to the product to make this process more smooth and flawless.
By the help of Sales Order Management Software, you get all the information, in regards to the customer's details and about that individual who acted as a SPOC between you and your customer.
Online automated sales order management system software that enables you to convert positive opportunities to sales orders without re-stating pricing, discounts, offers and other information. Your customer service will speedily locate the order for delivery. SalesBabu's Small Business Order Management Software integrate your sales, finance and fulfilment teams—improving quote accuracy, eliminating billing errors, strengthening revenue recognition processes and driving fulfilment accuracy and efficiency. Few benefits of simple online order management system software –
Centrally manage, control and update pricing and promotions to maximize profit:
Replace your existing pricing software and promotions management architecture with SalesBabu CRM order management system to establish multiple price levels, customer and currency specific pricing, dollar and percentage discounts, promotion codes and transaction level gross profit analysis for a quick double-check on the effectiveness of your pricing strategy.
Automate your entire order to cash flow:
The process of taking, approving, scheduling, tracking, fulfilling and being paid for orders is the lifeblood of your business. SalesBabu CRM ecommerce order management software provides unrivalled visibility into the process and helps automate many tasks to ensure that you are keeping your customers happy by hitting defined service levels, delivering on-time and from the most economical or geographically appropriate location.
Sales Analysis Report:
What is the trend that occur in your company sales volume over a period of time? It is easy to locate with SalesBabu Sales Order Tracking Software Sales reporting tool.
Delightful Customer Service:
With our Order Management Software for Small Business simplify the processes and turn a negative into a positive with awesome communication and execution
Know more – How to Increase your Sales Order
Online Sales Order Management System Software Advantages
Fast Sales Order Processing
Whether it's taking a sales order over the phone, at a show or keying in traditional mail order, our solutions (customer order management software) allow your users to process orders quickly and efficiently. Users have prompt access to real-time stock levels, and ongoing promotions and offers are applied automatically. CRM Order Management System users also have access to key information like customer addresses and contact information, as well as CRM data. This ensures that orders can be managed quickly and efficiently, ensuring your customers enjoy a positive ordering experience, every time.
Information At Your Fingertips
Being able to view key information such as a customer's previous sales history, expected delivery dates for out of stock items and potential up and cross-sell products, means that you can maximise every sales opportunity. All this information is available without ever leaving the Sales Order screen.
You can also review and update your customer's CRM data as part of the same seamless process. Using our Online Sales Order Management feature also means you can keep track of lost sales opportunities due to stock being unavailable, allowing you to plan your procurement more effectively.
Proforma Invoicing
Many trading companies need the ability to place orders on Proforma Terms. This takes place when an invoice is raised prior to the goods being picked, packed and dispatched so that the customer has an invoice that they can make payments against prior to you processing the order.
Manually managing such a process can be error-prone and time-consuming, which is where our cloud-based sales order management software comes in. Once payment has been received, Proforma orders can be converted into fully paid sales orders and are available to be processed.
Feature Rich and User-Friendly Sales Order Management Software
SalesBabu CRM system provides your business with an integrated order management solution to optimize and streamline your daily sales order processing.
Based on our experience, we know and understand that when managing orders from across multiple sales channels, keeping processes streamlined can be a little challenging. However, customer comfort relies heavily on the speed of your order fulfillment. This is the reason your sales team needs to be equipped with the right tools in order to always process sales orders perfectly.
So how can SalesBabu CRM help? We provide a centralized Order Management system that ensures all sales are handled in an accurate and streamlined way. Both, simple to use and offering livestock insight, our online sales order management system software helps your team to deliver great customer service always.
Benefit from a more optimised Sales Ordering process
Complete Visibility At Every Step
Whether trading through sales reps, online, or over the phone our sales order management system software makes processing smooth. With a smart sales order entry, easy access to customer history and tools to promote up selling and cross-selling, you can benefit from complete visibility across the board.
Automate Processes With Single Platform
Are you drop shipping, fulfilling your own orders or doing a bit of both? Whatever the case, we can help you streamline the handling of each order through to final shipment, within a centralized sales platform.
Boost Business Performance
SalesBabu CRM is scalable & modular software. Your business can benefit from a full suite of integrated sales tools including CRM, Marketing, Mobile App functionality and many more.

What are the top reasons to purchase Sales Order software?
The top reasons to purchase sales order management software are mentioned below:
Automate daily sales activities.
Help to enhance data reporting.
Generate revenue from customers.
Helps to boost customer service.
Initiating communications within the company.