Online Sales Tracking Software
Sales Tracking Software helps you maintain consistently effective sales forecasting and results with capabilities that automate, streamline, and synchronize all your core sales activities like monitoring new sales opportunities, giving a comprehensive view of customer interaction, automatic follow-up reminders, integrated account history and a single repository for everything, including contact information, the role of each contact in your business relationship, relevant documents and partners involved in the account.
At SalesBabu CRM, our sales tracking software is a combination of mobile CRM and cloud-based online sales CRM software. The mobile sales tracking system is helpful in managing the data and operations in and around entire field operations. Here are some of the additional functionalities enabled by sales tracking software.
Manage Entire Cluster of Sales
Without efficient lead tracking and capturing, the complete sales equilibrium gets disturbed. So, sales tracking software helps manage all leads with each and every information well inside the software.
Centralizes Client Data
There are conversations and interactions once the sales rep is assigned an inquiry. Sales tracking software gives you a proper note section where you can refer to all the historical or present conversations with the client.
Follow-Up Management
Relationship With the customers can not develop until you understand their exact requirements and deliver the right product. All this requires consistent follow-up with the customer in which the Sales Tracking Software helps you, after all, Effective follow-up is the backbone of the sales process.
Manage Complete Product Information
A customer detail is incomplete without accurate product mapping and technical specifications. Sales tracking software helps you manage all products, their specifications and other information.
Forecast Sales
The software offers vivid features to forecast your probable revenue generation and profitability. Its real-time dashboard offers a futuristic sales pipeline and indicates organization profitability.
Visibility of Sales Process
You get complete visibility into your sales process. Why do some customers turn up not interested? or Why a particular deal was lost? Based on the last activity to leads, opportunities or any particular account, you can know all areas in your sales pipeline that require instant attention.
Performance Tracking
Measure how effective each sales team members are in reaching their goals or closing deals in their sales pipeline.
Sales Escalations
Notify sales managers in case of important sales activities or inaction on any lead/ missed follow-up on the salesperson's part.
Sales Reports
100+ dynamic reports to measure every piece of your sales process – from individual and team performance to sales closure rates.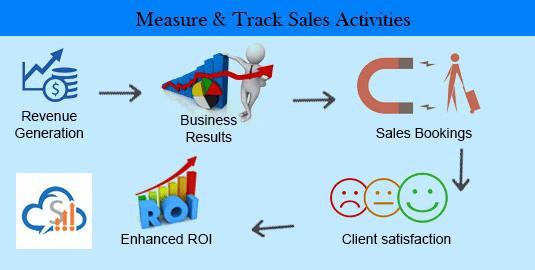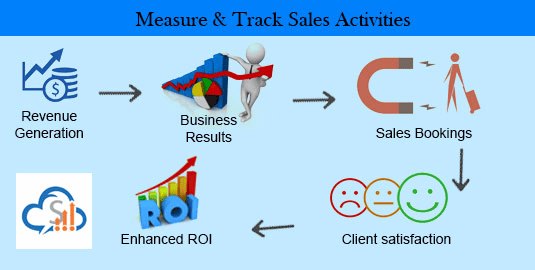 What does Sales Tracking means and why it is important?
Sales tracking means storing records and describing all aspects of your sales process. Here, the advantage of it; analyzing these records is helpful for sales managers to develop a sustainable strategy that keeps critical Sales performing. When the process is done right, sales tracking provides transparent visibility into your sales process. And the insights necessary to convert more prospects into customers – especially when you use a CRM with a sales call tracking software.
The CRM application is accessible in the Mobile App so you can find the information you need while on the move. SalesBabu Sales Tracker via Mobile CRM allows the creation or editing of CRM entries and Sales Orders directly from a mobile device. You can browse client records, use the product catalogue, and even view the contact information of clients from your Mobile CRM app! Find out more about the Mobile App.
For all businesses, only one thing that is more challenging than finding potential leads is – converting them. For a business looking forward to meeting its best conversion ratio, sales tracking app and management is one of the most essential steps in managing your leads. The organization needs to gain the ability to track, manage and accelerate the lead processing for maximum conversion with a sales tracker.
SalesBabu CRM is an integrated sales tracking app software which delivers a unified dashboard interface for managing every sales activity. 'What is CRM?' The CRM Software is a SaaS platform embedded with a tracking system that records every stage and instance in your sales channel, acquiring better insights into your complex sales process.
Also, the Sales CRM system eases the processing of acquired leads and helps in creating the best custom sales appeal to nurture the most profitable lead in sales processes with sales tracker software. The sales tracking app also helps you process the acquired leads more efficiently.
Comprehensive Sales Tracking to Respond When it Matters
For all businesses, only one thing that is most challenging than finding potential leads is converting them into sales. A business seeing ahead to meet its leading conversion ratio, sales tracking app and software is one of the most crucial steps in managing your leads. The organization needs to gain the ability to track, manage and accelerate the lead processing for maximum conversion.
SalesBabu CRM is an integrated sales tracking software which delivers a consolidated dashboard interface for managing each and every sales activity. We also have sales tracking app that makes tracking easier. The sales tracking system stores every stage and instance in your sales channel, collecting better insights into your complex sales process. Our CRM system helps to maintain a good relationship with business partners.
Also, our Sales tracking software and sales tracking app eases the processing of acquired leads and helps in creating the best custom sales appeal to nurture the most profitable lead in sales processes. The CRM sales software is also helpful to process the acquired leads more efficiently. Here are the various applications of SalesBabu CRM which enable you to track and manage leads with higher efficiency.
DELEGATE,DIVIDE AND ATTEND – LEADS EFFICIENTLY
The sales tracking software ensures that any lead is handled in the most efficient manner. The CRM system receives every lead, streamlines the lead flow and presents the lead enquiry in the most easily understandable way. In this way, SalesBabu CRM software significantly cuts down the time for processing and analyzing each lead.
CONCEIVE AND DELIVER – CUSTOM, SALES PITCHES
Our best sales tracking software gives an instant account of the requirement of each potential lead received. The crucial information of the client requirements helps to assign the lead to the concerned department and in return come up with a custom pitch that promotes client interest.
REGULATE, ALIGN AND DELIVER – YOUR SALES CHANNEL
SalesBabu CRM comes with customer sales tracking software which gives you a crystal clear understanding of your sales channel. A better grasp of the sales process channel is helpful in optimising your sales process according to the needs and requirements of your target audience.
TRACK PERFORMANCE AND CONTRIBUTIONS – EACH SALES EXECUTIVE
A company using our sales call tracking software doesn't have to wait until the month-end or weekend to obtain performance reports. Our Sales Tracking Software exactly records the contribution of individual sales executives. Based on the record you can make changes to the team roles or shuffle responsibilities as required.
GREAT SALES PERFORMANCES
As our sales tracking software is cloud-based, you have immediate access to the entire client account database. As the customer information is quickly accessible, it creates additional value for retaining clients and achieving new client accounts.
Benefits of using SalesBabu Sales Tracking Software System:
Valuable data captured from the various sources
Complete visibility of every stage of the sales process
Ability to measure sales profit and losses
Tracking customer debts, bills, payments
Capable to see all customer transactions and interactions
Capability to perform sales tasks in the single data repository
Mobile App for handheld devices for using in the field and providing access to the important data 24*7 from anywhere
Effective and impressive inventory management by providing updated information about inventory levels located in multiple warehouses
Providing information to higher management that helps them make accurate sales forecasts
Learn when something goes wrong and minimize risks
Eliminating the alternatives among various computer programs
Customized reports enable effective sales analysis
Smoothly integrated with the accounting and other software systems
Comprehensive analytics that allows evaluating each sales activity from sales campaigns
Minimizing and saving time and company's money by eliminating the manual paperwork
Reducing the monotonous & work-related stress of the employees from the sales department
Management and monitoring of the sales accounts enable identifying accounts providing the most revenue and accounts with the minimal perspective
The sales tracking software helps streamline and automate sales-related activities. They vary on many parameters including the cost. Some sales tracking software is costly, other packages are affordable. There are no two same sales tracking software systems. Even though they offer similar features, they vary in data collection and processing, reports and analytical tools and other aspects. If you wish, your sales tracking software will be effective and serve you with the most benefits. Before purchasing the software for tracking your sales activities, define the most important features that can help your business to achieve success.
How SalesBabu CRM Makes Sales Tracking Easy
Sales pipeline visibility
Our CRM software is built with high pipeline visibility. In our sales tracking system fundamental view is always an overview of the entire sales process of an organisation, with visual representations that show what is working and help to identify potential problem areas. With pipeline viewing support you can drill down into contacts, deals, organisations and statistics quickly and logically, having access to track the information needed immediately.
Mobile friendliness
SalesBabu CRM Software was built with mobility as one of the priorities in mind. It supports flawlessly on Android. Track all sales reps, metrics, and activities in real-time, streamline operations, and never miss another opportunity. This makes it quick and easy for sales reps to register each move with a prospect without slowing down their workflow. Our CRM mobile app integrates naturally into their workday and quickly becomes an essential part of their sales process.
Break down team silos
In an organization, an open, connected structure permits information to flow freely among the team.
Turn conversations into action
Built for long-term knowledge so you stay with impressive ideas or context in a transient notification.
Why Choose SalesBabu's Sales Tracking CRM Software?
There is a growing need to understand the complicated process behind every sale. No guesses or improvisational exercises work in the field of sales. We at SalesBabu have experienced this and this is exactly why we help you to streamline the entire sales process. Sales representatives require a lot more than just contact information to keep the sales process moving. At the same time, nobody wants to make themselves bored with hours of administrative tasks. So, what do they do? They choose SalesBabu online CRM solution. It's user-friendly and helpful in managing complex sales processes.
The cloud-based CRM software provides you with immediate access to all levels of the sales activity with a visual pipeline and graphical representation of the deal flow. This is how you save time and close more deals
Find customers, grow accounts and close deals faster with SalesBabu Sales Cloud
Rich featured and suitable for business houses of all sizes and industries. Cloud & Mobile based Software for Managing Field Sales Force (SFA). Try Now! Everything is Hosted on Cloud Server. Geolocation Enabled – Access anytime from any location. Easy To Use. Unbeatable Value. Save Over 55% – 60%. Easily Customizable. Highlights: Configurable Workflows, Expertise In Implementation And Support, Focus On Process Compliance, Email, Self Service Portal, Manage Visits & Improve Field Force Productivity, Custom Forms, Download Detailed Reports, Expense Reimbursement Management.
Make your sales rep/teamwork smart with the best Sales Tracking App from the most trusted CRM (SalesBabu) with Sales Analytics. Gain pipeline visibility, track team performance and uncover opportunities to grow the business. Stop revenue leakage with powerful SalesBabu sales tracking software. Spend a few/less time tracking sales leads and more time closing deals. Meet SalesBabu CRM, a simple sales tracking software for sales teams that strive to close deals faster.