Get real insight of raw data.
---
CRM Analytics and MIS Reporting Software
The benefit of using CRM analytics software double the relevance, when it delivers us real inside of complex raw data captured and reproduced for decision making at a single dashboard. Presentation of requisite data in the form of graphical charts, metric analytics and more crisp MIS reports, save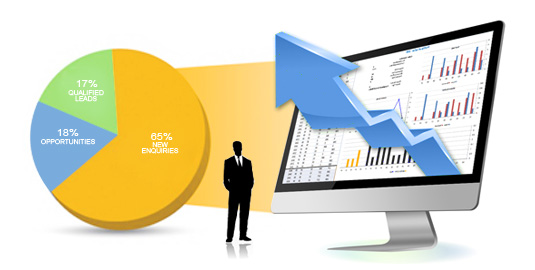 ---
SalesBabu CRM interface offer it's user home dashboard with summary of the information required to start his/her productive day with snapshot of to-do list, concise and crisp information about hot leads and customer conversation.
SalesBabu CRM Analytics & MIS Reports can be download in compatible and printable formats. Customer sales data like quotation, proforma invoice and work-order can be downloaded in un-editable format.
You require a clear picture of the complete sales funnel and sales pipeline manage performance of your sales team. SalesBabu CRM Analytics & MIS reports offer information regarding all open and close leads in very filtered manner, which makes them easy to understand for making sale strategy.
SalesBabu CRM use uniform data capturing at backend to reproduce the information in more effective manner by MIS reports and Analytics.
Evaluate Revenue Resources
SalesBabu user dashboard gives a clear picture of day-to-day proceedings of sales process, by it you can track down & visualize the optimum revenue attributing resources.
In business strategies based on current and future predictions received from captured data related to customer interaction. Inside presentation of actual data enable Manager to form sales and market strategies to grow organisation business.
The use of CRM analytics measurements to improve business efficiency has been growing in popularity. These analytics are used to promote more refined and faster business decisions in the workplace regarding a company's customers. For your business to compete in the global economy and to provide your customers with the best service possible, CRM analytics are worth considering.
Considered a form of "online analytical processing," CRM analytics assist companies in the gathering and evaluating of information concerning customers. With this kind of customer data analysis, many evaluative functions can be performed. For instance, personalization and segmentation grouping are two popular CRM analytics tools. Being a manager get answers to your questions by CRM analytics.
Summarize presentation : When you use different apps to store your data, it is vital that they can talk to one another. If they don't communicate, your data winds up in silos, and it is virtually impossible to get a complete view of your business. With Advanced CRM Analytics powered by SalesBabu, you can integrate your data and gain better insights. By connecting Reports to your CRM, you can perform cross-functional analysis to learn more about your business. Compare statistics from marketing campaigns with sales reports and find out which customers are the most valuable, and which leads need more nurturing.
Personalized Reports and Dashboards : Pre-built arithmetic and statistical functions in Advanced CRM Analytics can help you see the key performance metrics that matter. You can also define your own formulae to meet specific reporting needs. Create reports with charts, pivot tables, and tabular view components. Drag and drop images, formatted text, KPI widgets, and other web components into the flexible layout. Combine multiple reports and build an individualized dashboard.
Share Reports and Make Informed Decisions : Share reports with individuals and groups at different permission levels. Let sales reps see their own performance charts while giving your sales head the ability to see all the data about a territory. You can also embed static or interactive live reports in your intranet. Any change in the data will be reflected in the published report.
What is an MIS (Management Information System) Report?
A Management Information System (MIS) report is tool managers use to evaluate business processes and operations.
Assume you are the manager of an SME's customer service department. Your service agent takes phone calls and emails from over 300 customers per day. They do a very good job for the most part, but recently, customers have started to complain that it takes too long to get their questions answered. Higher management at your organization is concerned about this and wants to know what they can do to fix the problem. But before they make a decision, they require you to give them more data. How will you do this?
This is where the Management Information System (MIS) reports come in. Managers in the company at all levels from assistant managers to supervisors rely on reports generated from MIS to support them assess their business' daily activities or problems that arise, making decisions, and tracking progress. MIS system reporting is used by companies of all sizes and in every industry vertical.
Who Uses MIS Reports?
MIS systems automatically gather data from different areas within a company. And these systems are capable of producing everyday reports that can be sent to primary members throughout the company. Most MIS reporting systems can also generate on-demand reports and it allows managers and other users of the system to generate an MIS report whenever they need it.
There is a specialized MIS department for many large enterprises, whose only job is to collect business information and create MIS reports. Some of these businesses use sophisticated computing technology and software to gather information. However, the process of collecting data does not have to be that complex. Small companies generally use simple software and spreadsheets to fulfil their MIS reporting needs.
Based on the divisions within a business there can be various types of MIS reports. For example, data about sales revenue and business expenses in MIS reports would be useful for finance and accounting managers. Data about product inventory and shipping information would benefit Warehouse managers. Total sales from the previous year could go into an MIS report for sales and marketing managers.