Mobile Sales App: Best Sales Tracking App For Sales Management
---
Get the best Sales App with Sales Tracking App from the CRM Market Leader with Sales Analytics. The smartest way to manage your field operations is to implement our Sales CRM software and enable your sales team with our Sales Tracking App. Our sales employee tracking app is a mobile-based solution to manage your field force by capturing updated and authentic data from point of execution.
We provide Cloud & Mobile based software for Managing Field Sales Force. With SalesBabu Mobile Sales App; quickly gain pipeline visibility, track team performance, and uncover opportunities to grow the business. And use Einstein Discovery to surface hidden insights and get smart and intelligent recommendations so you can sell faster and smarter with our sales management app.
We offer an easy & simple web interface and a sales tracker app android that you can use to update sales pipeline and CRM information and access it from anywhere. This effective and secure tool offers great features that help businesses better manage their customer relationships and close more deals.
The SalesBabu Sales Tracking App Solution helps you plan, manage and get real-time insights into your field sales & marketing activities. From tracking your sales executives' attendance and location to helping them take orders, capture stock, manage collections and track visibility – Our mobile sales app is the complete Field Sales CRM for your needs. Exceed your monthly sales targets with our Sales CRM App. From generating more leads, to engaging with prospects in real-time, to managing different sales territories, our sales employee tracking app helps you accelerate your sales process. Sell while you're on the move with our sales tracking app which is user friendly and easy to install and use on your mobile. Nurture your business with SalesBabu sales CRM and increase your profit.
Our Sales Tracking App is the fastest growing Android mobile sales app available in today's market. Many of our customers are satisfied and happy with our sales and marketing app and have rated us the best CRM app. By using our sales representative app, you can dramatically improve your sales and customer relationships. Get started today with our sales rep app and enhance your business profit. Our many customers have rated one of the best sales tracking apps in India.
"SalesBabu CRM's mobile sales app helps sales rep to be light and flexible, but still effective and efficient."Amplify sales force effectiveness with our suite of sales force automation tools. 65% – 70% Productivity Increase. Powerful Analytics. Mobile Sales app for business owners to track sales employee activity via GPS.
Our many customers have been using the app for years love the new User Interface (UI), very user friendly, and intuitive. Our Sales Tracking App makes the sales process very easy to manage a business from your phone and is highly recommended by our customers.
Read Our Blog – Top reasons why mobile CRM apps are good for your business
Maximize productivity with access to SalesBabu's mobile CRM app; optimized for handheld devices you use every day. Maintain productivity while you are outside. Configure the CRM mobile app experience to match your individual business needs. Provide all of these benefits with our mobile CRM app, to every individual in your business free of charge. Boost productivity by configuring access according to role and applying custom actions to reflect common actions.
Other mobile CRM app features you can come to expect include:
Dynamic search, Quick create, Notes summary, filters, and favorites features, so you can locate and use key information to easily manage your marketing, sales, and support activities.

Native device integrations such as click-to-call, text and GPS mapping, which allow your sales rep to get the most out of every customer interaction by engaging your customers quickly and effectively from the device you have at hand.

Market-leading sync capabilities to ensure that the information you need most is available from your mobile device even when outside at customer location.
Read Our Blog – Mobile Apps to Transform CRM: Know How


Benefits of Mobile Sales App for Sales Teams
For every company, there is only one thing more challenging than finding potential leads, i.e, converting them. A business looking forward to meet its best conversion ratio, sales tracking app and management is one of the most critical steps in managing your potential leads. The organisation needs to gain the ability to track, manage and accelerate the potential lead processing for maximum conversion.
You are behind if your business hasn't implemented a technology standard for employees in your company. By using the mobile sales app your business has the potential of having a wired sales team go far beyond phone calls and text messaging. The world of mobile apps is in your palm and a sales team equipped with the right skills can take their productivity from average to exceptional. "SalesBabu CRM's mobile app helps sales rep to be light and flexible, but still effective and efficient." Below are the highlighted countless benefits a mobile-connected sales team can provide.
SalesBabu CRM is integrated with a sales tracking app which delivers a unified dashboard interface for managing every sales activity. The CRM tracking system software records every stage and instance in your sales funnel, acquiring improved insights of your complex sales process. The sales tracking app ensures that you are handling your leads in the most efficient manner. Each lead received in the CRM, streamlines the lead flow and presents the lead enquiry in the most easily understandable way.
Business Automation
By selecting the right salesman app, employees can streamline transaction coordination through the use of task assignments and deadline tracking. Having a complete transaction management system (CRM Mobile App) can allow for client engagement and more efficient customer service. Avoid misuse of your employees' talents and work smartly by creating a way to collect data that is generally filled through paperwork.
Have An On-the-Go Team
Organize and Mobilize efforts and stay in consistent communication by having an interconnected linked team network where they can receive constant updates, regardless of their location. A sales employee tracking app can create the perfect system tailored to the needs of your sales teams, so they can access the most updated and relevant information all in one place.
Analytical Insights
A sales reporting app has the capability to provide detailed reporting that can be reviewed frequently to provide better follow-up, planning and collaboration in order to boost employee performance and client relations. A sales CRM app can also indicate what area sales are lacking in, creating an opportunity for training to boost areas of low productivity.
People Engagement
An effective and natural sale can arise when a team member uses an interactive sales force tracking app to showcase the company products and can easily lay a foundation for a trusting relationship with the client. Sales CRM App users can also maintain a database of leads, clients, employees, and any additional contacts all in one easy-to-use interface.
Document Management
Documents can be accessed and uploaded from any device, any place or time, keeping the client process efficient and smooth. This allows field employees to access easily to critical information via a handheld mobile or tablet device. The needs of a client can be written down and sent as a proposal through the field sales app, giving them a personalized experience.
Branding
Employees can customize the presentation or proposal of the company to the needs of a client, expanding the name of the brand and their capabilities. This provides you with the ability to track how clients see your brand and adjust according to the majority of general comments that the sales team inputs.
Calendars and Events
Calendars are easily integrated into mobile sales app to allow users to easily schedule meetings, coordinate events, and keep track of important dates. Enabling alerts or notifications will separate your team from other companies struggling to keep up.
Close the Deal
Investing in a field sales mobile app that provides your employees with mobile services can be the difference between a sale and a loss. The days of door-to-door sales are behind us. From planning to signing the deal with a finger swipe, the entire sales process can be streamlined utilizing mobile sales app software.
Never forget any/another activity
Create reminders, tasks, calls, events, or other alerts with one click. Set up and access activity notifications right from your Sales Tracking App. "Modern, productive and well organised. Easy access to key business data on the go on your handheld device. If you are a SalesBabu CRM user, grab this now and grow your sales. And, if you are not, this is a reason to consider switching to SalesBabu CRM's Mobile Sales App."


Better forecasts for better progress : SalesBabu Sales Tracking App
Better forecasts for better progress by using our sales management app on your mobile. You can forecast your revenue and assign targets for your team with key information like deals in the pipeline, quotas achieved during the last fiscal year, and individuals or teams that are working towards their goals.
With our mobile sales app, identify the bottlenecks using real-time data and boost your team's performance and enhance your sales process. SalesBabu sales force tracking app helped our many customers to effectively manage the large volume of contacts flowing through their sales pipeline and increase their sales process.
Territory management for easy customer segmentation: SalesBabu Sales Team Management App
Whether your company organizes sales teams around geography or product lines, our Sales Team Management App handles any form of customer segmentation. Share accounts among territories, allocate resources, identify regions that make a profit, and exceed sales forecasts, all while offering excellent customer service.
Save more time with automation : SalesBabu Sales Force Automation App
As your sales team grows, you need to make sure the sales processes you've designed can scale and that the same level of attention is given to the right customers and leads. Automate repetitive tasks with our sales force automation app so that your sales team can spend less time on data entry and more selling.
Read Our Blog – Improve Your Customer Relationship Approach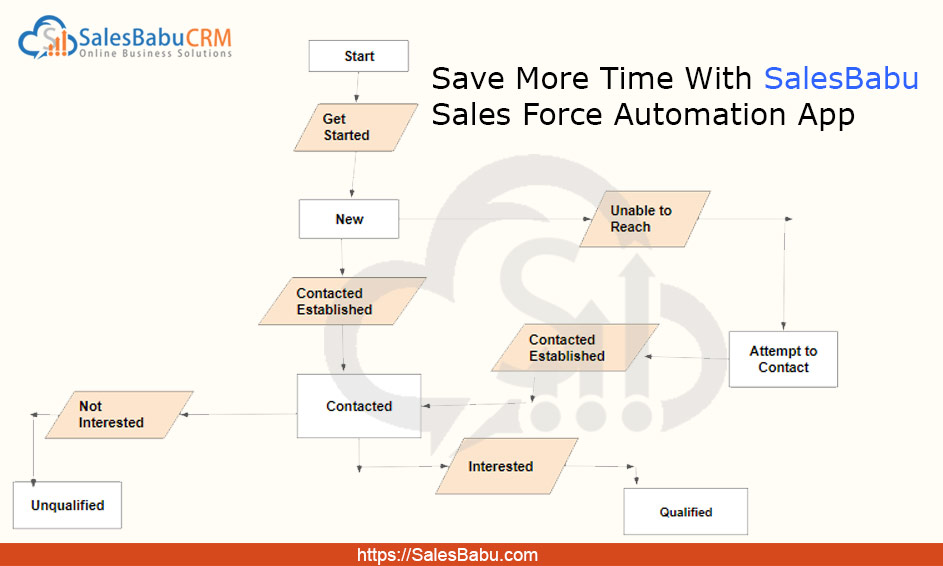 Effortless sales reporting : SalesBabu Sales Reporting App
You can only manage what you can measure. With our Sales Reporting App, manage the way your business is run with intelligent reporting that breaks down key metrics relating to your sales trends, marketing campaigns, team performance, and more. Choose from our MIS standard reports, or create a report from scratch in minutes.
Make selling fun with SalesBabu Sales Rep Tracking App
Change the way your reps work by breaking the routine with our Sales Rep Tracking App. Turn routine/recurring tasks into contests, and watch your salespeople compete to add the most notes or send the most emails. More than leaderboards or rewards, Sales Rep Tracking App livens up your workplace.
Product Highlights
Configurable Workflows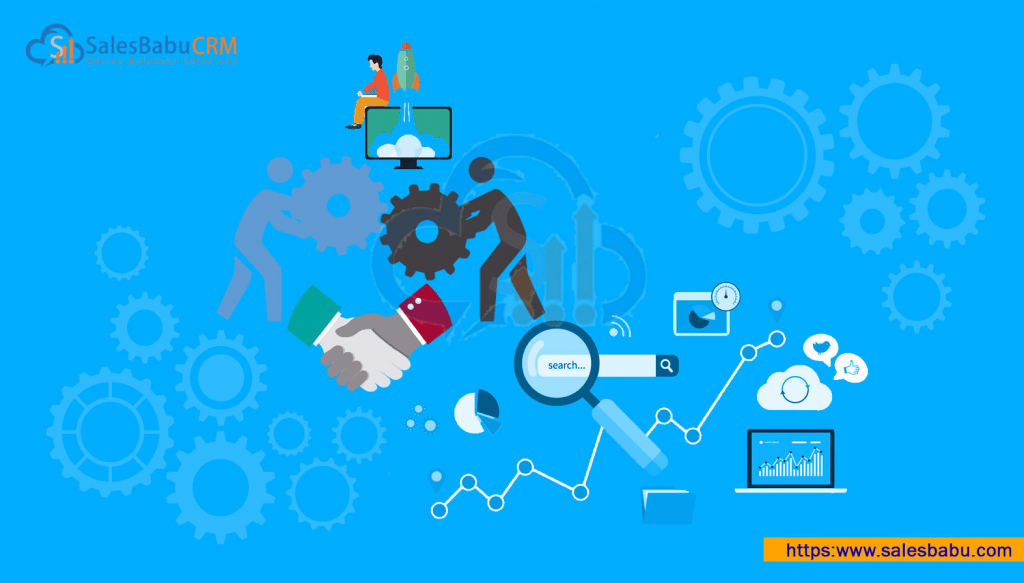 Whether the user is a merchandiser for an FMCG brand or a BD manager for a services firm, our sales tracking app can be configured to the exact workflow for each kind of the user. Through our user friendly and easy to install CRM mobile app, it can be modified to be put to use in any industry.
Focus on Process Compliance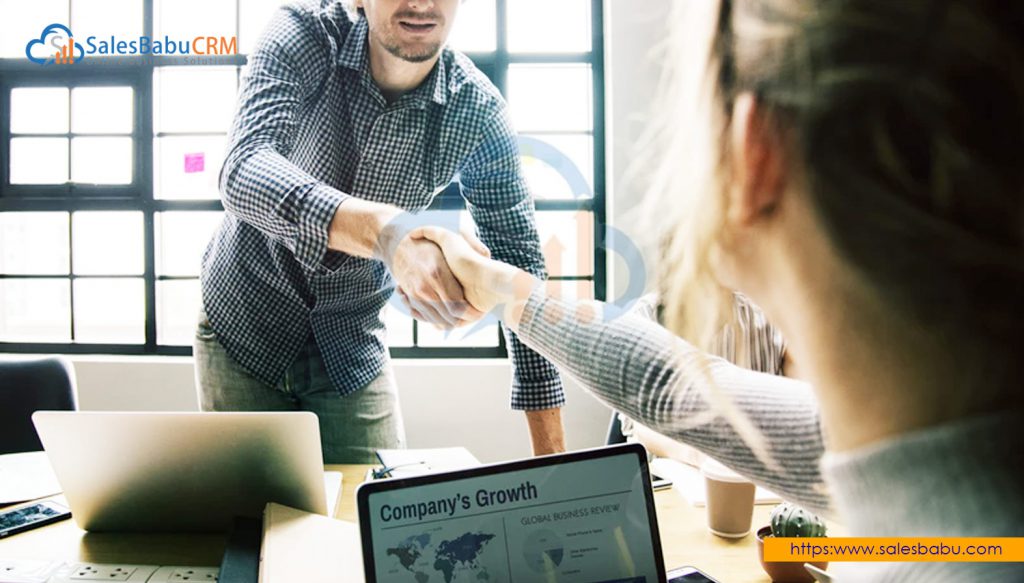 The importance of balances and checks in ensuring retail process compliance cannot be overstated. Through capturing GPS coordinates, timestamps, photographs, etc sales employee tracking app has multiple checks and balances built in to each step to ensure thorough process compliance.
Actionable Reports on Real-Time Data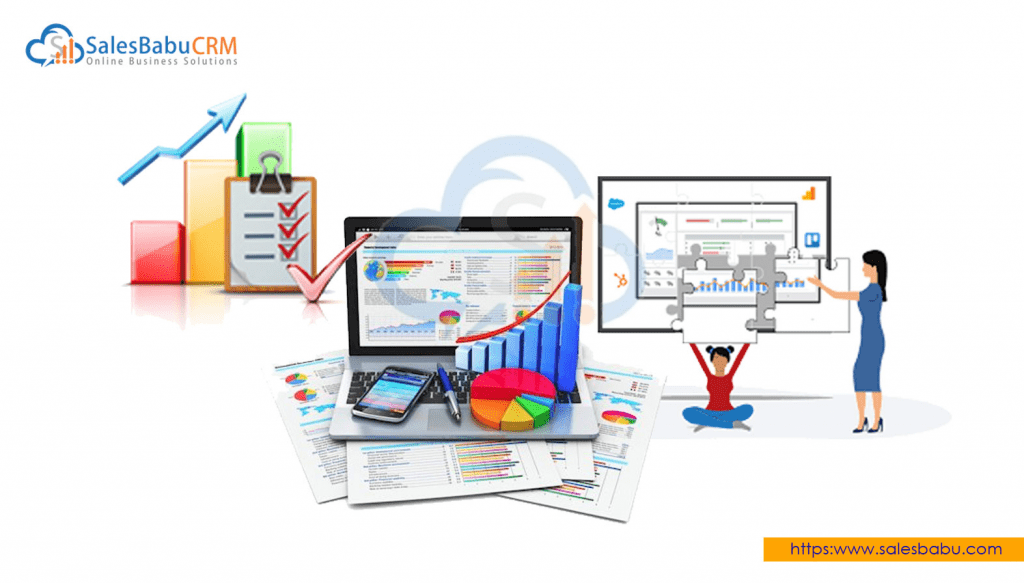 Boasting of a robust and flexible reporting platform, our mobile sales app is fully equipped to give broad/deep insights into field force activities. Through our sales management app comprehensive dashboards and reports we provide our clients with actionable data and help them in solving business problems in real time.
Expertise in Implementation and Support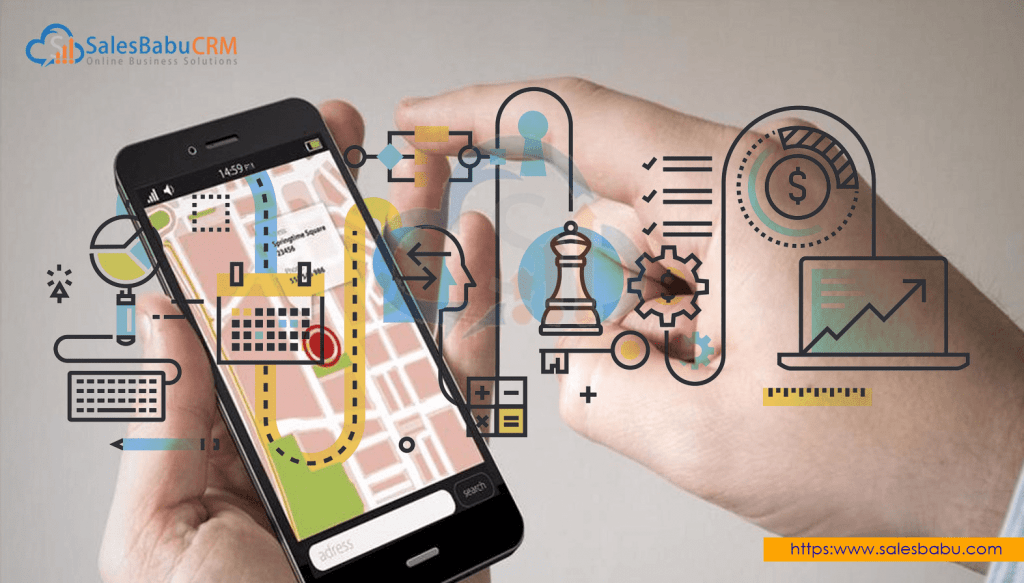 Coming from a retail execution incubator, our sales tracking app takes pride in providing the best implementation support and user training. We handhold our clients through the configuration, master data management, training and implementation stages to ensure the success of the project and deliver quality output. We understand our work doesn't end with adding a client but only begins. We trust in helping our customers to grow in their running business and gain more profit.


Access and Update Your CRM Info Remotely With An Android Sales Tracking App
Accessing info and updating CRM while working remotely isn't always easy, especially if your CRM tool doesn't offer an extension available via a smartphone app. An android mobile sales app can make working remotely much easier and efficient for the sales team.
Things You Can Do On Smartphone
Today most of us use our Smartphone for reading emails and text messages. With your Smartphone you can also manage your sales pipeline, too. An application (Sales Management App) that helps you access and update info easily and quickly from anywhere; can help you keep your CRM up to date instead of trying to remember to update it between sales visits and calls. An android sales team tracking app that's an extension of your sales tracking tool can help you collaborate, too. Keep yourself always updated with field sales app and knowing your info is always updated and secure is a big help.
Demonstrate Great Customer Relationship Management Skills With Our Simple Sales Tracking App
Not only will a good CRM software tool with an android field sales mobile app enable you to streamline your own day but it will also help you to illustrate your expertise and skills o your customers as well. The ability to set up reminders and tasks in advance, to keep important details together, and to be able to analyze wins and losses through reporting functionality with field sales app could help you strategize so that you can make a great impression and build strong relationships with your customers.
Mobile Sales App An Effortless Mobile CRM
SalesBabu's sales employee tracking app is uncomplicated. It offers a simple and easy to use web interface and an android sales management app that you can use to update sales pipeline and CRM information and you can access it from anywhere.
This effective and secure tool offers great features that help business houses to better manage their customer relationships and close more deals. If this were an expensive tool, it wouldn't be worth the investment. Lucky for you, it's affordable, not expensive. Contact us for a free CRM app demo, click here.
Not seeing enough B2B sales? We can help! Get the best sales tracking app for your sales reps that empower field sales and maximise productivity. Capture and share onsite customer interactions in real-time. Sales intelligence puts you in control with Mobile Sales App.
Sales tasks can be distributed among salespeople and can be tracked and traced by the team managers. Gain pipeline visibility, track team performance and uncover opportunities with the Mobile Sales tracking app. Sales tracking app will provide customizable mobile and web dashboards that can efficiently capture the sales, target and revenue details.
What Is Sales Tracking?
Sales Tracking is the process of documenting the interactions a lead has with your business, right from the point of entry, phone calls and emails that they receive, and how they move down your sales funnel, to ultimately become your customer is called sales tracking. This process allows you to get a visual idea of how a lead is conversing with you and any pain points that may be present in your sales cycle. It also helps you to understand the effectiveness of your sales funnel and optimize your sales team performance.
Advantages Of Sales Tracking:
Below is some key list of the tangible and intangible benefits that you get from implementing a sales tracking process for your business growth:
Perform quality checks from time to time and monitor the performance of your team.
Deeper and detailed insights into your sales funnel
Learn and determine when something goes wrong and avoid risks.
Get to know which products or services, locations, and salespersons bring in the maximum revenue and why
Have effective and better communications with your target audience by monitoring their behaviour.
Increase customer satisfaction and make them happy by addressing their queries and providing customized services to them.
So, this is everything and more that you need to know about sales tracking advantages. I hope you find it useful/beneficial and stay tuned for more. Also, contact/request us for free Sales CRM demo.
Insights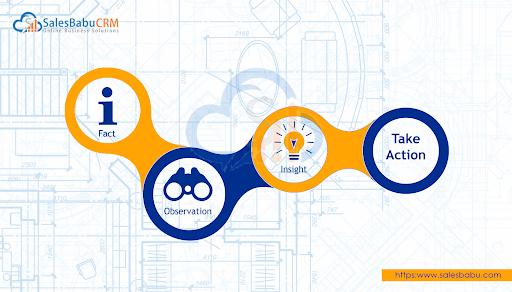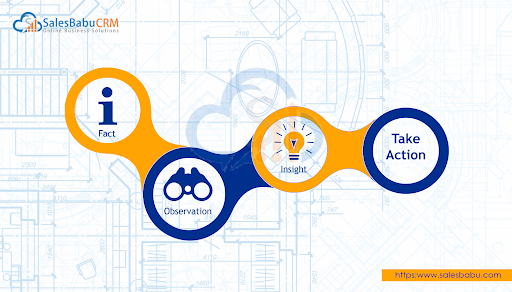 When a company decide to implement a Sales CRM software solution in their running business, one of the crucial and biggest challenges that they face is ensuring their data will remain secure, safe, and compliant as per company or government policies. A lot of energy and time of many people, including that of senior stakeholders, is spent on addressing those concerns and mitigating the associated risks.
And the same becomes true when you are planning to roll out a CRM mobile app as it captures valuable information such as market penetration, beats, sales data, customer credit history, marketing campaigns, new launches etc. Many of our customers have implemented our Sales CRM and CRM mobile app which has helped them to enhance their business process. Thus, they are very much satisfied with our sales team management app as their process has become hassle-free.


Maximize Field Team Productivity Through SFA Time & Location Analysis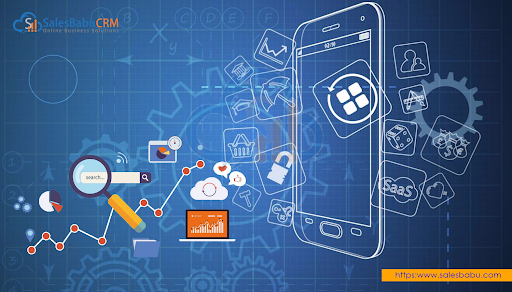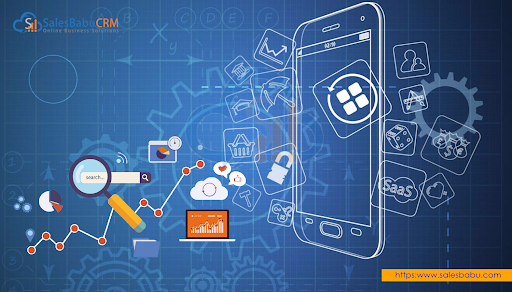 Tracking and improving the productivity of the field team managing retail execution is one of the most important priorities for any company these days. No matter whether the team is tasked with performing visual merchandising activities or capturing secondary order details or expanding the retail footprint, you can only manage their productivity provided you have specified the right set of KPI metrics for your sales team and enabled them with state-of-the-art mobility based SFA solution which can track those metrics.
It's an old practice to track field team productivity by simply counting the number of daily visits/calls. Our sales employee tracking app is best suited for your business to enhance the sales process. You can smartly monitor your sales team activities from anywhere & anytime by using our CRM mobile app. So don't wait and act smarter and become intelligent by using the SalesBabu sales CRM app. For free CRM app demo click here or visit our website www.salesbabu.com.