Lead tracking is a vital aspect of sales process. You need to recognize, which lead sources are best and giving you more and more revenue. So your organization can take further steps to make this process more strong. When you track lead source, it allows you to calculate ROI of your marketing efforts. You can identify which marketing campaigns are beneficial and giving you useful leads. You can better understand that, which sources are giving big deals and is it worth to spend money on it.
Essential Marketing Metrics
You may get information from the sources that how the lead came to you for inquiry. This information should be recorded every time because it is important. You can get information like how customers hear about you. You can determine where you need to put your efforts. The main aim of lead sources is to help organisations to improve lead generation campaigns. It is the finest way to monitor the performance of the lead sources.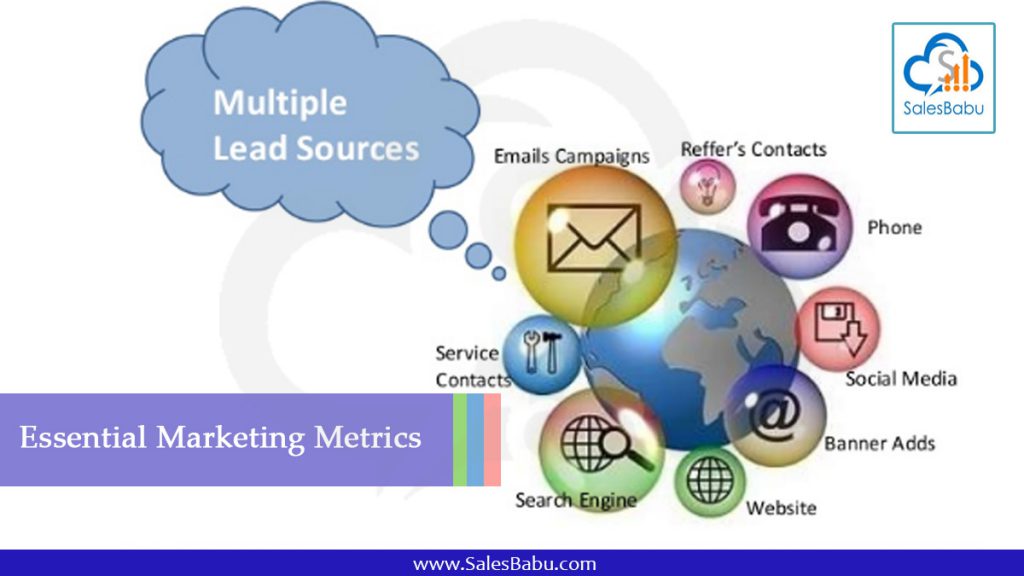 Some essential marketing metrics are :
Website traffic to lead ratio – Views of the web pages and numbers of unique visitors might look good in the report, but while they are important to help you to measure the authoritativeness and thought leadership, which they cannot tell much. Have a look at where the customers are coming from like they are direct or referrals, what they are doing when they arrive, and how many of them you are converting from leads to customers.
Revenue – Taking a look at how much revenue that each channel actually generates will give you a more objective way of identifying your most effective channels. Tracking of revenue means that you can begin to justify your investment in the successful channels and allow you to reroute the funds from less successful ones to experiment with many other tactics.
Cost per lead – Rather than using this as a general figure, filter it down to establish the cost per lead for each channel and identify which is the most cost-effective. Cut back a channel because it costs much per lead, you might find the customers from that channel will spend more. It is also very important to remember that a lead might be converted through a particular channel, but they have more likely touched many other channels also before the point of the conversions.
What are the sources of Lead generation?
SEO
Social Media
Email campaigns
Online Advertisements
Seminars
Referrals
Website
Efficiency of campaign
Stop struggling to know from where you have got the leads. Lead Management Software helps you to track lead sources to remove this worry. You can make your life easier by automating marketing programs and one can also track the results. Various features of this sales management software also help in creating more targeted campaigns based on the sources of the leads and nurture them further with efficient sales features.
Role of Leads
Leads play an important role in every organisation. With the help of this lead management software you can prioritize genuine leads. You can distribute the leads between the sales people according to their abilities. You can completely track the lead cycle from lead generation till closure. Search filters are also available to quickly search the leads. It saves a lot of time and efforts of the organisation.


Why tracking is necessary?
If you are tracking sales leads correctly then it will be a revenue generating opportunity for you. You can easily identify the customer's interest and can work on it to fulfill his/ her requirements. With the help of lead tracking software you can separate important leads and general leads. Lead tracking software helps you to track, which leads should be followed and which should not. Each and every detail of leads will be at the fingertips of your sales team. It keeps you focused and organized on the sales process. You need the right solutions to meet your company's needs. One can easily measure the ROI in a click. Sales managers can take smart decisions and can discuss on sales lead reports in meetings. Tracking can help you to get details of each and every step of leads. In a click, you can convert lead into opportunity.
Benefits of Lead Management Software
Lead Managed software like SalesBabu CRM is the best way to understand and measure the ROI of your business, which is very critical in understanding the progress of your company. SalesBabu CRM provides many in-built and custom reports and analysis statistics which help in both internal and external measurement of company's performance. It can be also helpful in understanding individual performance of the team and create a better sales team.
Read More – MIS: Now Get All Your Reports Just by a Single Click
SalesBabu sales management software allows every client data to be stored at a centralised repository containing all information on the lead. Complete set of details like interested products, lead source, previous purchase history and more, can be understood using these database entries which helps in creating more targeted campaigns for the leads based on their area of interest and personal preferences.
Read More – Amazing ways to nurture leads and get the best out of your prospects
Shortened the sales cycle
SalesBabu CRM sales management software automates the whole sales lifecycle by creating a user friendly interface for quick quotation, sales order creation. Along with different features of lead tracking, activity management, reminders, alerts on upcoming meeting and others. These features aids sales agents to quickly close of sales by early turnaround time and quick deal finalising.
Track the quality of leads
SalesBabu automated sales force management software integrates with different social media websites and third party vendors to collect all possible leads over different modes of communication and add them to a centralised repository. Filtering these leads for prospective clients is very important to save unnecessary resource wastage on bogus leads.
SalesBabu CRM allows various information gathering and personalised campaigns which can be used to fish out bogus leads and nurture only the positive clients for moire receive sales closure.
Read More – Lead Source for new Customers
Saves a lot of time
Automation is the key to every successful business model in today's world of technology. With SalesBabu automated sales force management software, companies can reap the benefits of various automated features which not only increases the productivity of the employees to close better deals but also saves a lot of unnecessary expenditure being spent on repetitive and error prone menial jobs.
Read More – Mobile Apps to Transform CRM: Know How
It makes your sales team more efficient
Your sales team will only communicate with the qualified leads, which saves their time and extra efforts to attract leads. It helps you to filter out unqualified leads. It enables you to identify sales ready leads, so you can focus on it. One can check all the previous interactions with the leads and can make reminder activities on it. Lead management makes your sales team more smart and active towards leads and prospects. You can easily track, nurture and capture leads from anytime, anywhere. One can assign leads easily to sales people. You can attach important documents and write notes for your information. Lead tracking software is the online software, which keeps you updated about all the lead details.
Distribution of the leads
For the companies which have large sale territories, lead management software will provide an organized flow of the leads to the sales force, either geographically or chronically or also by the product line. This will help to optimize the sales staff by distributing the sales to the appropriate salespeople at the right time. The distribution process will optimize the efficiency of the sales team and reduce the risk of calling on dead ends.


Conclusion
SalesBabu CRM is a sure shot formula to only collect the best in the lot leads from the market, but also convert them into prospective clients using various sales management features of the sales management software. Features like Mobile sales apps, activity management and inventory management are added advantages for any business for not only getting good clients but also keep them happy with efficient and proactive after sales and customer care services.