CRM For Pharma Industry
MR Reporting Software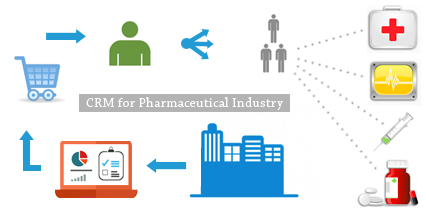 SalesBabu Online Pharma CRM Software is the Cloud Pharma software system solution for the pharmaceutical industry. Our Pharma Sales software solutions include Pharmaceutical CRM ( Customer Relationship Management ), Pharmaceutical SFA- Sales Force Automation, and Marketing Automation & Campaign Management. We are providing the best CRM software for pharmaceutical companies. It covers many of the customer-related processes that are part of daily business for the pharma industries.
SalesBabu Pharma Sales software solution allows inner-collaboration all across your departments which will make life easier for your sales team. The analytical reports (MIS) that produced by our CRM in Pharmaceutical solution will power companies with the necessary tools to enhance their CRM program strategy by comparing their spending, staffing, strategies and structure to those of top pharmaceutical industry in the market. Pharma marketing software was designed with pharmaceutical companies in mind.
An efficient and powerful pharmaceutical sales rep needs to know where a full range of customers stand in the sales pipeline, as well as track any relevant details about their customers. In addition, they should have smart business tools to stay productive with automated reminders and task management. With MR Reporting software, all of those features and more are within your grasp. SalesBabu is working closely with pharmaceutical related small, medium and large businesses and helping them to streamline their sales process.
Read More – Introduce Pharma CRM in your Pharmaceutical Company
Online Pharma CRM manages the entire workflow of the pharmaceutical industry vertical. It helps medical representatives schedule their doctor visits, manages doctor details and their appointments, order punch-in, reminders and alerts and much more.
Streamline the sales process effectively
Complete tracking of Doctor Visits and Dealers Visits
Monthly Travel Plan submission
Anytime and anyplace submission of DCR( Daily Calling Report)
Saves your stationery and courier costs
Raises your sales force performance
Complete Sales Process gets more transparency
No big Expenditures on registers pen or copy
Monthly & Daily Expense management get automated.
Managed Samples easily
MR Reporting Tool
Reporting is a complex task in any process and when it comes to sales and support executive accuracy of the reports does matters. CRM enable
Monthly Tour Plan
Daily Call Reports (DCRs)
Sample/Gift Inventory
Sales Target & Product Order Booking
Dr Services/ CRM
Manage Detailed Records
Since the system is using electronic way to store the information, there is generally no limit of entering the information. Moreover, you enter data in structured form which can be utilize for various other purposes at the same time.
Manage detailed product details
Customer contact details
Doctors appointment with their professional details
Samples records and other images store facility
Information Based Decision
CRM help managers and executives to take information based decision. Real Time information update help manager to communicate necessary directions on time, which not only improve performance of sales person also improve quality of decision taken in the process.
Provides management control on Field Staff activities.
Takes Cares of all Market Information needed to the company.
Manage & track physician visits, as well as monitor and project sales quotas.
Real-Time Dashboard and Reporting
MIS & Reports
At the end of day, companies require some reports to measure the performance & CRM is highly capable of generating these reports.
Gives a complete performance report according to property or executive users.
Reports can be downloaded in excel formats.
Manage pending Enquiries, with their sources. That can be helpful in evaluating the sources usefulness.
Daily call reports of the executives, that helps the organizations to track, what they have done all day
SalesBabu Business Solutions Pvt. Ltd.
No.38/11, 3rd Cross, G Block, Sahakarnagar, Bangalore – 560092
Bangalore, Karnataka
560092, India

Starting at
₹
1000
/user/month
(Billed Annual)
MR Reporting Tool
Effective Sales Process
Save Stationary
Quick Reporting Tools
Manage Detailed Records
Information Based Decision
Register here to Schedule an One to One Online Session at your Convenient time.
Many Businesses trust SalesBabu, including: