Get 360° Vision of all yours leads base
---
Lead Management Software
Enquiries received by a business convert into Leads after first integration, these are the initials inputs in any sales process. To convert a lead into deal, you need to secure a proper Lead management system for your business unit. SalesBabu CRM Lead Management Software specifically designed for all vendors, which makes the process easy & convenient to store new leads, capturing the existing one & track the future sales prospects. Since, it is a very crucial task, because a nurtured lead can turn out to be great revenue for any type of set up.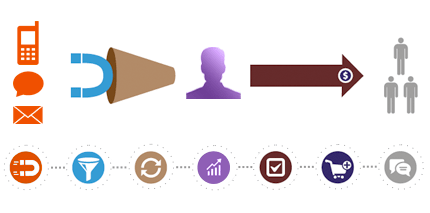 ---
Lead Management Software helps you to capture all the generated lead in one cloud platform including the customers interest pertaining to particular product or services. It helps you to have all the records of generated leads with their nature & interest for future references as well.
Lead Management Software helps you to track down your lead sources which helps your marketing team to manage their campaigns for leads generation & second to your sales team, who will come to know, how customers inquired about their product or service.
Lead management software helps you to assign leads to different individuals on one platform, simultaneously. You can assign as many as leads to your sales team very easily, without any unexpected confusions or hurdles, so that they can do all justice to the leads.
Lead Management Software, helps you to filter all your leads according to their priorities and interest. With the scope for future follow ups & sales pipeline, it helps your sales team to evaluate their lead database according to their degree of interest, which helps in future closures.
Lead Management software helps you to makes a funnel of overall leads and allows yours sales force to make necessary follow ups of day to day activities on one single platform, which enhance the probability of more closures and more revenue generation for the business
Lead Management software helps you in the qualification of interested lead. It tells the prospective opportunities for sales, which helps your sales department to draw effective focus on the leads and moreover helps to decide to take all necessary majors & efforts to close a fruitful deals.
Organise & manage your leads, tasks & followups with SalesBabu Sales Lead Management Software. Show the impact of your marketing activities on your sales pipeline and invest your time on the hottest leads through SalesBabu Lead Tracking Software. By tracking and scoring your leads with lead tracking software from SalesBabu, your business will get the most return from its limited resources, convert more leads to opportunities, and win more deals. Are You Identifying Your Potential Lead Source?
Convert more leads into Opportunities:
SalesBabu lead tracking software help you track all the information about your CRM leads. The rich activity screen shoot on dashboard lets you see and access the most up-to-date contact information while understanding best practices and relevant document using Sales Reports. You can even see where a marketing campaign lead came from, read relevant insights, you can act on, and write and track emails from the Sales Lead Management Software. It's everything you need to convert more leads and even faster. Won More Leads with SalesBabu CRM Software
Delegate leads to the right people for fast processing :
Set up automatic lead routing to ensure leads never fall through the cracks, and that the right sales reps follow up on leads.
Take your business to new hights with SalesBabu Sales Lead Management Software. From lead generation to scoring to conversion, SalesBabu Lead Tracking Software ensures proper follow-up to move your leads through the sales funnel.