Manage your Stocks
---
Small Business Inventory Software
In small business set-up managing stocks, IMPORTANT YET COMPLICATED. Inventory Management CRM provides 360 Degree View of the Inventory Function allowing too have a complete view of product information, stock levels, and operations so that products and stocks can be effectively managed. This CRM provides receiving, stock management functionality, along with full recipe and product costing capabilities. It has a facility to manage all the gaps between the demand from the customer and the supplies from the company's end.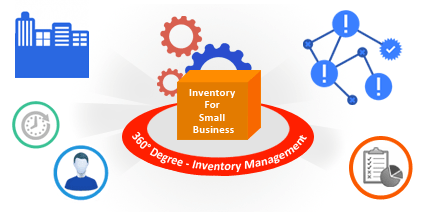 ---
Manage Items Details
CRM to manage Inventory for Small Business, enables you to manage all your products in your stores by allowing you to simply create, edit, activate, or deactivate them. Item master maintains comprehensive details of all inventory items such as item code, UoM, cycle count and many more
Track of Stocks
CRM to manage Inventory in Small business allows you to control stock levels and movement of stock in all the your locations and provides seamless reconciliation of business operations to maintain consistency throughout your organization. It helps you manage stock allocations to multiple stores across locations.
Track Shortages of Items
CRM to manage Inventory in Small business , enables you to track count for all items. It allows you to track the movement of each item and sends notifications to management in case of any shortfall in Items quantity. System features, such as Inventory planning, result in optimization of stock performance. This reduces labor expenses in Inventory Management.
Reduce Wastages
CRM to manage Inventory in Small business, enables you to view real status of what items are wasted, expired, damaged. This allows management to monitor resource waste and resources used in non-sale scenarios. This information is essential to order track inventory and plan optimization of stock performance, moreover, it also reduces the overall wastages of items.
Easily Accessible
Since, this CRM is online and on-demand, this is very easily accessible. You can view, add or edit all the details anytime from anywhere. It makes your work more smoother & drives your performance in more efficient manner, you don't have to be in your office all the time to access this stocks related information.
No Extra Manual Support
Inventory CRM is so robust and easy to handle, it saves the extra manual support of the organization. Since, everything is online and mobile, moreover it is all real time, that it does not require a bulk of man force to handle neither this software nor the complete store. This software alone capable of handling the complete store operations.