Are you having trouble managing your inventory? Your product sales are high but you often end up into "Out of Stock" state? Or your business is not managing your stock properly and excess of inventory is affecting your business profitability?
If any of the above and more are some of the pressing issues for your inventory tracking system, then its good time to migrate to a good Inventory management system and organise your product stocks.
With digital technologies on the rise, we have to be well prepared for our customer requirements and manage our inventory accordingly. In today's world, "out of stock" message for a customer means losing them until the next time they might visit our products again. At the same time, having an excess of stock for similar products also reduces our business profitability and revenue generation.
In other words, in today's competitive world we need to have a well balanced inventory management to have a smooth and profitable business strategy. Gone are the days, where inventory could have been managed using exceelsheets and card system. Now a days we need to be well aware and proactive in maintaining our stocks to pace up with the growing customer market.
The best inventory control software like SalesBabuCRM will be a one stop solution for sales to inventory management requirements. Let's talk more on this inventory control software and understand its features which can be used in our regular stock inventory software.
What is an Inventory Management?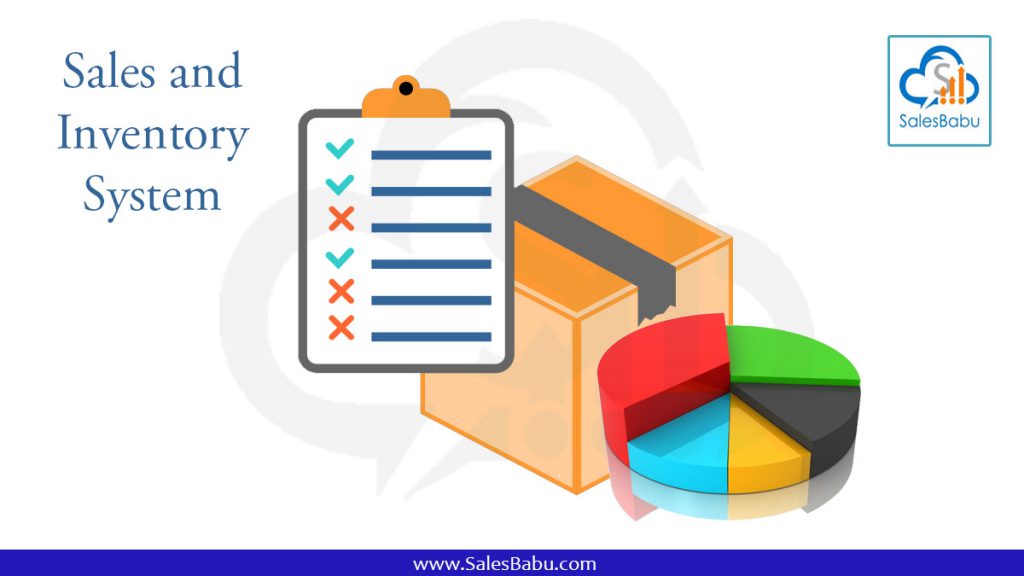 An inventory management system is a process of tracking goods movement into and out of a company's locations. These processes cover everything from production to retail, warehousing to shipping of products, and all the movements of stock and parts in and out of organisation premises.
In other words, it means as a business, you can see all the moving stocks for your operations, allowing you to organise and take better decisions on investments for your products and spare parts.
Inventory Management System Example:
You are starting a business selling food hampers. You will have so many suppliers who will sell the food in bulk, some of which must then split up and repackaged. You will create an excel spreadsheet, which you will update whenever you order more stocks, assemble the hamper or complete a sale. This is your inventory management system. You are entirely dependent on the inventory management system to know how much stock currently you have when your products might expire, how many products you can sell.
Read More – Online Inventory Tracking Software



Type of Inventory Management
There are numerous features that a good stock management software provides like inventory tracking, forecasting, billing aids and more, but they might be different as per the type of business these softwares are used for.
Based on the type of business, there are a different variety of Inventory control software and its respective functionalities are formulated accordingly.
Manufacturing inventory management software
The manufacturing inventory software work around manufacturing parts and bills of materials(BOM). Inventory management at this point will be helping in :
Materials tracking
Inventory levels for parts and finish products
Automatic reordering
Integrations with ERP or maintenance software
In today's world of fast paced order generation and on time delivery, it's practically impossible to manage spare parts and final product details manually. Inventory management system softwares, help to organise every minute details involved in product delivery, starting from raw material tracking, receipt generation, product delivery, and many other functionalities to smoothly handle your manufacturing uni .
Warehouse inventory basically deals with in-house or in-shop stock management.
Stock maintenance levels
Multiple location support
Stock quantity tracking systems
Warehouse inventory management software, is basically all about where the stock is available and of course the no. of each part which can be helpful for tracking the product demand and supply chain.

Retail inventory management software
Retail Inventory management system comes next to manage and organise their orders items before they become fully sold out. Robust inventory management systems can help organisations to strike a balance of ordering products to be able to sell adequately and not ordering more which cannot be sold. With these advanced levels of inventory management foresight, businesses can capitalize on its sales opportunities and improve revenue generation for the organisation.
A lot many other functionalities apart from some these basic ones will help in your retail inventory management.
Order picking support
Automatic reorder
Inventory forecasting tools
Challenges of Inventory Management system
An inventory management system software has its own challenges in managing each spare part, raw material, final products, and delivery deadlines. The main thing to understand here is, with a well organised and systematic system for tracking your inventory can still cause you some errors and mismanaged product deliveries, think of the situation where you don't implement an inventory software for your system at all.
Hence, it's very critical for your business to maintain a good stock inventory software system which can keep a track of all of the essential goods they need to sell to customers on a daily basis. Also, when products are sold, they must be documented clearly and refilled to maintain a healthy balance between overstocks and stockouts.
The supply and demand change is not constant and there are wear and tear cases with mishandling, changing seasons and course of product life cycles. Inventory and order management system should make sure that regular checks are done to regularise the old stocks and move them faster before a damage happens to organisational property.
Along with different units of measurement and measuring criterias in various countries is also cause of concern to many product delivery businesses. We need to abide by laws and taxation rules of each country to make sure safe and secure delivery of our end products.
These are some of the restrictions and challenges in an inventory management system.
Advantages of an Inventory management software
Read More – Efficient Inventory Management System
The basic requirement of the best inventory management system is to create an organised process of handling inflow and outflow of products in the organization. Most of the traditional organisations will handle their regular inventory management using spreadsheets which might be beneficial in initial stages of the sales process, but as the firm grows with the incoming flow of customers and product delivery, it needs to quickly shift to a more systematic method of inventory management. Studies from SBA.gov shows poor inventory management is one of the top eight reasons why small scale ventures fail.
Basic inventory details like the product and respective vendors data, Bills of materials (BOM) for spare parts and raw materials, challans and Goods Receipt note(GRN) are all needed to keep a healthy state of inventory in the firm and maintain a constant revenue generation in the business.
Demand and supply chain is an important part of revenue generation. Overstacking or out of stock situation in the business is a major reason for loss for business operations. As business leaders and sales heads, proper information regarding product demand and supply status needs to be available to perform best in the market.
Inventory control software provides a lot of in-built metrics and data statistics to drill down into the attributes of your sales and fetch important information to keep more accurate levels of inventory and make better foresight decisions about what and how much to buy, which will strike a balance between our sales cycle.
Mismanaged inventory handling is one of the key reasons of business failures. With every growing business, we need to track more no. of products, numerous vendors and an endless raw material list with incoming and outgoing product bills, return slips and other sales details. Doing it manually is a very inefficient and non productive way of inventory data storage.
Stock management software like SalesBabuCRM provide cloud based centralised database to store every detail of our inventory handling starting from products, vendors, various purchase and return bills, delivery challans and more. With this centralised database, every information is documented properly which gives a systematic system of tracking and maintaining our inventory details.
Efficient stock operations
Regular customer updates on stock availability and the product delivery are the need of the hour in the current economic market. With a centralized database of inventory details, employees need to spend less time in fetching details on each product and its delivery status. Smart and efficient inventory management system like SalesBabuCRM , act as the pillar of any retail business by providing end-to-end support for every sales and inventory requirement in the organization.
Read More – Reduce Operational Cost With Inventory Management System
Warehouse Management System
Check stock level, manage inter-warehouse transfer, and generate reports for specific warehouses with few clicks in a few seconds.
With Online Warehouse inventory management software at our fingertips, businesses a can track its stock level, inter warehouse transfers, inflow of products, reports on warehouse up-keeping and many other useful features without any hassle and provide a better customer support system for the organizations.
One of the biggest advantages of an inventory management system is to improve product delivery statics for the organisation.
Well organised customer data, product information, reminders for product delivery dates, vendor contact information and other details are useful to maintain and track product delivery status and take proactive measures to remove any hindrances for on-time delivery for products for our customers.
When to upgrade your Inventory Management Software:
Moving to a delicate inventory solution can provide massive benefits to the business, but it has a step change. Here are some signs that show that it is time for you to upgrade the software.
You need more flexibility – The most flexible to manage the inventory is Spreadsheets. If you need to add extra sheets to your solution or are struggling because employees cannot access the real-time data, then that means it might be the time to upgrade cloud-based inventory.
You need more accuracy – If you find it difficult to know how much particular item you have at any one time, use a dedicated solution so that you and your employees will be able to get up-to-date information on the inventory at any time and at any place.
Inventory costs growing – Holding costs can severely underline the bottom line when they are not kept in the control. The best way to minimize the costs is to store as much as stocks that you might need. An efficient Inventory management software helps keep the storage efficient.
Slowing growth – The salespeople may contact the stockroom to find out what they have to sell or how much time you're spending manually writing the reports rather than focusing on the customers. Slowing sales may be a symptom of poorly managed stock. Proper dedicated software can help you quickly return the growth.


Conclusion
The best Inventory management software acts as a bridge between of product demand and on time delivery to its customers. An inventory management software for small business helps to resolve and strategies all the inventory challenges such as raw material shortages, carrying costs, and supply chain disruptions and regularise product and revenue generation for an organisation.
Read More – SalesBabu Inventory Management Software for Inventory Management for SME