Increase Revenue Decrease Expenses
---
Small Business ERP Software
Small businesses need to save money and resources to meet-up revenue growth, that too keeping the process cost as minimum as possible. The important aspect of using ERP software is that it provides centralized access to important information to the various departments of your company. Because in small companies, departments have their own information systems, creat information silos that other departments cannot access or share. When an order progresses through the company, for example, departments such as order processing, production control and dispatch have to re-enter data and search for information about stock levels, lead times and customer requirements. SalesBabu ERP for small businesses facilitate all relevant data to those departments, eliminating the need to re-enter data, reducing the risk of error, improving productivity and speeding up the time to fulfill orders.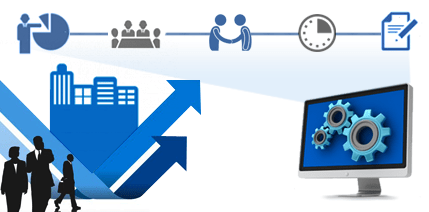 ---
Process Automation
Small businesses are bound to manage their business with limited resources and manual process always count more resources than an automate process. SalesBabu ERP for small business is complete business process automation system with define day to day operations.
Process Centralization
Inter-department communication is a time consuming process. Production – should have access to current and expected stock quantity, maintain by Stock department. SalesBabu ERP for small business provide you a customize interface where you can allow users to have multiple department information access in same interface.
Track Raw Materials
SalesBabu ERP for small business manage sales, purchase and inventory in the same interface, that allow you to track total availability of raw material in the store. Information on hand help timely purchase planning and save overhead cost.
Manages Invoices & DC
Tracking invoices and delivery challans, are complex and important activities for any organisation. Data transmitted in Invoice and delivery challans shows effect on purchase and stock decisions. SalesBabu ERP for small businesses facilitate departments to track stock and purchase requirements in efficient manner.
Payment Follow ups
SalesBabu ERP for small businesses has option to set reminders and auto notifications for pending payments. This facility enhance efficiency of payment followups for departments. Timely collection help organisation to manage cash flow.
Reporting and Analytics
SalesBabu ERP for small business has facility to generate several reports within the system, that speed-up report process for different department. With these reports you get actual inside of Purchase, Inventory, Orders and plan resources and finance accordingly.