---
Online ERP Software For Small Business
Small businesses need to save money and resources to meet up revenue growth, that too keeping the process cost as minimum as possible. The important aspect of using ERP software is that it provides centralized access to important information to the various departments of your company. Because in small companies, departments have their own information systems, create information silos that other departments cannot access or share. <./p>
When an order progresses through the company, for example, departments such as order processing, production control and dispatch have to re-enter data and search for information about stock levels, lead times and customer requirements. SalesBabu ERP for small businesses facilitates all relevant data to those departments, eliminating the need to re-enter data, reducing the risk of error, improving productivity and speeding up the time to fulfil orders.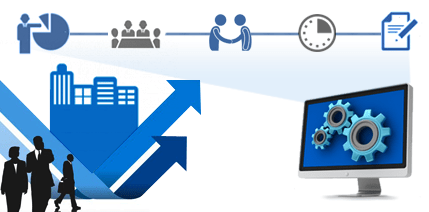 Process Automation
Small businesses are bound to manage their business with limited resources and manual process always count more resources than an automate process. SalesBabu ERP for small business is complete business process automation system with define day to day operations.
Process Centralization
Inter-department communication is a time consuming process. Production – should have access to current and expected stock quantity, maintain by Stock department. SalesBabu ERP for small business provide you a customize interface where you can allow users to have multiple department information access in same interface.
Track Raw Materials
SalesBabu ERP for small business manage sales, purchase and inventory in the same interface, that allow you to track total availability of raw material in the store. Information on hand help timely purchase planning and save overhead cost.
Manages Invoices & DC
Tracking invoices and delivery challans, are complex and important activities for any organisation. Data transmitted in Invoice and delivery challans shows effect on purchase and stock decisions. SalesBabu ERP for small businesses facilitate departments to track stock and purchase requirements in efficient manner.
Payment Follow ups
SalesBabu ERP for small businesses has option to set reminders and auto notifications for pending payments. This facility enhance efficiency of payment followups for departments. Timely collection help organisation to manage cash flow.
Reporting and Analytics
SalesBabu ERP for small business has facility to generate several reports within the system, that speed-up report process for different department. With these reports you get actual inside of Purchase, Inventory, Orders and plan resources and finance accordingly.
---
Read Our Blog – ERP- A 360 Degree Approach to Business
ERP Software for Small Businesses and Midsize Companies
Manage your company with small business ERP application that grows with you. Capture all of your data in an Integrated Cloud ERP (Enterprise Resource Planning) system for midsize companies and small businesses. Our cloud based ERP software helps you manage everything from accounting and CRM to supply chain management and purchasing.
Solve your specific ERP small business needs with SalesBabu's Small Business ERP Software. Do more with less and fuel rapid growth with our enterprise resource planning system software for small business and midsize companies. Integrate all your data and use automation and intelligent technologies to break and achieve new ground.
Transform your business faster with help from SalesBabu Small Business ERP Software. Jump-start your ERP solutions and drive ROI by collaborating with industry experts, consultants, and support engineers to receive guidance, prescriptive best practices, and expertise – no matter where you are on your journey.
What benefits do SMBs and Midsize Companies get from ERP?
Decision-making: Real-time data provided by the ERP system software can be beneficial for sales, marketing, management, accounting, and enables the SMBs to make important decisions on time. SMBs teams can encounter any potential issues that may shake productivity levels via ERP software. A complete picture of operations allows business leaders to make effective decisions and respond quickly with ERP software for small business.
Transparency: All relevant data can be accessed and shared across all the SMB departments. This phase out the need to export data, which can result in less errors, increased productivity and reduced expenses on human resource via the ERP system.
Productivity: With increased clarity by updated business processes, SMB and midsize company staff can shift their focus on managing increased volume of business. This aids in molding various facets of SMB business and overcoming the challenges involved in business growth.
Successful ERP system software implementation is a long journey towards SMB excellence. For best performance, ERP systems should be modular, and comprehensive in terms of coverage and scope. The success factor for the SMBs and midsize companies lies in being able to put oneself in their shoes.
Many Businesses trust SalesBabu, including: