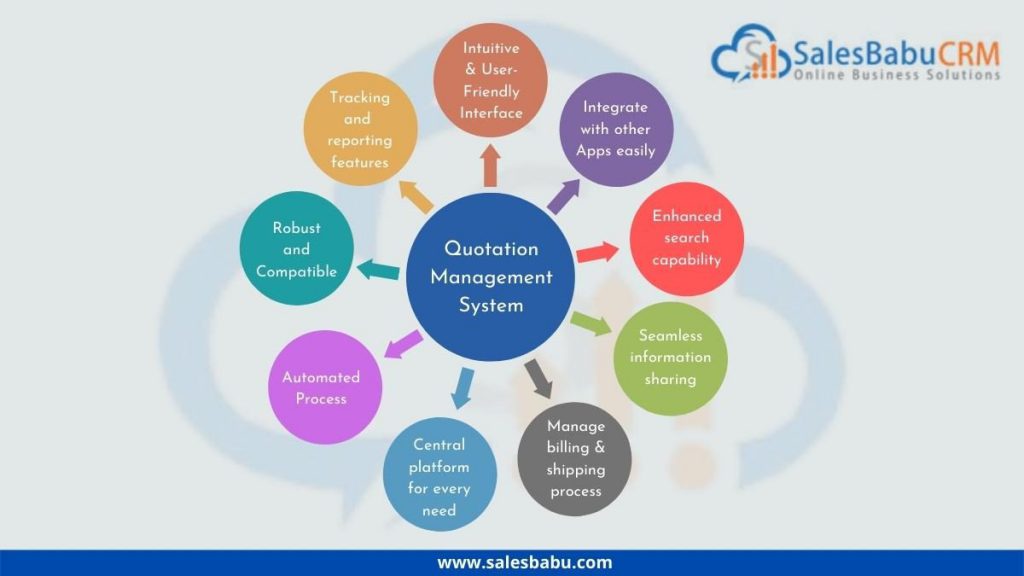 CRM Sales Quotation Making Software
Having CRM functionality without an integrated online quotation maker feature is like having a car without an engine. The goal of every marketing piece, every phone call, every initial meeting, is to get the prospective customer to the point where they want a sales quote from your company because the quote is what turns into order and that's why you're in business.
SalesBabu CRM Quotation Management System not only forecast revenue and margins for services, equipment and support, also, automatically turn the quote into order without rekeying any of the information, and track the results of marketing campaigns by leads, quotes and sales orders generated.
SalesBabu Online Sales Quotation Management Software automates sales quotes enabling companies to configure products, price appropriately, generate sales quotes and manage orders.
Online Sales Quotation Maker
Web-based online quotation software creates, maintain and send price proposal to a set of customers. It manages all the prices proposals in an organised and systematic manner, along with the maintenance of records for future references.
Create estimates online in seconds and send email quotes in minutes. Visual document editor for full control. Include optional extras to upsell. Great for teams and companies. Minimal setup is required as it is a cloud-based application.
Sign up to create, send and share estimates/quotations instantly with our online sales quotation maker. Do visit our website to know about sales proposal software and schedule a free demo.
Many of our customers are happy and satisfied by implementing our Business Quotation Maker and have rated the best quotation software in India.
With quotation making software, a customer is able to send a complex business quote from SalesBabu CRM Quotation Software in minutes and this process has dramatically impacted companies' success.
Ultimately, business quotation maker has given our customers the ability to focus on actually scoping the work rather than just creating the document.
SalesBabu CRM – Sales Quotation Making Software
We feel proud to say that many business houses choose SalesBabu CRM – Quotation Making Software to deliver 5-star quotes to their customers. Our online quotation generator system organizes your sales process and makes you look good and achieve customer satisfaction and growth in their business.
Also, our sales quotation maker software is a full-featured tool for any business that needs to issue quotes and cost estimates to customers. Now it's easy to manage Quotations with Online Sales Quotes generator Software.
Our quotation software for Small Business/Startup companies is playing a vital role in their quotation making process which is hassle-free and user friendly.
New formal Proposals is prepared/edited for prospects/customers and will be displayed here. All Quotations with Status "Open" and dates in descending order shall be displayed by default. There are various options available in the Sales Quotes creator software, such as:
New Quotation : Quotation can be created in three ways. You can enter details like Quotation No, Validity of Quotation, Terms of Payment. You can also add Product/service for which the customer/prospect has enquired. A user can also edit the quantity rate, Tax, discount as per the discussion with the customer. Mandatory section details will be displayed here.
Quotation created from Opportunity : If an Opportunity is created, Open the Opportunity and click on create Quotation. Quotation can be created from Quick Create drop down by selecting the option NEW Quotation.
Edit existing Quotation : Based on the search criteria once the Quotation is opened, modify/edit the required fields and click on SAVE. A window appears with Override and Amend options
Override – Overwrites the existing contents – any changes made are not saved, its over written.
Amend – Creates a backup copy of the original content and saves the copy in the name of "Original". All amended documents shall be present in the Amend List section.
Create Activity : Once the Quotation is saved, you can "Create Act" for scheduling the follow ups corresponding to the Quotation. In the Create Activity window you can enter the Activity schedule details for a reminder for follow up.
Delete Quotation : You can delete a quotation by clicking on the Delete button.
Print Quotation : You can use the Print configuration window to configure and print a quotation for a customer. A print form of the quotation will include total amount, total quantity and many more features. For quotation software free demo click here.
PDF symbol – You can print the quotation in PDF format. Our best quotation software has many good features to print a PDF format quotation like, print with total amount, print with total quantity and many more features. To know the complete features of our quotation preparation software click here for a free demo and automate your sales quotation software.
Email Quotation : Check the Quotation and select the template and use email quotation option to email it to the customer. If required you can also attach a document in the email.
Copy Quotation : You can copy and create one more copy of the quotation by using this feature.
Proforma Invoice : By this option you can add all the details and along with terms and Condition and you can directly send an email to the customer. This is one of the important features of Online Quotation Generator.
Product Specification : Users can select this option for the product specification detail to appear in the quotation. User can further add in more description either in Text or HTML format by selecting it from the Type dropdown.
Sections : By this feature you can add Terms and Conditions which are applicable and will appear as quotations.
Activity List : Lists all the Activities carried out on this Opportunity.
Email List : Lists all the emails sent corresponding to this opportunity.
Tax configuration as per GST
Quotation Follow ups with Customer
Sales Quotation Creator – GST Tax Configuration
SalesBabu CRM (online sales quotation generator) is developed with sales quote tool features and is the best online quotation management software tool available for small business houses and large enterprises. Our online quotation system has GST format and HSN (Harmonized System of Nomenclature) Code quotation features enabled.
"HSN" is a multipurpose international product nomenclature developed by the World Customs Organization (WCO) with the objective of classifying goods from all over the World in a systematic and logical manner.
HSN codes are basically used to fix the rate of tax on various products at the time of import and export. It is proposed to use these codes at the invoice level to make the taxation system of international standard. Under GST supply invoices will be prepared by capturing HSN codes in case of goods and service accounting codes in case of services.
Our Quotation Maker features a price quote complete with formatting and formula to save you effort and time and work hassle-free. It allows the configuration of all tax information like tax name ( GST) and tax value for each item. Online Quotation Generator is compatible with the currency of multiple countries. It provides you with an option of adding tax value for each individual item that has been added to the quotation.
By using our online quotation generator software, a salesperson can perform multiple activities simultaneously. We have a simple quotation form and easy for a salesperson to fill in all the details of the products.
In our sales quotation/proposal creator software auto quotation number is generated. Different sales stages of the quotation can be tracked. Apart from this quotation validity, buyer's reference, created by and last modified features are available to track the details.
Sales Quotation Follow-ups with Customers: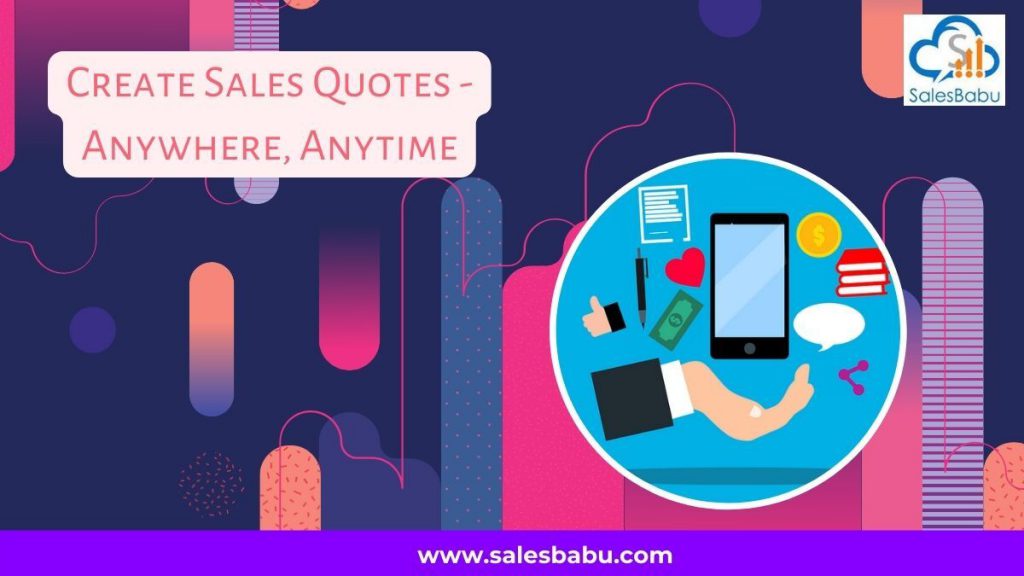 After filling in all the details in the online quotation form, a salesperson can directly print, create an activity for a quotation. An existing quotation can be copied to a new quotation and saved by a different name.
We can convert the quotation into PDF format and also has features to send an email to the customer from the quotation page itself. Email feature makes work easy for salespeople to prepare the quotation and email it with a standard format.
You can configure your own T&C with our simple CRM quotation software as per your requirement. It has many other fields available such as Items, Qty, Rate, Due, Discount, Avg Discount and Offer Rate. It has also separate fields for Tax and Total Amount for clear account purposes.
We have different discount levels such as a discount on total quotation and discount on individual items. The quotation can be assigned to other salespeople and can be monitored in different stages. There is also a Bill to and Ship to options available. Depending upon the request these options are used.
SalesBabu CRM Business Quotation Maker has multiple features like :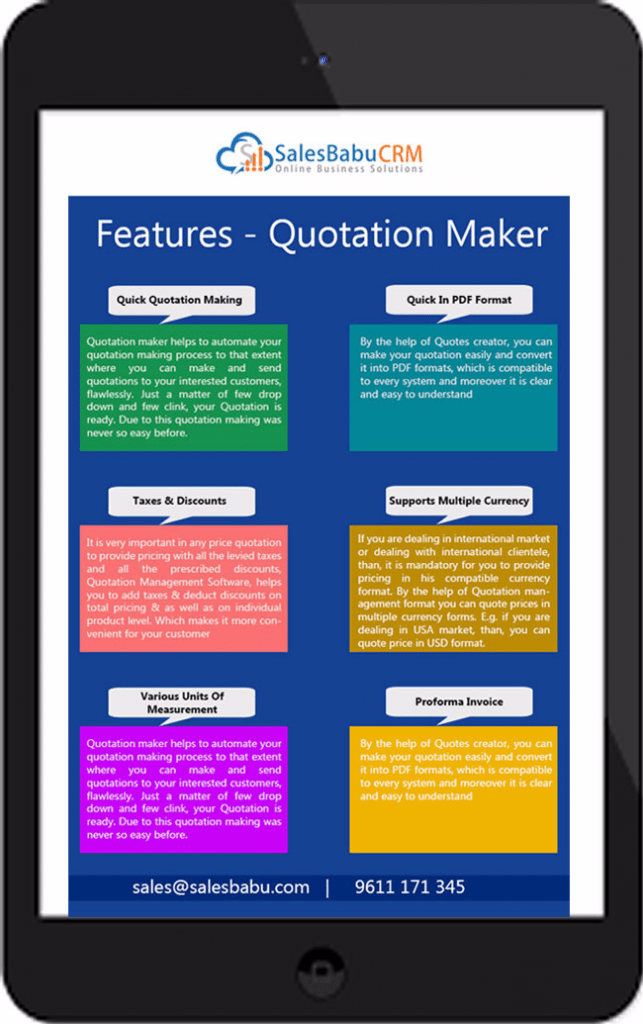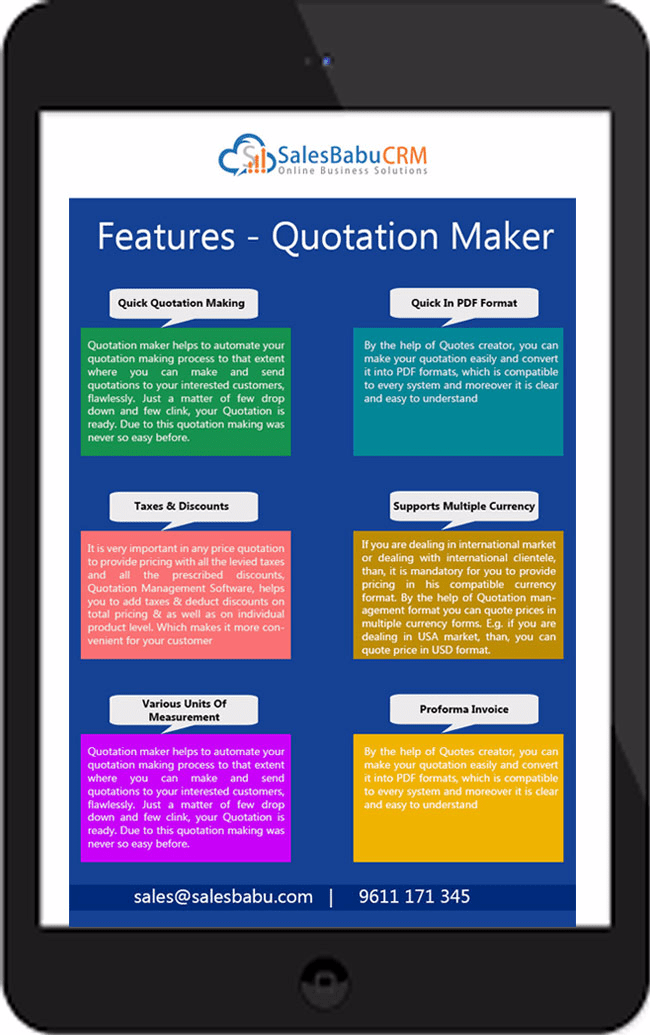 Sales professionals often spend a lot of time drafting proposals and obtaining approvals. Generating quotations in a stand-alone program, such as MS Word or Excel, can be a time-consuming, tedious process that can negatively impact revenue and customer satisfaction over time.
Salesbabu CRM streamlines the quotation process making it work with customer sales orders and generating sales invoices. Our Quote Management System combines both an intuitive user experience with an extensible platform serving the needs of businesses of all sizes.
You'll also be able to:
Change the sequence of quoted line items for superior organization and readability along with the ability to add inline comments for better detail.
Prepare quotes with greater efficiency via configuration to send to customers in their preferred PDF template.
Sell globally with multi-currency support. Work within your preferred currency while accommodating your customer's choice.
Change the sequence of quoted line items for superior organization and readability along with the ability to add inline comments for better detail.
Prepare quotes with greater efficiency via adding items and sending them to customers in their preferred PDF custom template.
Sell globally with multi-currency support. Work within your preferred currency while accommodating your customer's choice within the same quotation proposal.
Create multiple quotations for a customer with the Options feature available in the online quotation maker.
You can overwrite or amend quotations corresponding to Opportunity
With our CRM Quotation software app, you can view information, check the item details, upload documents and create an activity. You get an option to view the entire Quotation list and can also call the customer directly from the Quotation Maker app.
It becomes very easy for any sales rep to access all information in the quotation and connect with the customer through the Business quotation maker app. By using SalesBabu's online quotation generator app, you do smart work and increase your efficiency and boost your production in terms of business growth.
In SalesBabu's CRM Quote Management System, we have an approval process
The module also leverages many other features which are easy to configure and use. Businesses with complex quoting requirements also have the opportunity to extend the CRM Quotation module in a safer manner.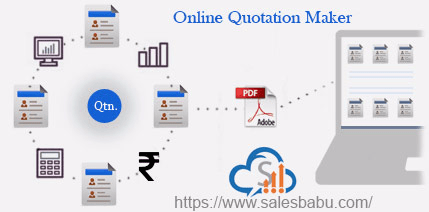 Our Quotation Making Software includes drafting and automating the client's Quotation. It aims to improve clients' business efficiency in creating and generating quotations, emailing quotations, maintaining billing and shipping information and providing enhanced QMS reporting features. The quotations generated from the online quotation generator would serve as an input to the deals.
With the help of SalesBabu CRM – sales quotation making software you are benefitted in many ways like:
Streamline your Quotation Process:
Sales professionals often spend a lot of time drafting proposals and obtaining approvals. Generating quotations in a stand-alone program, such as Microsoft Word or Excel, can be a time-consuming, tedious process that can negatively impact revenue and customer satisfaction over time. Quotation Management Software expedites the process of making quotations and sending them to the interested customer.
Create full-fledged quotes with quotation number, customer name, and product-related details along with personalized notes with our online quotation maker software. Directly convert these quotes into sales orders without re-entering data and email it to your clients with a single click.
Quicker conversion of existing open quotes into contracts:
Advanced reporting features allow clients to forecast business projections and determine the success ratio for quotations. A centralized data management feature enables the user to share information with team members who can continue follow up in absence of any account owner and timely action win the deal for the company.
Reduce Quotation Time:
The longer the quotation takes to produce, the lower the margin you make on it. Quotation Management Software ensures that each quotation is drawn up in accordance with predefined rules which increases your chances of success and your margin and reduces the costs of failure. You can get added taxes & deduct discounts on total pricing & as well as on individual product level, use multiple currencies, download the quotation in PDF format for ready reference, and much more, all just few click away.
Have your entire customer details in one place.
Now you don't have to search through multiple email threads or spreadsheets to get customer information. Store all details in an online unified database and make it easy for your team and your customers to collaborate better.
Catalogue your services and products.
Add new services and products by entering the product name, rate per unit along with a unique ID. Directly fetch product specific details from this catalogue and use them to generate quotations with CRM quotation software.
Draw insights from data-driven reports with MIS.
As your customer base grows, so does that your data. Crunch numbers, map related data, and present them in a meaningful way using MIS comprehensive reports. Schedule appointments, filter and search customer details, and compare performance stats. You can also generate a customised report as per your need with an online business quotation generator.
Sell More, Manage Less:
SalesBabu Quotation Management Software is proven to help your sales team concentrate more on selling, and less on working with sales and quote documents. Save time, money and overhead while increasing the productivity of your Sales team by having all documentation in one central database. With the click of a mouse, attach any document with a quote to generate elaborate and detailed proposals for e-mail to your client.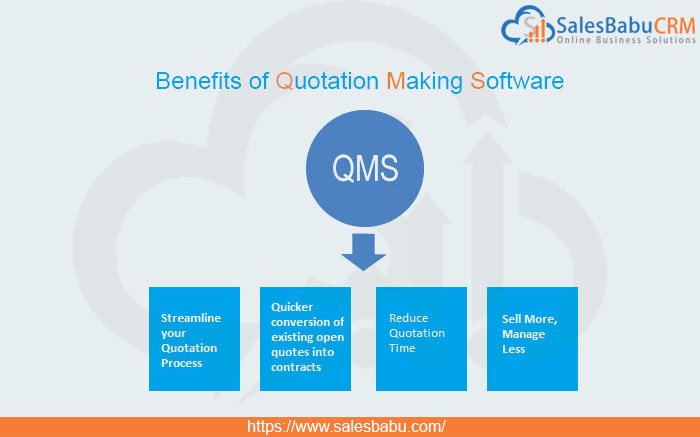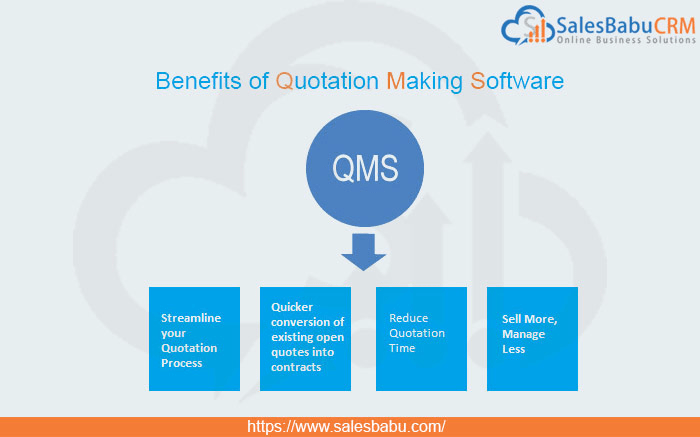 Creation and Management of Online Sales Quotations & Invoices
With SalesBabu Online Quotation Maker create and manage sales Quotations & Invoices in a few clicks. A perfect Sales Quotation Software for your Business as it enables you to make customised templates, online mode of working, integration.
With our Sales Quotation Maker App, you can view info, items, activity and documents. It has also a feature click a snap of your doc and upload it from your handheld device like mobile & tab.
If you are looking for the best quotation and invoices software or Invoice and Quote Software for Small businesses, you are in the right place. SalesBabu CRM quotation software has been developed with many features keeping in mind about the need of the business houses.
Unlike other quotation invoice solutions, our business quotation maker and invoices are fully configurable and come with powerful tools, like multiple currency support, taxes, automatic numbering, product catalogue and email marketing.
Our online quotation maker is a quotation making software that enables you to create sales quotations, invoices, cost or quantity estimates and sales proposals in a few mouse clicks for your customer with 100% data accuracy.
The robust nature of the online sales quotation maker software keeps the quotation process and invoicing consistent among multiple users. The needed data from the sales quotation software can be populated by using a customised template or an existing template based on user requirements.
Being an online business quotation maker tool it keeps your private data protected and secure. Online quotation maker software enables you to create a proposal whether it be a quotation, invoice or estimate. A sales quotation is an offer that can not be changed/modified once accepted by the customer.
Our sales quotation maker software is feature-rich. You will get two options – override or amend whenever you prepare business quotations for any customers. An estimate is guesswork as to what the price would be and is not binding. An invoice presents the payment that a buyer owes to a seller. Our online sales quotation software enables you to create a feature-rich PDF document and email the same to the customer in no time. Sales Quotation Free demo visit our website (https://www.salesbabu.com) and schedule a product demo to understand and know the features.
Close More Sales And Win
Are you still stuck with Microsoft Excel, Word, or your Accounting software to create your business sales quotations, invoices & estimates?
It is the right time to get organised. Close more sales and save precious time and work smart.
Now Online Quotation Maker enables to close the sale spending less time on the quoting & invoicing process. Once the business quote is accepted by the customer, you can immediately convert the quote to a sales order and processes it further. Quotations and estimates can easily be converted directly to an invoice without needing to re-enter information like the date, client and amount.
First impressions are always important as they can make or break deals. The quicker you prepare the quotation and get that quote into your customer's hands the better chance you have of winning their business. Our online quotation maker software will make you much more PROFESSIONAL, EFFICIENT, ACCURATE and COMPETITIVE in the market.
Easy Online Sales Quotation Creation
Feature-rich and Flexible quotation maker helps to convert sales activities into sales orders. Online quotation maker allows the creation of sales quotations, estimates and sales proposals in a smart & faster manner with 100% accurate data. It is possible to enter customer data or retrieve the same from existing data sets.
Same way, products can be added and categorized or retrieved from a pre-existing source. While preparing the sales quotations, it is possible to add items from pre-existing quotations which may be categorized. The business quotation maker provides a predefined set of templates to enable you to prepare quotations estimates and sale proposals easily and faster.
Quotation Management
As part of efficiency in a sales process, quotation management is an important success factor for many business houses across a number of industries. It is very challenging to manage all quotations. Our paperless quotation tool, ie online quotation maker makes you more comfortable and efficient in quotation management.
The search feature of the quotation software enables old quotations to be searched by parameters like Quotation No., Prod Service/Name, Account Code, and Quotations Date etc. The software enables tax computations of all types like GST and IGST without having to refer anywhere for the needed detail. Online quotation maker can manage each quotations by edit,view,recreate,email,delete options.
Zero Complexity
Make your sales quotation with SalesBabu Online Quotation Management Software. We provides a user-friendly environment which is easy to understand and use. Items can be added to the item list along with Discount at line level. It also has option for Multiple Tax @ line level. And once the quotation prepared with accuracy, Online Quotation maker enables you to send mail, print in PDF format, copy the quotation in no time. We assure you ZERO COMPLEXITY with our Business Quotation Maker.
SalesBabu CRM – An Overview
SalesBabu CRM is cloud-based On-demand Customer Relationship Management (CRM) software system that helps to manage your customer relations in an efficient and smarter way. It is an efficient CRM because it helps to streamline your organization-wide sales process, marketing, customer support, and inventory management functions in a single software system.
Be it multi-channel communication, sales productivity, CRM insights, product customization, or third-party integration, SalesBabu CRM offers a host of features to support the requirements of small businesses and large enterprises too.
SalesBabu CRM is developed with advanced features and also helps a company to sell smarter, quicker and better way. We have robust Quotation Maker Software with advanced features. Our Quotes creator tool helps companies quickly and accurately generate quotes for orders. And with its functionality and high potential quotation maker is on the horizon for many small businesses as well.
In any business, sales professionals often spend a lot of time drafting proposals and getting approval. Preparing quotations is a stand-alone task and is a tedious and time-consuming activity. This can have a negative impact on revenue and customer satisfaction over time. Quotation making software expedites the quotation making process and sends it to the interested customer. With Quotes Creator a salesperson can Win more work, get paid faster and make your customers happier. For the Online Quotation Generator Free Demo Click Here.
It is a formal statement of agreement generally submitted in response to a request for quotation by a potential supplier to supply services or goods required by a buyer, at specified time frame, and within a agreed price. Quotation may also contain the terms of sale and payment, and warranties.
A quotation is a document that a seller provides to a buyer to offer goods or services at a stated price, under specified conditions. Create a professional-looking, customised quote in less than a minute with SalesBabu CRM Quotes Creator software.
Is a quote the same as an invoice?
Invoice: It is a commercial document issued by a seller to the buyer that indicates the quantities, products or services and agreed prices.
Quote: It is a very loose contract or a formal estimate that shows the products and services needed and the total amount owed to the products or services.