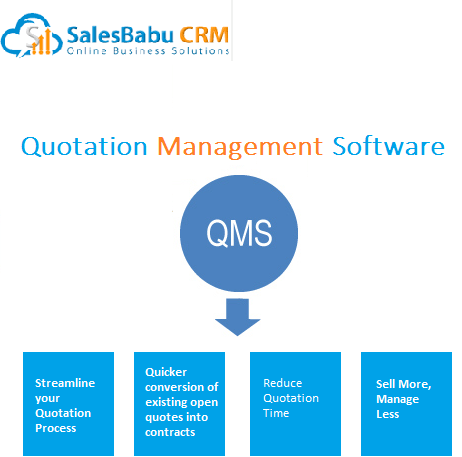 Quotation Management Software (QMS) includes drafting and automating the client's Quotation.  It aims to improve client's business efficiency in creating and generating quotations, emailing quotations, maintain billing and shipping information and providing enhanced QMS reporting features. The quotations generated from Quotation Management Software would serve as an input to the deals.
Benefits of Quotation Management Software
Streamline your Quotation Process: Sales professionals often spend a lot of time drafting proposals and obtaining approvals. Generating quotations in a stand-alone program, such as Microsoft Word or Excel, can be a time-consuming, tedious process that can negatively impact revenue and customer satisfaction over time. Quotation Management Software expedites the process of making quotation and sending to the interested customer. Just a matter of few drop downs and few click, your Quotation is ready
Quicker conversion of existing open quotes into contracts: Advanced reporting features allow clients to forecast business projection and determine the success ratio for quotations. Centerlized data management feature enable user to share information with team members who can continue followup in absence of any account owner and timely action win the deal for company.
Reduce Quotation Time: The longer the quotation takes to produce, the lower the margin you make on it. Quotation Management Software ensures that each quotation is drawn up in accordance with predefined rules which increases your chances of success and your margin and reduces the costs of failure. You can get added taxes & deduct discounts on total pricing & as well as on individual product level, use multiple currencies, download the quotation in PDF format for ready reference, and much more, all just few click away.
Sell More, Manage Less : SalesBabu Quotation Management Software is proven to help your sales team concentrate more on selling, and less on working with sales and quote documents. Save time, money and overhead while increasing the productivity of your Sales team by having all documentation in one central database. With the click of a mouse, attach any document with a quote to generate elaborate and detailed proposals for e-mail to your client.