Online Dealer Distributor Management System Software
Automate and Streamline your Business Process
by Implementing SalesBabu CRM Industry Vertical Solutions.

With SalesBabu Online Dealer Distributor Management System Software, collect more and rotate faster. Our distributor management system is designed for Stockists, Super Stockists, Wholesalers, Dealers and Distributors. We provide a complete single and multi-location distribution management system. Your business should make you richer & happier. With our FMCG (Dealer Management System/Distribution Channel Management) connect with your business digitally and work smartly to grow your business profit.
Online Dealer Distributor Management Software – Unifies Manufacturers, Dealers and Distributors and helps them focus more on customers' satisfaction – their key to growth. In a flat word, being in the business of FMCG, Automobile or a typical manufacturing segment, you are bound to deal with multiple levels of distributors/dealers both locally and globally.
Though both of them are often separate businesses and legal entities, with their own set of business goals, their success can mirror yours. Your distributor or dealer's operational efficiency levels and customer satisfaction measures are no more their concern. To succeed together, you need to have broader, integrated, real-time data and processes.
On the other hand, being a distributor or a dealer is equally or more challenging. Your customer expects the right service or product on time, always. For this, you need to optimally forecast, plan and align your resources, inventories, and processes in real-time. Whether your customer is in your showroom or on the phone if your employees lack real-time information and are inhibited by outdated processes you might have to face the risk of customer loyalty erosion. A continuous & smooth flow of information and data within various branches/departments and also with your manufacturer is the key.
Ultimately whether you are a distributor or a manufacturer, to survive and succeed in the modern dealership environment, you need to deploy a sophisticated dealer distributor management software that can help you deliver the right products at the right time and place for the right price.
COMPLEX BUSINESS OPERATIONS – AUTOMATED
In an increasingly mobile world, where movement defines how enterprises perform, coordination among administrative centres, workplaces and individuals can get extremely challenging. Timely feedback and action is an important issue faced by all involved – the Headquarters, OEM (Original Equipment Manufacturers), dealers and distributors.
From acquiring and fulfilling the needs of a demanding customer to maintaining an inventory to filing reports and more – manually managing all the areas of business eventually gets overwhelming and takes the focus away from planning the future of the business.
An efficient flow of information is critical for any business to grow. Regardless of the sector the OEM or company operates in, extensive coordination with its distributors and dealers, often spread across thousands of kilometres, is imperative.
Often, the complex coordination between the OEM and its dealers' distributors can get extremely challenging. The SalesBabu Cloud-based Dealer Management System Software is a permanent solution to transform your business operations and enhance productivity.
Dealer Management System Software-
An efficient dealer management system software equips auto dealers with powerful tools. You can get real-time insights, automate tasks, and turn data into profitable growth on a single platform built especially for auto dealerships.
A dealer management system can give you a bird's eye view of your business operations, from high-level insights to the finest details. Leverage this information to make smarter and better decisions across the board. Spot where you're leaking profits, nurture areas of an opportunity and clear a path to future growth.
Distribution Channel Management System-
Distribution Channel Management mainly focus on the Supply Chain Management (SCM) Companies, Corporate, Distributors, Manufacturers, Vendors, and people who explore information of retail outlets, shops and want to locate stores. This software helps SCM agents, Corporate, Distributors and Vendors to find shell space, retail store or an associate where they can sell their goods. It also helps to manage and plan your target audience and can do research and find new sales areas to get better business.
Sales & Distribution Management Software –
SalesBabu's Sales and Distribution Management Software gives OEM the potential to automate and streamline the primary and secondary sales and distribution functions of your business. The solution helps you to manage a global business with ease through features like a friendly Dashboard, multi-currency and multi-country, Key Performance Indicators and customer loyalty and retention.
Our Sales and Distribution Management Software supports a highly distributed sales functionality set up in terms of Marketing, Sales, Purchase, Inventory, Financial and Reporting.
The solution aims to easy and simple business processes and minimise operational costs across channels. With a user-friendly Dashboard and mobility report system, it acts as a motivational factor for the users to sell more.
A complete solution for your Distribution Business (single or multi-location)-Try Free Demo
Order Management
Empower your sales team to drive you more profits by providing them with the best sales force automation technology (sales tracking app), SalesBabu's order and collection mobile app for distributors and retailers, supported on mobile & tablets. Lower your order processing and delivery costs by getting more orders per salesman with faster and more accurate order entry using the Ordering and Collection mobile app.
SalesBabu Distribution Channel Management helps to process more orders in a lesser time and earn more profits by covering a large number of retailers in the market beat, in a short span of time. Our, Dealer Management Software does an instant stock check and gets an updated list of moving and non-moving stock in real-time from your mobile itself. Slash down phone calls, manpower and manual error with real-time product status and accurate order & collection entry using Sales And Distribution Management Software.
Save your order processing time and costs with online ordering using SalesBabu's Online Dealer Distributor Management System Software, which will enable your customers and sales reps to order 24*7 directly through the online web-based tool. Web-based Distributor Management System will also help you to measure and enhance service levels by minimising fraud and eliminating collection leakage complete transparency and accuracy in maintaining account and transaction history.
Retailers can directly import the purchase invoice of their suppliers, thus eliminating the noticeable time required for the data entry. Company representatives of the product suppliers and the Sales Reps can view the Stock and Sales reports remotely from anywhere, anytime with the help of online Sales And Distribution Management Software.
With Online Ordering Measure and Improve Service Levels And Fulfill All Orders Accurately And Punctually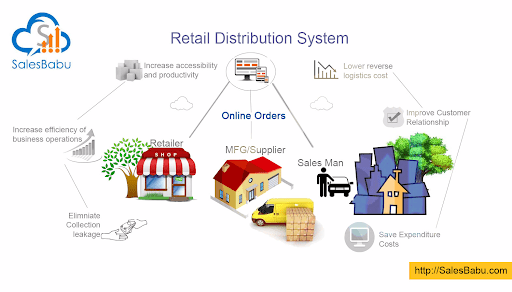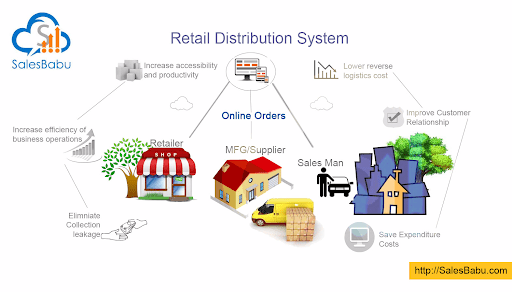 Inventory Management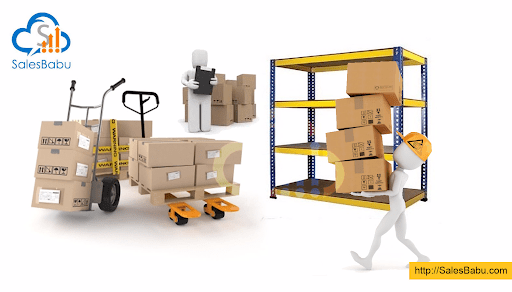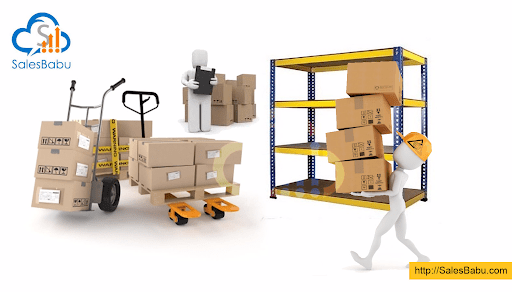 Inventory control is key to running and controlling a healthy business. From purchasing to fulfilment and everything in between, SalesBabu inventory management software will help you to improve efficiency, gain visibility into your stock and automate your hardest jobs. Online inventory management system helps in keeping complete track of your stocks, know what you are selling and what you are left with, likewise know what to purchase and when to purchase using Automatic Reorder.
Profitable Inventory Management helps you cut down inventory investment by knowing when, what and how much exactly to purchase. It gives you the provision to do stock audit regularly to generate stock discrepancy reports by computing and comparing physical vs system stock. Inventory management system software also helps to largely reduce the time taken for item picking and packing by mapping every item to a specific rack or shelf.
Inventory analysis of different Batch helps to find out batch-wise expiry, batch-wise different rates, batch-wise offers etc. Automatically reorder based on maximum and minimum stock value or minimum quantity based on last N days sales for each of products. You can also set PO (purchase order) based on sales of 'N' days with validation on free quantity. SalesBabu inventory management system helps to get a clear picture of product age-wise stock analysis on non-moving and dead stocks value.
Business Need
Technology has given consumers/customers the capability to easily and quickly reach to the products they want. If your retailer doesn't have the items they need, customers have no problem and are free in placing orders with competitors. For retaining the customer you need just-in-time delivery.

Solution overview
SalesBabu inventory management software is a simple and an affordable inventory control solution. It provides help in easily managing different batches, different products, different SKU's, different prices with different expiry dates smoothly. Our inventory management system software allows you to classify your products by type, name, supplier, brand and supplier code, SKU (stock keeping unit), to easily build custom reports, perform inventory counts or coordinate with your demand.
Our cloud-based online inventory management software provides real-time visibility into inventory, with anywhere, anytime access to critical information. While all of these benefits are extremely useful, the real value of SalesBabu inventory management software comes from the ability implement and to integrate it with other business systems. For instance, real-time inventory information is crucial for the accounting, financial, production, purchase, sales and marketing team.

Complete supply chain visibility – when fully optimised, inventory management software provides the entire operation with insight and actionable information regarding both inbound and outbound product flows as well as the additional capability to drill down into details if needed.
Quality management – Packages can be broken, shipments can be delayed, fill rates can lag. Inventory management software system identifies and tracks the various issues that could occur, and through reports and analytics, provides guidance regarding the factors impacting quality.
Cost management – Any of the product sitting on the shelf is a debt or liability that picks away at your business' profitability. By managing your stock requirements in real-time and increasing inventory turns, your business can make the most out of existing shelf space to improve profit margins.
Efficiency and customer service – Enhancing your inventory processes can curtail the amount of time to process shipments, replenish stock and serve your customers (i.e. "pick, pack, and ship"). All of these efficiency improvements are recognises without sacrificing quality or increasing head count.
Features Of Inventory Management
Opening stock and Stock adjustment entries
Stock and sales report with Split order
Batch wise stock and offer maintenance
Short Expiry List
Godown and Rack wise stock maintenance
Daily Stock Movement
Non moving product list
Physical Stock Audit
Returns Management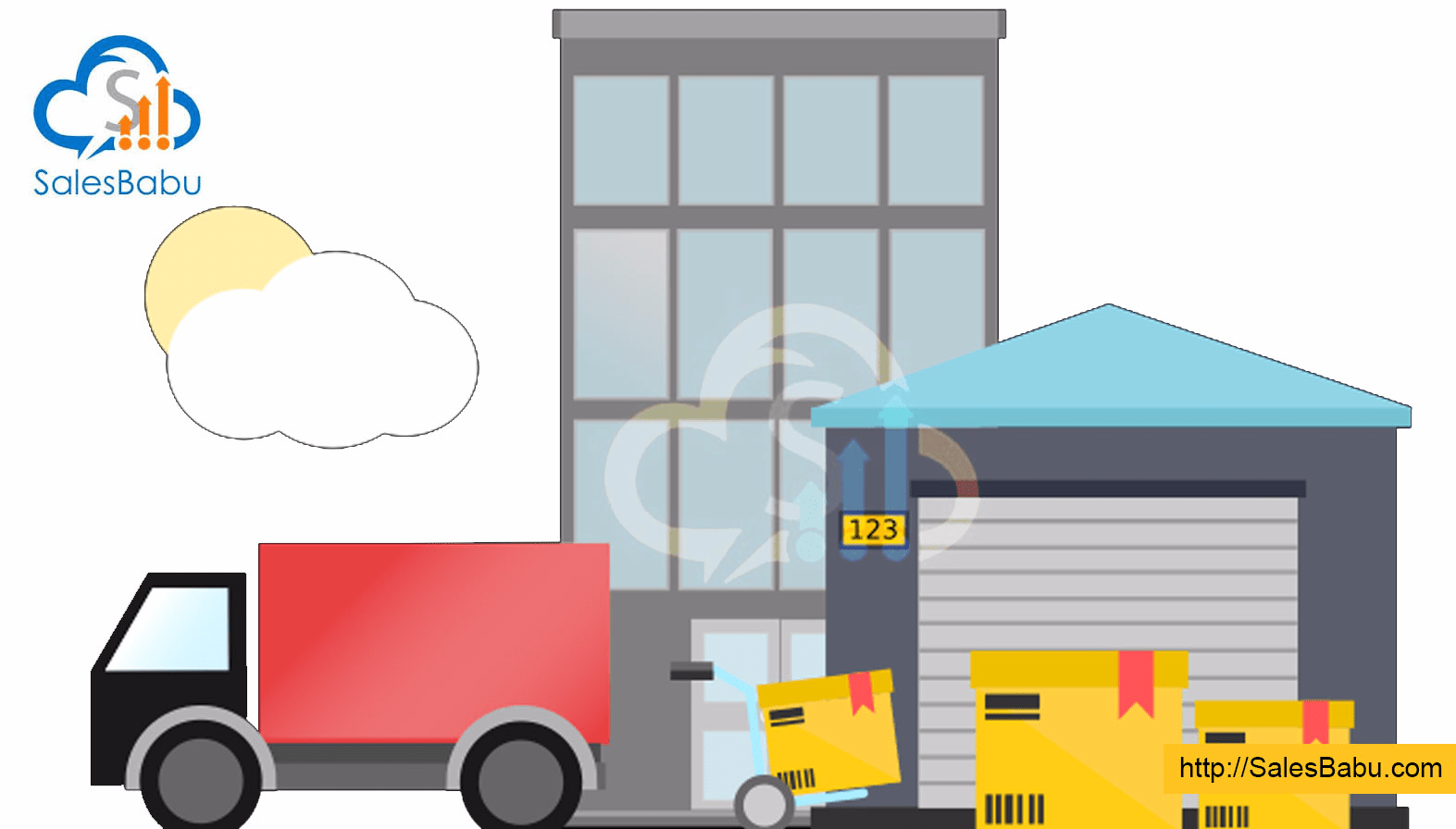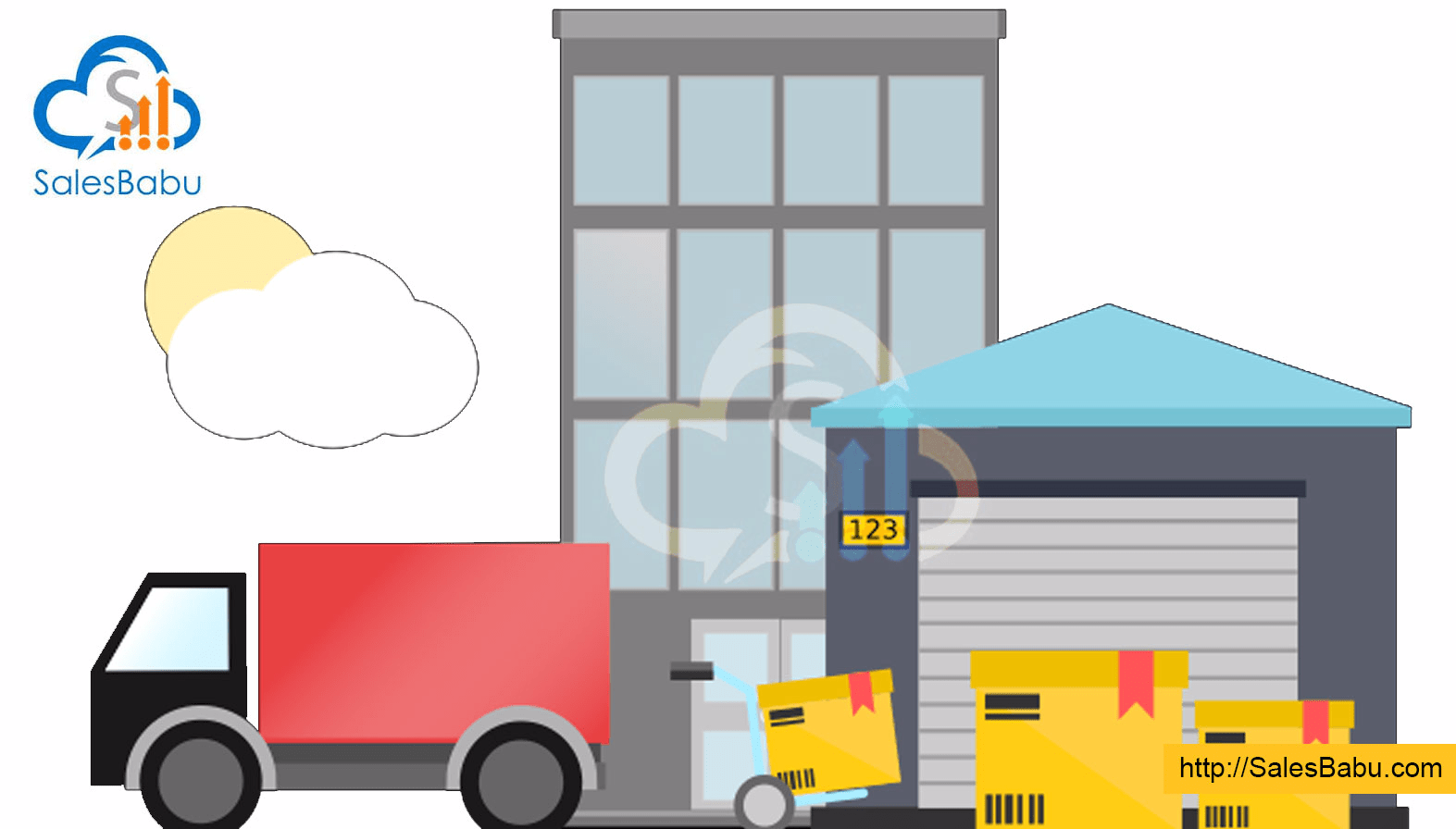 Hassle free breakage/expired/damaged goods replacement process by complete tracking and easy & simpler inspection/approvals along with credit note and bill wise amount adjustment. Improve and Increase your operational efficiency by automating your returns process, minimizing fraud and improving customer service.
With our return management, you can validate customer expiry or damage returns against a batch number of the sales invoice. You can also issue replacement or credit notes to customers as per the slab defined. Damage or Daily Expiry can be adjusted in the next bill or get replaced with a new product, as well as get the credit note raised.
Purchase returns can be made based on the purchase price or cost price depending upon the supplier. Sales And Distribution Management Software helps to feed and track expiry or damaged returns sent to suppliers with utmost ease. Apart from this benefit, you can also manage product replacements or value credited given by suppliers for taking better decisions.
With Dealer Management System, the business houses get options to adjust credit notes or purchase returns while entering the receipt of the goods. Also, enter item-wise remarks on each sales return and purchase for future verification. In this way, by deploying and implementing Dealer Management Software you can smartly run your business and increase your profit.
Features of Return Management
Expiry / Damage Return
Full bill sales return
Expiry return day validation like it should allow with 6 months
Partial purchase return amount can adjust while purchase entry
Sales Return and Saleable goods
Option for Sales return adjusted in A/c or next bill
Prepare consolidate report and send to supplier
Pending return claim tracking
Sample & Gift Management
The samples and gifts play an important role in the sales & distribution company, for an example pharma industry. Most of the time it acts as a catalyst for sales. You can track you gifts & samples, whether it has been handed over to the right person(s).
Monthly allocation and dispatch to the sales force
Sample request- in case of additional requirements of samples
Facilitates logistics team with the handling allocation and distribution
Decreases the paper work
Efficient maintenance of inventory
Primary and Secondary Sales
Sales Representatives placed at any location(s) are recommended to submit their Monthly Sales reports and Stock Closing Reports to their Head offices regularly on a daily basis. With the use of sales automation CRM, the process of submitting Stock Closing and Monthly Sales reports to the Headquarters has become online. For an example, with the presence of the Pharma CRM, the Sales Representatives get their Primary Sales and Opening Stocks from the organization and they have to just fill in the closing stock on the given form.
Distributor Management System Software (DMS)
Enhance productivity and efficiency with SalesBabu dealer management system software. Sales and Distribution management software empowers you to raise customer loyalty, penetrate new markets and improve your ability to serve your existing customers efficiently. Our DMS dealer management system software will help you make informed buying and selling decisions, save money, improve customer service and ensure future profitability in your business.
Streamline and integrate your distribution processes
Raise and increase your supply chain visibility
Minimize costs and maximize margins
Manage inventory optimization across multiple locations
Attach regulatory and compliance reports (MIS)
Distribution management
With SalesBabu online distribution management you can achieve the milestone in your business and respond to today's competitive distribution challenges with an effective distribution management.
Inventory is distinct, as are customer's requirements. Just-in-time delivery is changing the traditional logistics of demand and supply. Workforce ageing is a factor too, challenging productivity and balancing parables and receivables without a hitch is more critical than ever. How can an organisation gain strategic visibility — and operational control — in this environment? By mastering the supply chain.
The following challenges experienced by an organisation while managing downstream supply chain:
Poor stock control / SCM
Low job dispatch / service calls
Lack of mobile intelligence
Poor customer records
Increasing product return demands
Missed deliveries
Inefficient warehousing cycles
Streamline and enhance your entire downstream supply chain and a broad array of business tasks by simply taking advantage of our distribution management system that is reliable/predictable and will provide real-time visibility of sales & inventory. This has increased the demand for high performing and efficient distribution software which enables channel management, product and pricing management, order management, secondary sales stock management, trade promotions management and claims management.
Efficient and effective distribution/dealer management system software empowers the salesforce with the tools and information required to serve the retailers while being mobile using the platform. The robust product reduces the time taken for on-field calls execution activities like order collections, booking, sales returns and capturing market feedback through surveys/ questionnaires.
Another specific feature of any reliable distributor management system software is its ability to integrate with any ERP software which allows the top management to get real-time visibility of the entire supply chain which helped them in strategy formulation. Act smart and implement SalesBabu CRM FMCG (Distribution Channel Management) to boot your dealer management system and enhance your revenue.

Benefits
Minimise inventory cost through simple yet powerful demand planning and forecasting
Achieve higher service levels without breaking the bank
Increase customer retention through excellence in order fulfillment and value added services
Know which products/customers are truly contributing to your growth
Improve your turn-and-earn ratio with accurate visibility of all inventory
Improve cash flow through automation and internal collaboration
Reduce/scale down stock out
Unified distribution process enabled for future changes alignment and complete compliance
Distribution software allows you to penetrate new markets, maintain customer loyalty, and improve your ability to serve your existing customers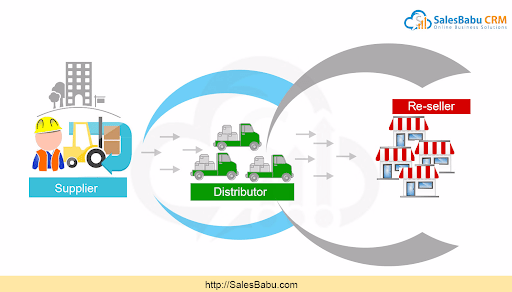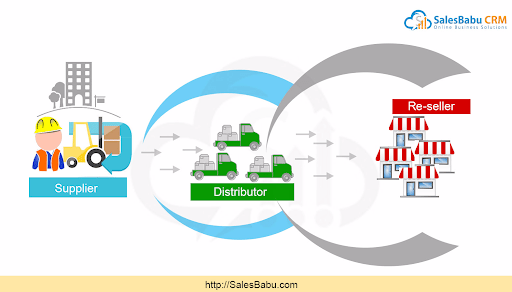 Consumer Goods:
Deliver customer engagement bundled with intelligent and personalized experiences.

OPTIMIZE RETAIL EXECUTION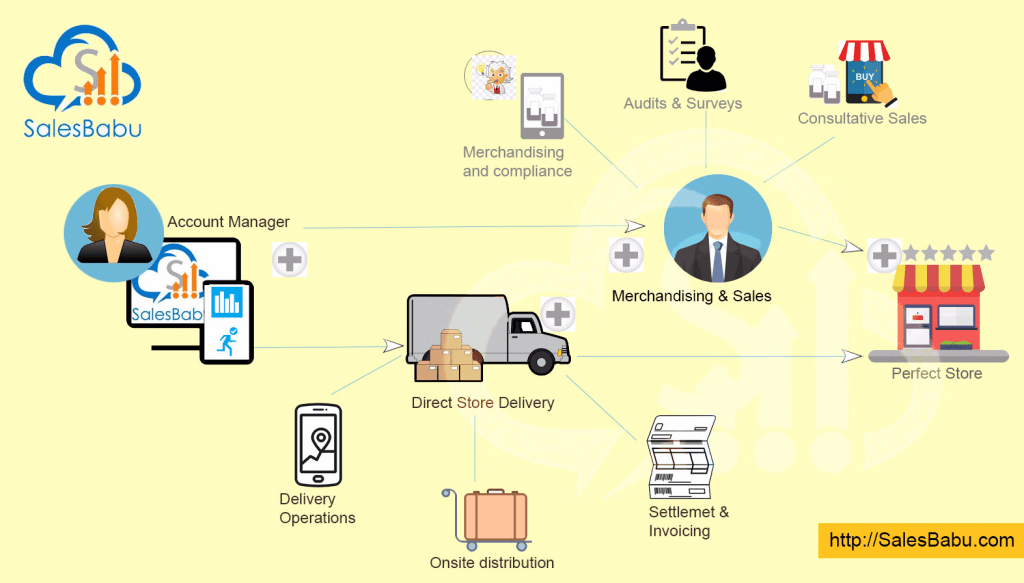 Drive sales production with a fast, personalized, and connected experience. Drive field rep capacity/productivity by making essential activities faster, connected, and personalized. Accelerate insights thanks to complete real-time inventory updates, program visibility including dynamic reporting. Arm every field representative with advanced mobile capabilities, enabling remote productivity even in disconnected environments. And enhance the entire planning-through-execution process leveraging the power of the distributor management system.
Achieve and manage the perfect store with the most trusted B2B platform. With SaalesBabu retail execution solution, consumer goods companies have the customized apps and digital tools needed to win at the shelf like never before. Work smarter and faster with our Dealer management system.
A big thanks to complete program visibility driven by Sales Cloud, including dynamic reporting and real-time inventory updates. Arm every field rep with mobile capabilities powered by Cloud service, which enables remote productivity even in disconnected environments. And fine-tune every aspect of operations from planning to point of purchase with insights delivered by our sales and distribution management software.
Here's how it works:
SalesBabu's Optimize Retail Execution solution drives sales productivity by transforming essential field sales rep activities, making them fast, personalized and connected.
TRANSFORM B2B COMMERCE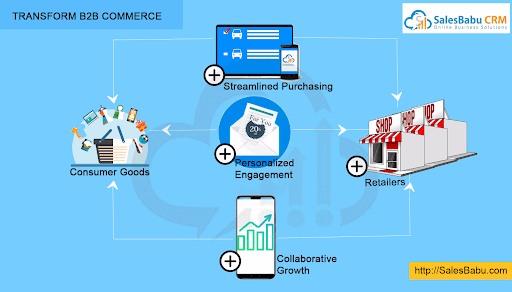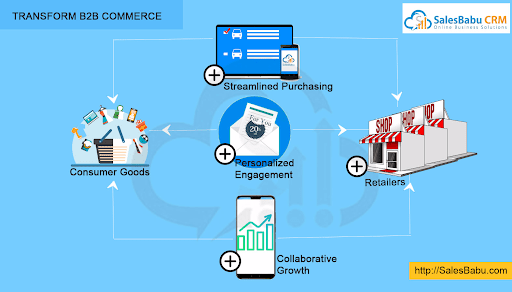 Enable and empower channel partners with a personalized, seamless and collaborative experience with our dealer management software. With dealer management system, help channel partners move at the speed of business and drive larger purchase orders. This can be achieved only due to Commerce Cloud's personalized self-service capabilities.
Use our automated dealer management systems platform to build richer, seamless brand experiences for each and every customer. Pave the way to larger collaboration with exceptional customer service. And optimize engagement with Marketing Cloud's buying journeys and predictive recommendations from our best dealer management system.

Here's how it works.
With our distributor management system B2B Commerce solution, consumer goods companies can exceed the expectations of their channel partners by offering a B2C-like buying experience. See below how our unified platform helps companies cost-effectively reach and serve long-tail customers.

Put a winning sales scheme into action.
SalesBabu's cloud based dealer management system is the Future of Consumer Goods Companies. Connect/associate the right store with the right product at the right time with a complete, cross-channel view of each customer. Get smarter and intelligent about managing trade promotions and streamline/simplify complex sales processes. And close deals more faster with real-time collaboration across the entire field, on any device. Our motto is – Manufacturing Meaningful Consumer Relationships.

Top-performing consumer goods companies are dropping legacy processes and embracing technology that better connects them with:
Distributors & Retailers: Improving collaboration with the manufacturer as well as presenting
cleaner POS data transfer.
Employees: Connecting to all possible/potential information available about a retailer their products and inventory.
Consumers: Leveraging social media and communities to build and grow relationships with their customers.
Some transformative consumer forces include:
Emerging Markets: The growth is coming from new brands and new categories, putting pressure on manufacturers to onboard, people, processes, and technology in these areas faster. Existing or current home and mature markets are not stabilizing or growing fast.

Retail Consolidation: Distribution is also changing; larger chains are swallowing up smaller ones, store concepts are changing fast, and eCommerce is growing in relevance.

Wholesale Distributor Mindshare: Consumer goods companies are no more/longer concerned only with shelf space, but with distributor mindshare as well. As the distributor power continues to grow, influencing distributor reps is critical and important to sustain in the market.

Transform customer commitment / engagement with deeper insights.
Harness the power of data to create more personalised, connected, and seamless consumer experiences. By analysing and redesigning the path to purchase, your organisation can blend the digital and physical to best serve today's demanding customers. With our dealer distributor management system, improve the customer experience across all channels to boost loyalty and revenue.
Serve the customer of today and the future by transforming the path to purchase. Use data to enable actionable insights that deepen relationships with our dealer management software. To groom your business deploy and implement online automotive dealer software.

Turn consumers into repeat customers.
Nurture leads, engage prospects, and target up-sell opportunities within existing accounts with one to one customer journeys. Build higher rewarding relationships by personalising every service, sales and marketing interaction. And create a cohesive brand experience across all touchpoints and channels.

Three Best Practices for Consumer Goods Sales Transformation
At SalesBabu, we provide the opportunity to work with CG companies who have had the foresight to transform their businesses before they get left behind. What those companies have accomplished, tends to fall into three primary buckets:
To build better relationships use technology
Mobile-enable sales people to enhance retail execution
Improve/boost access to legacy systems through a system of engagement

Tablets, Smartphones and other mobile, cloud-connected gadgets have forever transformed access, communication and relationship development. Retailers and Distributors are improving collaboration with manufacturers, and are able to serve cleaner point-of-sale (POS) data. Consumer Goods company employees and experts can all be connected to the information available about a retailer, inventory and their products so that the company has a perfect 360° view of its customers. And companies can now use social media and communities to build relationships with their end consumers.
The CG (Consumer Goods) industry in turn is going through massive transformation/revolution. Existing home and mature markets are not growing fast or stabilising. Industry success or growth is coming from new brands and new categories, putting pressure on manufacturers to onboard people, processes, and technology in these areas faster.
Sales & Distribution is changing as well, with larger chains swallowing up smaller ones, store concepts changing and eCommerce growing in relevance. However, CG companies are no longer concerned only with shelf space, but also with distributor mindshare as well… distributor power is growing, and influencing distributor reps is critical.
Current Challenges in Distributor Management
India with its broad base-of-pyramid and rural markets present specific challenges for the distribution system. Large companies not only have to manage a huge network of small and big distributors spread out across the country but also need to juggle the conflicting needs of different channel partners.
Standard Distributor Management System
Generally used by SMEs/small organizations that have less capital, incompetent tech infrastructure and limited penetration of the internet
Challenges:
Deciphering disorganized data collected through emails & SMS, excel, physical reports, etc.
Inadequacy of real-time & actionable market Data for decision making
Misappropriation of scheme data by distributors
Lack of visibility of performing product & outlet at the micro-level
Target vs actual non-alignment with the overall plan for sales
Conventional Distributor Management Process
Challenges:
A customized web portal is normally used by Distributors for each brand to maintain their data individually
For distributors dealing with multiple brands, it's difficult to install portal based Distributor Management System
For the Distributor, it's duplication of work
Training required in real-time for Distributor
Mega Support & license cost
Expansion in Manpower cost
Efficient Automation For Your Distribution network.
SalesBabu Distributor Management System (DMS) has everything you need to efficiently monitor your entire network of distribution. We have dedicated modules to manage inventory, purchasing, and sales. Our DMS ensures a steady supply of goods across your supply chain.
SalesBabu Business Solutions Pvt. Ltd.
No.38/11, 3rd Cross, G Block, Sahakarnagar, Bangalore – 560092
Bangalore, Karnataka
560092, India

Register here to Schedule an One to One Online Session at your Convenient time.
Many Businesses trust SalesBabu, including: