CRM (Customer Relationship Management) is becoming an integral part of organisations – big or small. To handle high sales volume and manage different stakeholders in the sales process, FMCG companies rely on SalesBabu CRM FMCG edition.
Cloud-based CRM is an extremely useful tool for sales and marketing teams. Many of the cloud-based software providers will offer an affordable, flexible solution and make the customers an attractive proposition to the organization of all types.
With the implementation of cloud CRM, your sales team will get to know when to reach out to their leads and how to engage them, while providing the sales managers with comprehensive data regarding the performances of your team, missed opportunities, and also the best strength.
Visibility of Primary & Secondary Sales has enabled companies to devise strategies for the timely delivery of goods to Distributors, Dealers and Retailers enabling. With S&D Solution, the stock status at every level of transaction is updated in real-time with alerts & reminders for any deviation in set standards.
What is the purpose of the CRM for FMCG companies?
Online CRM software is becoming an integral part of organizations either small or big. To manage the high volume sales and manage different stakeholders in the sales process.
By streamlining the whole sales process and the distribution channel, online CRM will automate FMCG which will help the FMCG companies to achieve higher levels of revenue and correct all the bottlenecks in the sales process.
Visibility of the primary and secondary sales will enable the companies to devise strategies for the delivery of goods at the right time to dealers, distributors, and retailers enabling.


SalesBabu Sales and Distribution CRM helps FMCG companies in :
Contact Management is the most important factor to maintain your customer and prospective client at one location and track them in an organised manner. We need to also collect information on various products, vendors and distributors at one location to maintain a systematic sales and distribution system.
SalesBabu CRM enables third-party vendors and social media to get integrated with the software to collect every prospective client and lead through different modes of communication. Once we have an integrated repository of every contact, will be able to manage our product's sales and distribution system in a standardised manner.
Strategic Product Distribution
Demand forecasting and understanding your product demand in the market is the first step to creating an organised system of product distribution. We should understand our vendors' details, the number of products ordered by each retailer and other supplier details to create a regulated product distribution system.
SalesBabu CRM helps in creating various reports and analyses for different products through which sales heads will have clear demand forecasting capabilities for better sales life cycles for products.
Read More – How to select the right inventory forecasting models
SalesBabu CRM provides additional after-sales support for different companies and FMCG organisation which is an added advantage to managing our internal product life cycle along with its delivery management.
Inventory management is one of the most critical and difficult-to-manage sections of a business model which requires a clear understanding of every product lifecycle starting with raw material procurement, final product delivery, warehouse maintenance/upkeep and more.
An organised inventory management system of all these processes helps to maintain healthy product management in the organisation and earn the best revenue for the firm with minimum wastage and theft.
Read more – 5 Inventory Reduction Strategies for a More Profitable Business
MIS reports are another important feature of SalesBabu CRM software. With this MIS feature, sales heads and managers can create various inbuilt and custom reports to manage sales and distribution of products in the organisation.
With MIS reports, important information related to various product's demand like products with the highest demand, a list of old products which need to be removed from warehouses, products up for sale and more.
All these details help in creating an efficient and cost-effective inventory management system for the products.
Also, these MIS reports help in internal sales tracking and performance monitoring for various sales agents by creating custom reports based on sales lifecycle, closure rate and more.
This MIS reports features are very helpful to automate the daily reporting system in the organisation. If done manually these reports use to take the major time of sales agents to monitor product life cycle and waste a lot of productive time of the agents.
Read More – MIS: Now Get All Your Reports Just by a Single Click
Streamline Sales Funnel
Sales & Marketing is a crucial task in every business, CRM helps you to track productivity at every level of your business, which helps you to improve customer satisfaction and increase customer retention as well as add new customer in your Sales Bucket.
Maximize Channel Sales
Gain insights into channel performance by setting periodic targets, monitoring net sales, calculating occupancy costs, etc.
Analyse channel business by monitoring days of receivables, days of inventory stock etc.
Monitor partner performance with real time accurate and updated data
Enable single point for partner to raise purchase orders, track order status, delivery dates, back-orders, etc.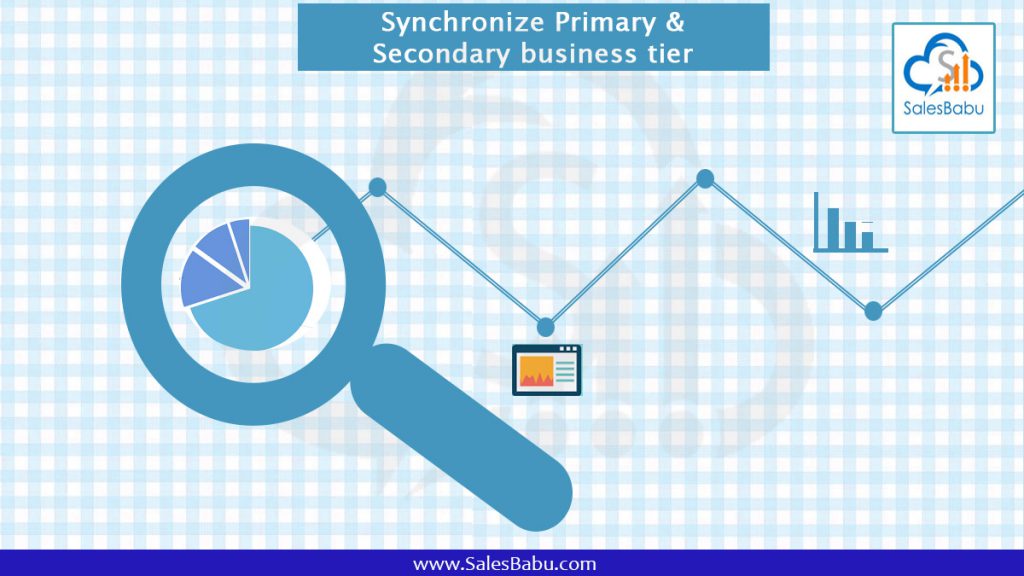 Primary sales are those made to channel partners who are effectively customers that resell multiple units of products and services. CRM for Sales and Distribution provides comprehensive visibility of Primary & Secondary Sales that enables partners to formulate strategies that wrap other products and services together to create a differentiated value proposition for customers and timely delivery of goods to Distributors, Dealers and Retailers.
Better Visibility on Secondary Sales.
As business organisations, we need to know who our customers are and how we are making them satisfied with our products and services. In many secondary sales processes, firms are not involved in the secondary sale stages and end up being not aware of the real requirements of its end users. With organised sales management software, every details of secondary sales and end customer requirements are clearly tracked and maintained to improve overall sales rate for the company.
Once we have systematic system of stock movement, suppliers will have a better understanding of our regular raw material requirements. With an organised system of stock movement and less wastage of resources, companies can make good revenue and profitability from our existing resources.
Customer Retention
CRM helps you to retain those customers who left your services. This should become a part of the strategic sales & marketing planning process of any firm. It is important to define customer retention and also to understand how it can be measured.
Enable Communication Bridge
CRM enables you to manage a Communication Bridge between Primary and Secondary level of your sales ,where you need to put extra efforts. At primary stage of your business you are bound to manage your existing Distributors/Dealers/Retailers, and on the other hand your channels of sales looking for new end users of your product.
Lesser Inventory Handling Times
Many companies face the issue of delay in delivery of products due to various internal and external factors. SalesBabu CRM is an efficient tool which enables companies to track their inventory handling time using various automated features of raw material tracking, suppliers timelines, product competition issues and more. These features help in closely tracking every event related to product competition and make sure inventory is managed in a standardised manner to maintain regular interval of product delivery in the market.
Sales and marketing automation
Online CRM for the FMCG companies will completely automate the sales and marketing activities in a single system and this leads to high performance and much profitability by providing the company everything which you need to effectively sell the products.
Primary and Secondary
Sales reps who are placed in any locality are required to submit all their monthly sales and stock closing reports to the head office on the daily basis. With the help of online CRM software, the process of submitting the monthly sales and stock closing reports to the headquarters of their office can be done online. With the pharma CRM, the sales reps will get primary sales and opening stocks from the organization, and sales reps just need to fill in the closing stock in the form.
Conclusion
By streamlining the full sales process & distribution channel, SalesBabu FMCG CRM it helps FMCG companies achieve greater revenue levels and rectify bottlenecks in the sales process.