Expense Management
Our All-In-One Expense Management Software for businesses helps with your online expense management by handling all of your expenses, approvals, and reimbursements.
Bring all your business expenses on one platform. Fund, track and manage them online, from any mobile or desktop device. Tracking expenses within your business not only allows you to control employee spending but also allows you to prevent unnecessary costs and recover costs relating to projects, sales opportunities and more.
Control employee spending
By using SalesBabu's Online Expense Management Software to help manage your team's expenses, you are easily able to view and approve all expensed items that your employees submit. If you don't agree with what has been submitted, you can easily disapprove/deny a user's expense sheet with the click of a button.
Prevent needless costs
When your team is accurately submitting their expense details, you can quickly see where your business is costing you the expense and can therefore try to recover these costs within your projects. Maybe it's a mobile bill or even mileage for onsite support; whatever the expense may be, our cloud-based expense management software makes sure that you are always aware of such expenses.
Become better organized
Because your team's expense information is in one place and available at any time, your business can say goodbye to the box of expense receipts. With a wonderful search functionality, you can smoothly pull up all of the expenses submitted by a team member, or even the total number of KM claimed, saving you and your accounts from extra effort during tax season.
Budgets and Expenses
Among other costs, Expense items related to Projects can be tracked by the expense tool and will be deducted from that particular Project's Budget. This helps to give you a clearer picture of the actual cost of your Projects.
What makes SalesBabu's Expense Software the best expense management solution?
Expense receipt storage
If your organization requires receipts to be attached with expenses, submitting is simpler with SalesBabu Expense management tool. You can easily attach a digital copy of your receipt along with your expense.
Expense report management
Don't get overwhelmed by individual expense entries. Consolidate your expenses by type or date, add them to a unified expense report and submit it in one package for approvers.
Expense approvals
Approval in SalesBabu Expense Management System is a cinch. Custom policies assure that expense reports are submitted to the appropriate person based on the policy, or automatically approved or rejected if they meet the right criteria.
Expense analytics
Every member of an organization can view analytic reports about their expenses and policy violations, while admins are privy to additional reports regarding the company's expenses.
Expense reimbursement
Expenses can be reimbursed online using any Bank with which organisation is tied up. Once the reports are submitted and approved, they can be reimbursed via NEFT, IMPS, RTGS, or Bank transfer.
Real-Time Expense Feeds
See all company spending in one central place as it happens. View all expenses categorised and tagged and supported with bill attachments.
Smart Policy Checks
Add your company's expense policies to SalesBabu's Expense Management and ensure 100% compliance with our policy red flags and notifications.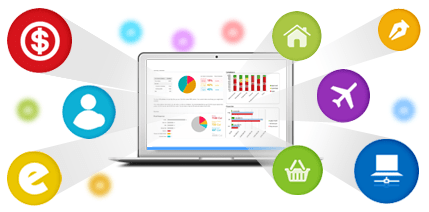 Employee expense management
Make employee expense management paperless and cashless. Empower employees to spend digitally while staying in control. Record and track all employee spending in one central place and sync data easily with your accounting software.
Travel & Expense Management (T&E)
Manage your unified travel workflow – starting from travel requisitions and advances to reporting and recon with our integrated travel & expense management software solution. Take control of entire travel expenses, ensure 100% policy compliance and give your business travelers a great experience and happiness.