Distribution Management System Software
Automate processes and reduce errors in purchasing, order fulfilment, inventory tracking, and customer support with SalesBabu Distribution Management Software.
What is a Distribution Management System?
With millions of outlets, thousands of distributors, and billions of potential transaction markets are now large and complex. It has become challenging for the manufacturers to manage this vast network of small and big distributors while also juggling the conflicting needs of different channel partners.
But how can manufacturers manage all of these challenging operations with limited data and insight into the emerging market? How can they take control? And, most important of all, how can it be made easy? The answer lies in versatile, robust, smart yet user-friendly technology is through a Distribution Management System which integrates and automates all the business processes in one software to streamline the complex business operation like tracking inventory, orders, sales, purchase dealer performance, supply, accounts, clients, vendors, etc. simpler.
SalesBabu Distribution Management System Software
Every company looks for precision loaded multiple ways to optimize costs and increase revenue. Distribution management system (DMS) software assists in aligning business processes and help to make their supply chain process easy. It also enforces a significant amount of improvement in efficiency through the automated distribution process, improved inventory control, streamlined distribution process, and reduced errors. Distribution management software also empowers businesses to optimize transfer and processing costs.
Coupling extensive knowledge and needed expertise in distribution management software development with technological systems SalesBabu Business Solutions deliver ideal business application solutions that assist companies to automate the complete supply cycle. We at SalesBabu Business Solutions Pvt Ltd are poised to deliver systematic business applications that address all the needs of the distribution, and supply chain process, enabling businesses to explicitly control & channel inventories in a more effective way and reducing extra expenses.
SalesBabu Cloud DMS (Distribution Management System) is a software solution that enables companies to improve their distribution system, keep track of all of their business activities in a prompt and easy way, streamline and optimize their sales process through retail outlets, keep their sales staff and distribution channels under control, minimize risks, improve business performance and maximize profitability. With an online DMS solution, organizations can grasp market situations to design and implement proper policies.
Benefits of Distribution Management Software for Your Business
Designed for Stockists, Super Stockists, Wholesalers, Dealers and Distributors
Sales Order Management
Minimize order times and reduce costs by optimizing the way you quote, enter, and fill orders. Define a set of rules to manage complexities such as multi location warehouses, returns, credit limits, and drop shipments.
Purchase Order Management
Reduce costs and establish a steady supply of materials by enhancing and automating purchasing processes including vendor requisitions with electronic bidding.
Offers & Schemes
With your customer improve your relationship and make more profits simultaneously using our diversified Offers and Schemes based on products, categories, and customer type, as well as for selective batch or lot.
Credit & Receivables
Control credit limits and days effectively and have complete visibility using quality outstanding / collection reports in our MIS
Inventory Management
Manage processes with actual-time visibility of available inventory, inventory in transit, reorder quantities, and inventory costs. Keeping complete track of your stocks, knowing what you are selling and what you are left with, likewise knowing what to purchase and when to purchase.
Returns Management
Smooth and hassle-free expired / breakage / damaged goods replacement process by complete tracking and simpler inspection/approvals along with credit note and bill wise amount adjustment
Optimize Sale Efficiency
All distribution procedures in SalesBabu DMS will be automatized that help enterprises optimize all activities in the sale and distribution process. Enterprises are active in managing inventory and optimizing product alternatives in the distribution chain. Working productivity of the sales team will be controlled and boosted to get the best efficiency through specific criteria with methods and exact and effective measurement tools.
Boost Profitability
With automated and optimized workflows companies save their valuable time and staff, and can get more customers without having to recruit new employees. Additionally, distribution expenses for promotion, product display, sales programs, POSM, etc. are all strictly controlled in the system, which helps companies achieve good results, budget, and efficiency.
Growth of Brand Value
The effective deployment and management of sales programs help to attract customers, enhance their loyalty, and strengthen cooperation with distributors for it shows the real benefits. Apart from that, DMS features functions and procedures that enable close management of product display programs to boost brand recognition at every point of sale.
Advantages of Distribution Management System (DMS) Applications
Business automation supports you to minimize the business workflow problems substantially. We have designed the Distribution Management System especially to automate intriguing business process workflows and functionalities.
Our DMS software assists you to boost your revenues through improved sales efficiency and satisfying customer servicing.
Our online dynamic and robust DMS tool help you to analyze your business distribution and supply chain processes.
Management of online orders and online sales can be accomplished in a cost-effective and organized fashion using SalesBabu's Distribution Management System.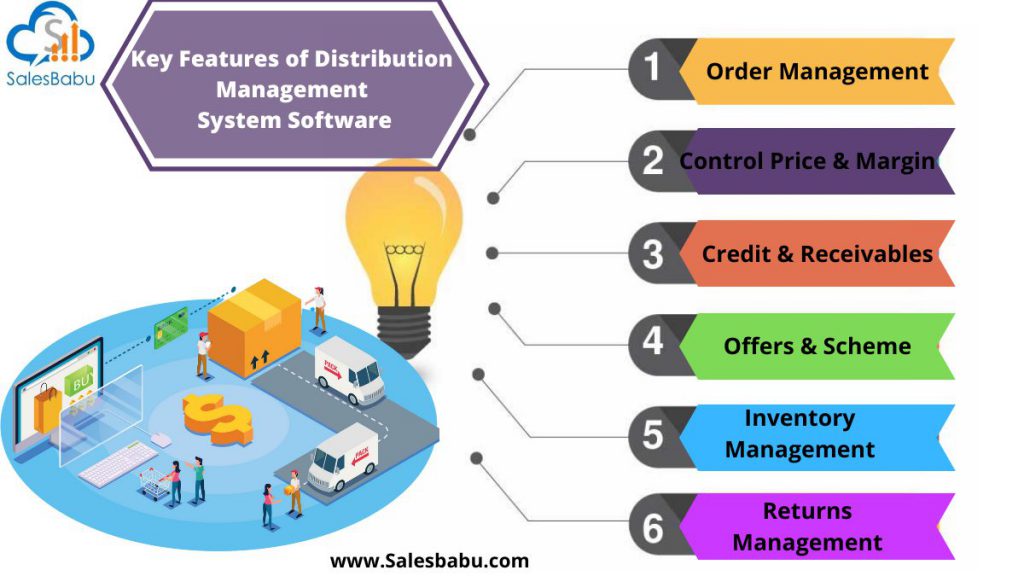 Why Choose SalesBabu for Distribution Management Software
SalesBabu Distribution management software is a Cloud-Based application that supports companies to manage their supply chain and logistics activities, including inventory management, warehouse management, and order management. It also integrates these activities with the company's financials and sales. Online Distribution Management Software can help companies boost customer satisfaction, minimize order times, and control costs across the entire supply and distribution chain.
SalesBabu Distribution Management Software includes Sales Order Management, Advanced Inventory, Requisition Management, Purchase Order Management, and Advanced Financials. The cloud access framework empowers distributors to manage the entire sales cycle from opportunity to sales order processing from anywhere, anytime. Process purchase orders, transfer stock, and manage inventory levels remotely via phone, tablet, or laptop.