In today's world organization small or big faces challenge of retaining the good workforce. Due to lack of good Payroll system companies are facing crunch of good manpower. But many companies have opted for payroll management the tool which enables them to create comprehensive employee records.
It is mandatory to keep complete details of active and non-active working staff at one place. Online payroll management software centralizes all employee records and ensures easy access to information any time anywhere. To manage the online payroll software is very easy as no server is required to store employee details or additional manpower is required. Apart from managing Daily attendance, it can manage basket of other functions of Human resource management.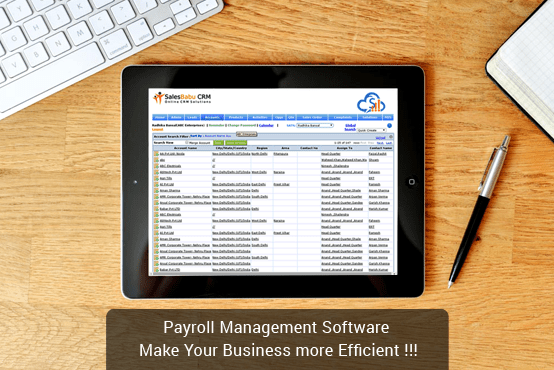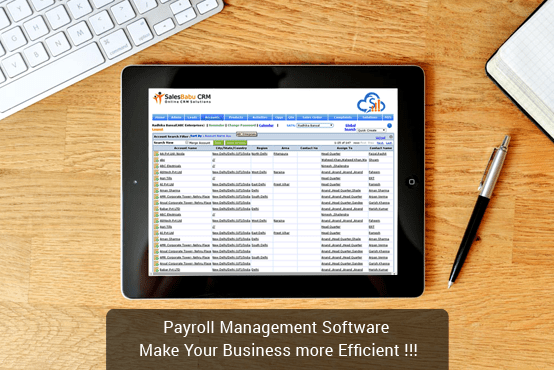 Payroll Module can capture details of different Branches, Departments; Pictures can be uploaded of each employee. A good payroll management system captures Pay Elements – Employee data sheet, Employee Family detail, Employee Qualification records, Employee Experience History. It gives facilities like Employee Login and can apply leave online, History of Employees from the date of joining. You can generate every month salary slips & salary statements. The most tedious task now a day's companies face is managing leaves. But with the payroll software it is very easy to manage Leave Register, Leave Application, Approve Leave, manage advance leave, employee can apply Leave Encasement, Monthly Leave Entry can be done by HR Head, know Leave Status of each employee, can cancel leave of an employee.
Time Management – Employer can manage daily attendance with an ease with use of Payroll software. You can calculate Monthly Attendance, OT & Late Deduction. In this fast changing atmosphere employees switch jobs more often if the details are stored properly then reconciliation of Full & Final of employees becomes very simple.
Payroll Tax and Statutory Compliance: The feature of Tax module can compute tax due based on prevalent taxation laws. Tax module's extended features also cover PF Challan, Form 12A, Form 5 (Joining Service Declaration), Form 3A(Employee Yearly contribution),Form 6A(Annual PF Statement), Form 12A maintains PF Register – Monthly and Yearly
Payroll software can also generate all type of reports like Employee Report, New Employee Report, and Department wise Report
flexible and easy to use software
Saves processing time and Manpower efforts
Captures data accurately
Access Control as per the needs of the company
In order to facilitate employee's employer opt for ESI but it becomes difficult for companies to manage but with the use of payroll software ESI Master configuration can be done as per Company standards, Form 1 (Employees Declaration),Form 3(Return of Declaration),Form 6(ESI Half yearly),ESI Register – Monthly and Yearly can be generated with an ease. That's not all the employee can see their own payslip, IT Projections, Leave Details , Loan Details , Current profile etc. on internet/intranet High integrity and solid corporate values Stringent implementation of Quality standards with the login details assigned. Challans & forms reports of Professional Tax can be generated.
Hence Payroll Management system play a vital role for managing employee database in every Business.