Payroll software designed for a company to manage account and details of employees' salary associated with all division or branch under the company. Payroll Management Software enables you in managing details of the organisation such as work hours, authorization, etc. System enables you to upload company's logo on the salary slips and the reports. Logo appears when you download or print the salary report or slip.
Payroll software empowers the organisation to manage various branches at the same time. It enables organisation to create branches as per the requirement and enables you to maintain all details of branches of the company. Payroll Software manages all division and department of the organisation with all possible details. It competently takes care of company's Bank details to run your account professionally. Payroll System can set holidays and complete details of leaves for the financial year. It enables you to change leaves and holidays setting to update details as per your convenience.
Payroll Software helps you to manage Allowance and Deductions. It gives you freedom to add or delete allowance/deduction for the employees of the company. It mentions employee/employer contribution without error in calculating salary. Advance the payroll accounting of the company with the setting of Tax percentage. Software enables you to set the tax percentage for the employees according with their salary slab.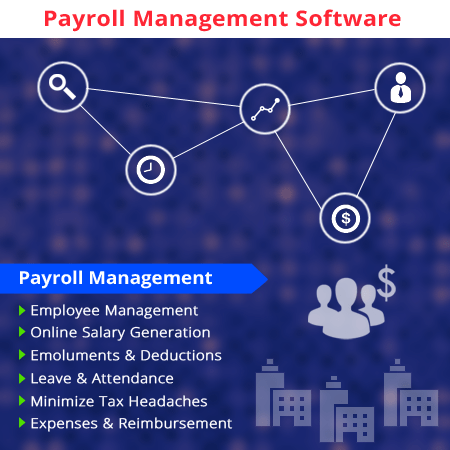 Payroll Management Software maintains working employees personal details, contact details and information about identification. You can set increment and loan details of the working employees. You can customize salary settings to ensure smooth functioning and instant updates are the added advantage with the Payroll Software. You can effectively manage the attendance with their login and logout of the employees with the Payroll management system.
Reduce the Headache of tax calculation with the Payroll Management Software because it calculates your tax without any error. You can manage Gross Salary, calculate Total Income and Tax paid by Employer easily with Payroll Management Software. It also calculates Rebate, Deductions and manage the record of EMI efficiently. Software enables the organisation to reduce calculation headache of Income Tax at the year end. Manage Professional Tax, PF & ESIS Calculation, Payable income tax computation for the month and at the year end. It enables you to calculate TDS automatically as per the projections and enables you to select option to deduct the TDS from the monthly salary. Payroll Software helps you in the projection of the income tax and print Form-16 and 12BA and Challan 281 online. Software calculates quarterly e-TDS Returns in NSDL format and enable you to email income tax projection in the most acceptable PDF format.