Every industry look at an affordable investment and high return on the same. To stream line the business processes they need to invest in some automatic software solutions, which must be scalable and secure for their business with a flexibility to use with customization. Educational Hub's are also concentrate on this aspect of business and looking for different ways to control the cost and still try to providing high quality educational services; because education is tool where everyone tends to his career towards the national growth. With globalization Education industry, the pressure of handling accurate databases becomes more painful and it is mandate for every institution to provide lucrative knowledge and maintain cordial relations with the students. SalesBabu EduCRM (online Education CRM software solution) helps institutions to take deeper insights on to student's data and facilitate internal staff and faculty members to improve institutional productivity.
Obstacles in Education Industry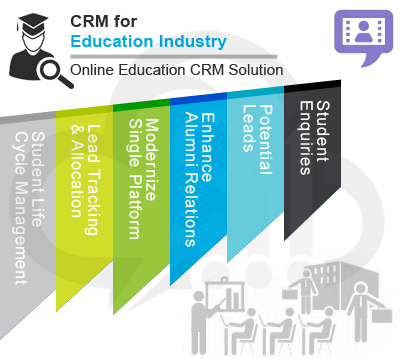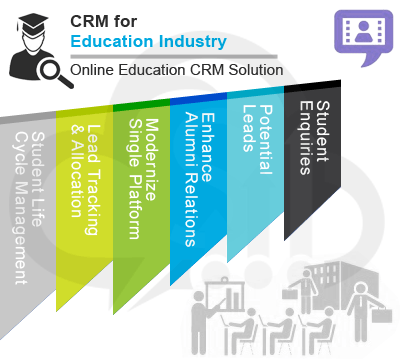 How to handle Students enquiries?
How to manage potential leads?
How to enhance alumni relations?
Is it possible to create separate database for alumni?
How to improve facilities and handle asset management?
How to do recruiting and staffing on single platform?
How to enable modernize system platform?
How to track and grab admissions?
How to stream teacher evaluations?
How to manage student-life-cycle management?
How to enable and enhance service & constituent management?
How to handle Lead source on single platform?
How to handle Courses & Educational Programs?
How to Manage Admissions on single screen?
How to receive prior intimations on student Payments & Fees Reminders?
Benefits of CRM in Education Industry
Track, Recruit and get more Admission
Edu CRM for education industry helps institutions and educational hubs to target their prospective students and audience effectively. CRM enable institute can automate their student recruiting cycle with the help of student funnel. Moreover institutions can run email campaigns on interested students and also can track and check their interest level.
Lead Tracking & Allocation
Edu CRM for education industry enables educational hubs to find out the source of incoming leads, and can bifurcate in to different lead source and can mange entire database related to inquiries on single platform. This will be more Easy & Accurate from Traditional lead management, where supervisors can easily assign leads to respective counselors.
Scheduling of Courses & Fee Reminders
CRM for education industry enable institutions to track entire activities related to student counseling and offered courses and its fee structure.  It is a crucial and mandatory task for a counselor, which is responsible to keeping all the information related to entire due amount against the student. Edu CRM for Education industry helps them to keep & retrieve entire information on single screen with via SaaS platform.
Follow-Up and Student Life Cycle Management
Edu CRM enables institutions to enhance their interaction, marketing campaigns communication with student according to their interest, this provides a measurable result to you and institutions can make informed decisions. This enables counselors to put reminders against every lead and student enquiry.
Hence, SalesBabu EduCRM enable institutions with such a lucrative & robust platform, where they can manage entire work on single screen effectively & smoothly and also can enhance their course position into the education industry.
SalesBabu offer different affordable online CRM software solutions for Industry Verticals