SalesBabu Call Center CRM ,CRM for call center  is an On –Demand application which helps call centers to captures all the details about the customer  inquiries, complaints, service & product requests, those are mandate to manage call center operations on one computer screen. This Equip Call Centers and their telesales team in an organized way center CRM, where agents can  Operate, Stores and Manages customer Data on single platform and can enhance their company Service levels in to market.
SalesBabu CRM for Call Centers specially   designed to Manage and Maintain daily transaction & communication record with the customers and enables sales, marketing and calling staff to manage entire customer database on single computer screen. It can streamline entire Call Centers processes and call center agent can update and retrieve the data easily which maintain cordial customer relationship with Clients and enable them to provide Best and Fast services to Clients. CRM for call centers can be integrate with the dialers or virtual cloud telephony systems, and enable call centers to identify inbound callers and allow making outbound calls from single platform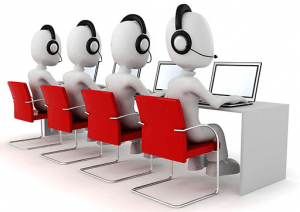 CRM for Call Center Industry allows you to:
Enable for Quick access to customer's profile and entire interactions
Enable for fast complaint resolving
Improve Solution parameters over the call
Enable to take product's information on single Screen
Enhance Visibility Parameters on each employee performance
Enable for Internal & External strong customer support
Improve escalation handling
Track & Analyze customer's complain & queries on single screen
Synchronise various Communication Channels
Benefits of Call Center CRM:
Prompt Reminder
When you have number of calls to done and N number of leads closely to follow, to remember every task is a big challenge. Call center CRM is one single platform which gives you remainders to make every scheduled call.
Single Click Dialling
Make calls directly from CRM and save your valuable time by dialling numbers over phone.
Reduce Call handling Time
Once the system identifies the caller, it automatically put all the information on agents screen using screen pop ups. This reduces call handling time and creates personalised call experience.