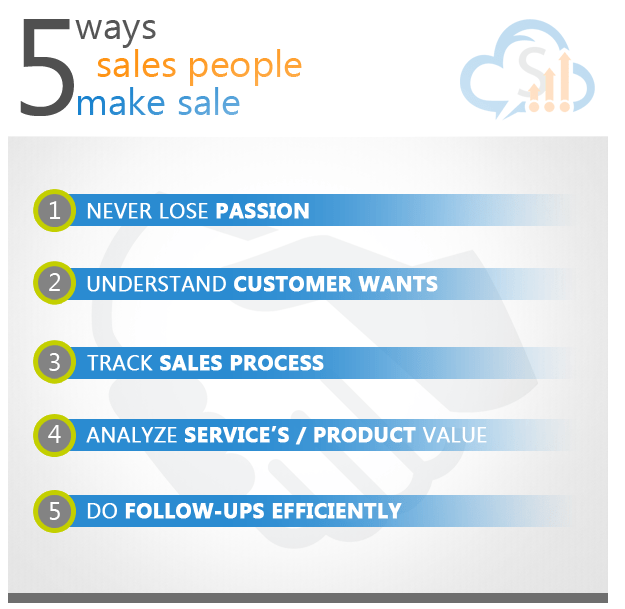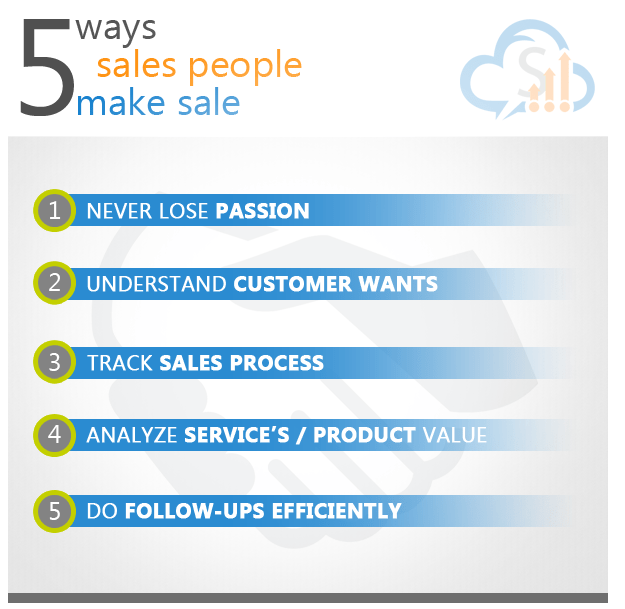 Sales Management and selling is not easy. Successful sales people focus on maintaining relationship and closing sale. Selling is not only about closing prospects; it is also about building a relationship with the client. Timely and accurate information is the key to success. Sales people should manage their time efficiently.
Sales People can keep following points in mind to increase sale:
1) Never Loose Passion: Passion is the great thing which helps you to achieve your goals. When you are passionate you are always charged with energy. When your energy is low, it directly affects your productivity. If we love what we do, we will do it in a better way.
2) Understand Customer Wants and Needs: Always listen to the customer and build long term relationships with them. Take customer feedbacks about your company and products. To grow your business you need to understand your customer needs first. Be prepared to answer different questions. Customers look for the best solutions and services.
3) Track Sales Process: It is difficult to track all the opportunities. You should have Sales management software to track and manage all the sales details. With the help of this software sales people will start spending their time more on selling. Sales people can view their sales targets and daily sales activities. Sales Management Software helps to Increase Sales.
4) Demonstrate your service's/product value: When you are convincing your customer to make a purchase for your product, show your customer that how your product will make your life more better. Show the value of your product and services to them.
5) Do Follow-ups Efficiently: Follow-up is an important part of any organization. Do follow-ups with your prospects because they are so busy with their work and forget easily. One can also manage follow-ups on this sales management software, so you will never forget to call the customer.