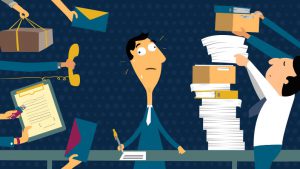 Stress is a major side effect of the corporate lifestyle. Rising Expectations, increasing competition, and privatization of jobs have made workplace like everyday battle field with echoing Darwin's Theory of "Survival Of The Fittest". Besides this all, the pathetic economic condition has worsened the situation. People work so hard but the what they earn is inadequate to make both ends meet. Inflation is sky high. This gets another major cause of stress. Though some sort of work stress is justified because that increases efficiency and productivity. But overwhelming work stress harms both the physical and mental wellbeing.
Need To Learn Stress Management
Effective management of stress is a key requisite in today's environment. You need to take care of your physical and emotional health to work for the optimum results. Generally, people get so busy in their work that they neglect their own personal fitness. It is important to listen to yourself to keep yourself fit.
General Reasons of Stress Hype in Organizations:
Unaccountable Workplace stress is seen because of many of the reasons. Excessive demand to rise up to the soaring expectations of the top officials is the major factor contributing this. More Overtime because of shorter staff, pressure to work with best potential continuously are some of the major causes of stress.
Don't Ignore The Preliminary Symptoms Of Stress
Don't underestimate the prior symptoms of unhealthy stress. These are the following:
Feeling Of Anxiousness
Lack Of interest or vigor to do assigned tasks
Improper sleep
Stomach problems, headaches etc.
Disinterest towards social gatherings, etc.
Take Care Of Yourself To get Par To Overpower Stress
Too much stress interferes with your health, your family and social circle. So before it incloses you completely, its better to act proactively to restrain its effects. Here are some tips that must be implemented to reduce stress effects:
Regular Workouts:Physical exercise is a powerful tool to fight against stress. Aerobic exercise relieves lot of stress, sharpens your focus, increases your heart rate, and soothes your body and mind.
Proper Attention To Diet:A Good diet is a natural way to make body and mind stress free. Too much caffeinated diet, junk food etc are unhealthy as well as give ground to stress.
Give Your Body Enough Rest:Sleep is too important to maintain healthy body clock. Give your body enough rest to have better productivity and concentration.