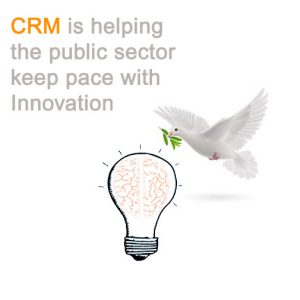 People now expect private sector service from the public sector, too. They want fast, seamless, simple interactions. 21st century citizens and government need to have a government truly citizen- centric, connected and building connections between citizen, employees, government and service.
Like Private sector using CRM Software in service is the only way for leaving behind traditional service and putting the power in the hands of the customer how they choose to interact and communicate with the government.
When everyone has access to the right tools and information, it's easy for government to collaborate and work more efficiently to implement solutions. Today's most innovative governments are adopting the service models of business, viewing their citizens as customers, because today's voter expects public sector agencies to deliver the same high-quality service as the private sector.
Government agencies are finding that CRM Software offer them advance similar to those that Private Companies are enjoying after implementing CRM Software.
Implementing CRM Software has an aim to achieve operational efficiency for any organization. CRM Softwares have proven their relevance to many businesses in private – sector, especially for those that have great amount of customer data to keep track of. They have found that managing this vast information and transforming it into actionable insight allows them to provide much better experiences to their end user and ultimately improve operational efficiency. These are the primary goal of implementing CRM applications.
CRM software designed for Government agencies are solutions that give you the tools that make the job easier and increase productivity.
Citizens Engagement – Enables public-facing offices of government to manage citizen interaction, from the initial request through resolution, with pre-built reporting for senior leadership.
Youth & Community Development – Helps community based organizations engage and deliver quality programming while giving government entities tools to effectively monitor and report on participation and outcomes.
Public Health Outbreak Tracking & Monitoring – An easily configurable call center platform that enables fast response to an outbreak, helping you efficiently track and monitor outbreaks to keep them from becoming epidemics.
Call Center Case Management – Leverages Dynamics CRM Unified Desktop and Parature solutions implemented for commercial customers to assist federal, state and local governments.
Public Sector Case Management – Simplify case management and provide better service with specialized case management solutions.
Health & Human Services Case Management – Disparate systems create silos of information that can lead to disjointed and fragmented care for health and human services (HHS) agencies. Health and Human Services Case Management helps bridge the gap among HHS agencies, external organizations and other social programs to provide case workers with a comprehensive understanding of citizen needs.
Elections Case Management – Supports Electoral boards and support staff track election day incidents, providing case management, mapping and mobile solutions for real-time incident tracking.
Investigative Case Management – Enables compliance capture and tracking, agent assignment and the investigation process of criminal and administrative allegations.
Enterprise Grants Management – Supports the complete life-cycle of the grant management process from Application to Closeout. Provides Contact, Award Management, Performance Management, and Project Management supporting the entire grant process for both grantor and grantee.
Ultimately, incorporating CRM software do three fold job Efficiency and Cost Reduction, Making Agencies More Interactive and Mirroring the Productivity of the Enterprise.