"30% complaining customer will not do business with you again
if their issue don't get resolved !"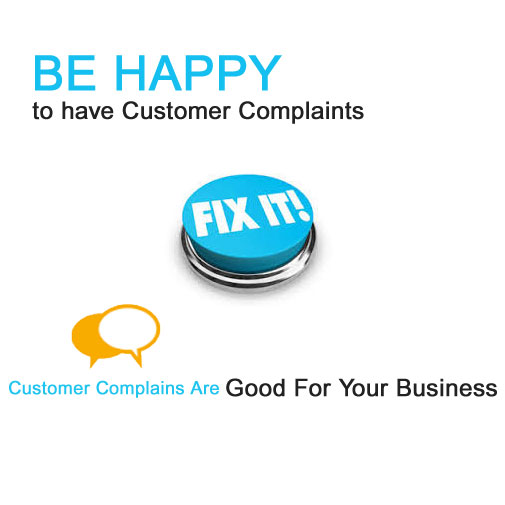 Customers are your actual asserts your business and your companies' bread and butter. Customers are actual ones who pay for your product and services, use the same. If they are getting hard time with your services, your first priority is to sort the problem they are facing.
A happy customer may share his good experience with his 4 friends, but the angry customer has the capability to share the bad experience with more than 2,000 people in social media or any other place. Apart from that, some people don't complain at all-they will simply stop doing business with your company. But don't take all these negatively, see this as an opportunity to refine your process, your product and services and come up with a better product and services to offer more on customer expectations.
A customer complaint always highlights a issue and gives you the chance to fix them before further complexity arises. It actually works as an eye opener.
Customer Complaints Are Good For Your Business :
Serious Feedback: Customer complaints are opportunities to get serious feedbacks from the actual users. With the help of After Sales Service CRM you are in a position to track all similar feedbacks take prompt action to solve the issue. If you are able to take a proper action to correct the problem faced by your customer you can improve on your product and services.
Turn Angry Customer to Brand Ambassador:  Complain is the chance for you to change the mind-set of customer who is upset. Just Work hard and Win him back. When customers are upset and dissatisfied, there remains a very little change that they will do business with you again. But hold on! Let's look at it in a positive way. It actually opens a door for you to change their perspectives with your dedication and effort.
Find out your market position: You might be stratified with your sales and goodwill in the market; but complains are actually gives you a wake-up call  and  identify the gaps in your services. The angry customers helps you understand the drawbacks and area of improvements.
Personal bonding with customer: Complains are opportunities to communicate. When customers contact you to complain, obviously they are willing to speak. By discussing with them, you will get to know their psychology, needs, their expectations from the company and so on. It helps to get a clear vision about their buying behavior, mentality and what they think about the company. All these together will help to personalize the services for them in a better way.
Competitor Analysis: Most of the time customer wants better service or product because there is a better option available in the market but not as per his budget. He compares and his comparison is actually a precious analysis, customer do it for us without any cost.
Customer complains can be for anything, products, services, internal policies, procedures, staff, actions etc. but the common thing is these "complains are good" opportunities to prepare our business to win the competition in the market by improving inside.