Time Management is Simply a way or process of managing work align to time to take Best out in given, space, time and resources to reached desired Goal or to Complete task.
Time management is basically developing skills, Technique & Tools to reduce time wastage to complete a Job in minimum time efficiently.
Few Simple Basic tips to Time Management: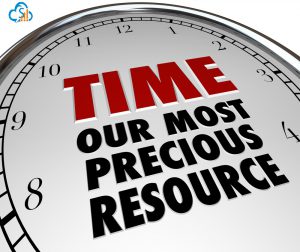 Set Target and Path-
Time management is Impossible without Clear Vision & Clear Goal.
Be clear with the Goal or Target, then list out the ways you find to reach it and the select the Best & way of doing it. Now, set Target time to accomplish.
Prioritize steps-
Once you are clear with way and task time. Prioritization is the most effective tool. Churn each and every step minutely at once and then prioritise the steps as per time consumption, importance and relativity with each other. Make sure no work should hold due non completion of any step & List out the bottlenecks.
Clear Hurdles-
With clear Vision, you can find Bottle neck in human resource, Tools or Money. These need to be planned and removed in such a way that process goes smooth. If this doesn't work, you mush have plan B to put immediately. Hurdles are also unnecessary, unwanted elements which eat-up a lot of time and push you back like irrelevant meetings, chats, phone calls, unwanted mails, redoing thing, disorganised data, things etc… Shall be removed tactfully ,put phone on voice mail, don't take calls in work time, minimise unwanted subscription of mails, don't show interest in unproductive conversations, try and keep thing & data organised so you dint have to waste time in looking for them. Make few things automate is possible like task reminders, regular follow-ups, saving data, put rule to mails etc…
Avoid Deviation –
Try to stick to your plan and unnecessary interruptions. Follow you path strictly with targeted time line. Unless there is mandate change is required. One small change or deviation can take you goal to failure. Avoiding deviations Save a lot of Time of replanning, implementing and execution…..
Keep check points–
Must keep check list to make sure process moving in right direction in right time. Making check points is indispensable tool for time management. Catching mistake at Right Time saves Time and Effort.
Motivation- Plan & keep Incentives at stages to keep Energy high and directed to Goal
In day to day routine adapting these simple time Management Technique with discipline will save a lot of Effort & Time. Once Time Management becomes a Habit you will see how Stress Free you finishes your Task Timely.