Sometimes we tend to be so preoccupied with gaining new customers by offering them great deals and discounts in order to attract them. But don't you think that retaining your existing customers is as important as getting new customers? Most of the business firms tend to neglect their existing customers with the false perspective that the customers will always prefer their products and come back to them.

You are not just the only product or store. But if your loyal customers are still coming to you every time, it becomes your responsibility to retain customers and value them. Customer retention strategies play a vital role in increasing the revenue of your business. Before we jump into the customer retention strategies, let's have a look at what is customer retention.

What is customer retention?
Customer retention refers to the ability of the company to engage its customers to continue buying their products and services in the long run. Building a good relationship with your existing customers is your responsibility and duty. If your customers are satisfied with your product and service, they will not just come back to you but they will also market your brand much better than you.
The importance of Customer Retention:
The recent statistics indicate that it's easier and expensive to retain the customers than to acquire them. You will spend five times less money on customer retention. The probability of selling to an existing customer is 40% less more likely than converting someone who has never bought the product from here. When you release a new product, the loyal customers are 50% more likely to give it a shot.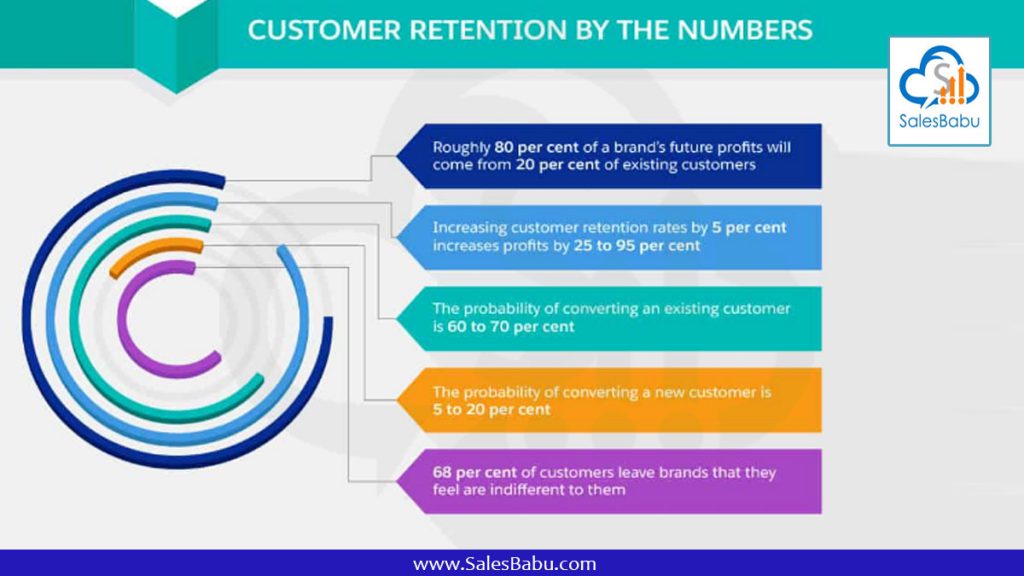 Benefits of customer retention
You might have heard that selling your product to a new customer is more expensive than selling it to an existing customer. Let's know about the benefits of customer retention-
Customer Retention or Customer Acquisition is the two conflicting ideas the marketers face when deciding what is important. The marketers overlook the reason why they are in business and to serve the customers. Customer loyalty and brand loyalty initiates the company facilities and to retain the customers. The most important thing is an investment of time, effort, and resources in maintaining the relationship with the customers. 
As mentioned above that gaining new customers can be expensive because to have to attract them with various sparkling offers and discounts. You will also have to spend plenty of money on advertising your product and service. But when it comes to selling your product to an existing customer, your marketing cost is lowered. The word of mouth is one such effective advertising tool amongst your marketing strategies.

Customer loyalty is proportional to the increase in sales of your business. Your loyal customers will trust your brand more than your new customers.

A positive brand image can help you to attract new customers. Due to customer retention, the brand gets recognition and also helps to maximize the chances of success and growth.

Customer retention Strategies

There are plenty of customer retention strategies to list. But let us discuss some basic and important customer retention strategies to retain customers.
The best strategies for customer retention are formed around business goals and insights. The goals must be increasing customer loyalty and in this case, you should focus on these strategies. If the customer comes to the business for the best offer and the best prices, then your customer retention strategy should be reminiscent of this and get straight to costs.
1. Set sales goals
Before you sell your product set sales goals. These goals will help you to know what you are shooting for. Concentrate on your existing customers while you set goals. As mentioned above, the customer loyalty in your loyal customers can help you get more customers.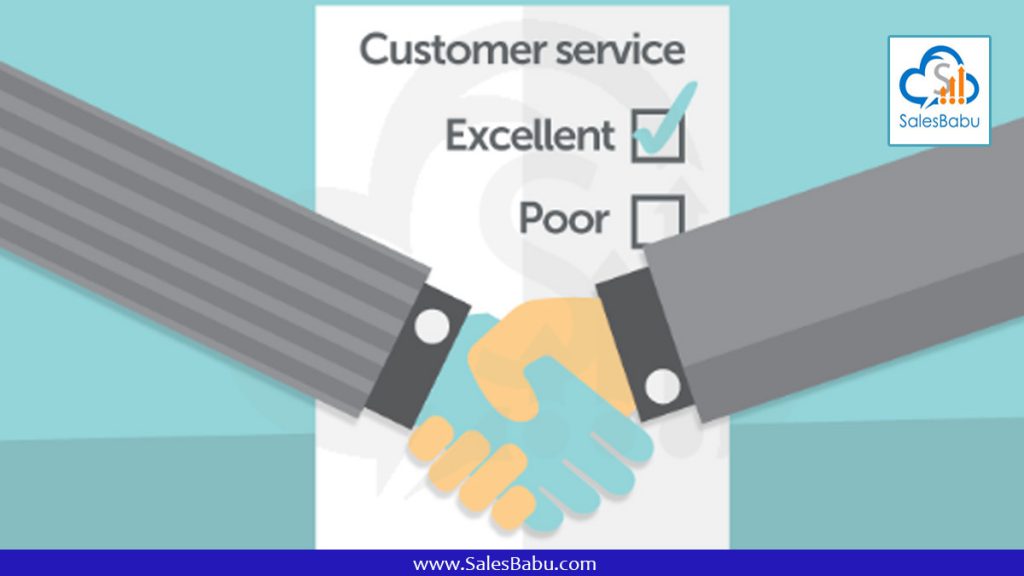 2. Understand their expectations
Understanding the expectations of your customers becomes very important. Spend some time on gathering information for questions like –
What are the customer's needs and wants?
What are the customer's interests and buying patterns?
How do they see your brand in the market?
Do they follow you up on social medias? Etc etc
These may be just a few basic questions but always listen to your customer's expectations. They expect from you because they pay you and stick on to your product and services though there are en-number of similar products in the market. Thus, it helps you to improve yourself for a better version every time.
3. Create the best first impression
They tell "First impression is the best impression". It is applicable to retain customers as well. When you create the best impression, it remains for a longer period of time. Make sure that your customers are not having any kind of hardships during checkout and delivery process. Once they are happy with your product and service, they will market your brand much better than you.
4. Respond at the right time
Communication is the most essential tool in every aspect of human life. May it be family, society or business. When you have two-way communication in business, it will surely lead towards customer satisfaction. Your customers understand that you cannot be perfect but when they come up to you, make sure that you respond them at the right time. If they feel they are being ignored they will not turn up to you the next time.
When you respond to them at the right time they will not just appreciate you for that but also remain loyal to you.

5. Make the best use of social media: The present Trend
Social media is the present trend all over the world. Whole world is connected to each other one or the other way. From knowing your customers reviews to educating them about your product and services, social media is doing its magic. Educate your customers by sharing contents which will make them come back to you every time. Make efforts to create best impression on the social media as most of the consumers prefer querying and sharing their experiences on the social media. Make them aware of the upcoming offers, discounts and coupons etc through social medias as it is one of the cost effective way of creating demand in the market.

6. Take feedbacks
When it comes to feedback do not step back while taking feedbacks. Every customer wants to be valued and respected. The feedback may be good, bad, best or worst but make sure you take the feedbacks positively and improve your business for a much better growth. There may not be satisfied customers but have the courage to let them know "you will improve". Moreover, be thankful to your satisfied customers always.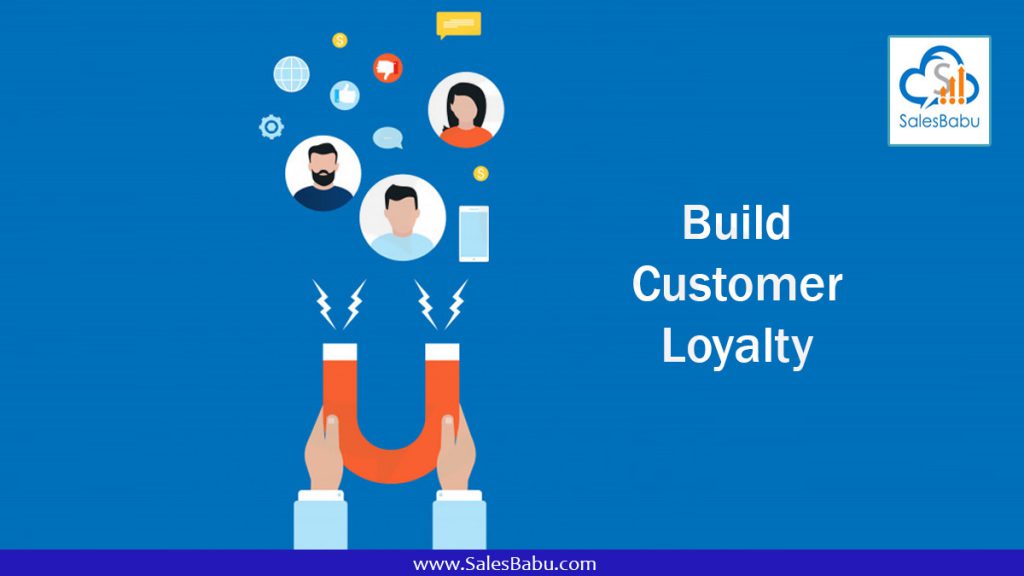 Are customer retention strategies worth the effort?
Yes, customer retention strategies is surely worth the effort you make in the long run. When you treat your loyal customers right they not only prefer your product but they will bring you two more new customers. Customer loyalty is also very necessary from the customer's side. All are aware about the dominance of social medias in the present scenario. If you treat them well they may get you two more customers and may also share their experience with ten more. But if they had a bad experience, the whole world may get the information within seconds. There are consumers who will prefer consuming your products based on reviews and ratings. Thus, retain customers to make the utmost use of customer loyalty.

Once you are aware about the strategies to retain customers, lets know how to sow in the seed of customer loyalty in your existing customers.

How to make customer loyal?
No matter if you are a small business or a larger one. You can make your customer loyal by following few basic practices.
Communication with your customers is important as they are ultimate challenges because knowing your customer's need and expectations can help you to grow quicker.
Give special concern and interest to your all time loyal customers. They would love to receive the extra concern.
Customer service is one of the most essential aspect that your consumers look forward for. It is said in a survey that for about 71% of the customers tend to shift for different products because of the poor customer service they experience.
Use technologies which can not only make your work easier but also make your customers feel valued and respected.
Be thankful to your loyal customers because they choose to stick on to your brand though you are not the only one in the market.
Give them opt reasons to be a loyal customer and they will become a sacred customer of your brand. So, it's in your hands to make or break your brand by retaining your loyal customers and improving customer loyalty every time they purchase.


So now that you are aware about how important customer retention is for your business growth, let us know the most efficient as well as trendy tool which can make your work easier and also help you retain customers in the long run.
Customer Relationship Management (CRM)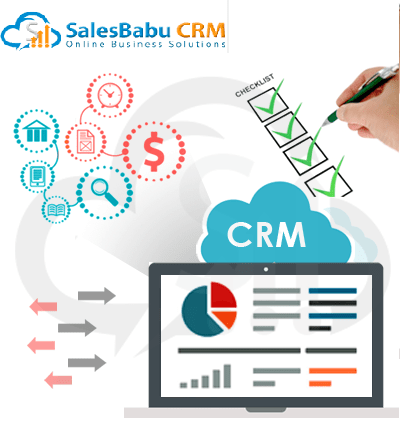 Customer Relationship Management is an approach in order to manage the company's interaction with the current customer. It is one such management process in which the companies can maintain a good relationship and stay connected to the customers. In turn it also improves the profitability of the company.
Have you got your best CRM Software which is basically a cloud CRM?
If not, visit our website
https://www.salesbabu.com/

Read our blog – SalesBabu Cloud CRM : Latest Emerging Trends

CRM and customer retention
You may be still thinking CRM is used to improve just sales and maintain good relationship with the customers. But CRM and customer retention goes hand in hand as well. You can not just improve sales but the Cloud based CRM can be used in every department of your organisation. The main and first objective of the CRM software is to retain customers and secondly it is to maintain good relationship with the customers and lastly increase the customer acquisition at a lower cost. These are the ways by which CRM and customer retention goes hand in hand-
From sales, customer service to management all use only one centralized CRM Solution. Employees can access information from anywhere. All the departments can work together effectively. It automates the process of the company and also increases the customer loyalty and revenue. With this software it is easy to get a 360 degree view of your customer's information like appointments, notes, tasks, sales opportunities, orders and complaints because it is essential to know what customers want. Right?

Know your target customers
Not all products are meant for all consumers. Every specific product has a specific group of customers known as the target customers. Target marketing would revolve around positioning few techniques for a particular group of target market to attract the customers. Thus CRM helps you to concentrate on the target customers which in turn increases the profit and revenue of the business.

Marketing is one of the most important aspect in a business at the present. It is very essential to understand the customer behaviour as well as needs in order to promote your product at the right time and right place. Thus, CRM system will help you analyze and section your customers in order to give more profitable customer class.

Recognize your VIP customers
The CRM software gives you all the information about the customer's purchase history and purchase patterns as well. Thus, you can recognize your VIP customers and treat them with extra concern as CRM and Customer retention will help you improve brand image.
To effectively manage consecutive follow-ups, in response to all enquiries/leads, you are required to keep a sharp eye on each lead conversation. Using online task management software you may instantly create task/follow ups, assign them , set reminders for the due dates, and drive to completion. No need to schedule a meeting just to follow up on action items from a previous meeting.


You cannot retain customer without putting in effort. You can neither improve customer retention to a higher extent overnight. You need to put in efforts, give your best and try to retain customers. CRM and customer retention goes hand in hand and helps your business to flourish quickly. These strategies will help you to do so. Use of technologies such as the CRM software can also help you to retain customers and build good relationship with your customers. Keeping in touch with your loyal customers is the best way of all. If you want to be successful in retaining your customers then use the best CRM software i.e, SalesBabu CRM software which is cloud based CRM. Visit our website  https://www.salesbabu.com/.
Conclusion:
In today's competitive market it is really difficult to differentiate the brand from the competitors. The good health of a company is customer retention and satisfaction of customers. The loyal customers and satisfied customer is more important than who is not a customer.  The company won't grow without retention and current customers.