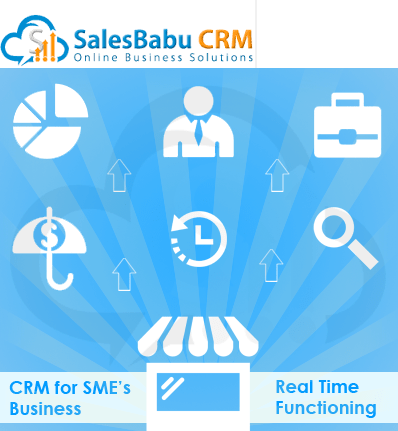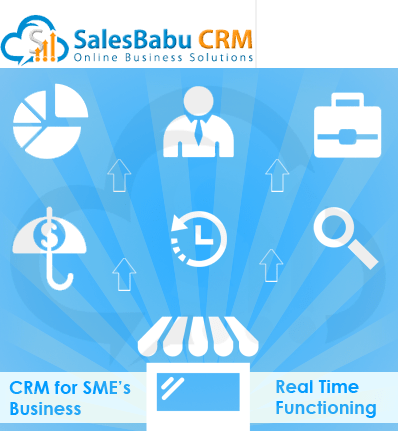 We all know SME sector is Vast Business Term which consist very Complex & Micro business processes and to manage the entire functionality, is a quite difficult task.
CRM (Customer Relationship Management) helps you to automate your Sales and Service processes. CRM help you to automate and streamline Contact Management, Customer & Accounts Management, Opportunity Management, Customer Sales Order Handling & Processing, Sales Forecast Management, Activity Management, Quotation management and  Sales Team Analysis.
When we talk about small businesses, means we always looking for such a tool that can reduce entire IT infrastructure & Operation Cost and contribute in Business productivity and Sales. CRM helps you to centralized the full process on one platform and enable you for fast decision making.
Major Obstacles in SME's Business
SME's Finance
Minimum use of Cloud Technology
Wrong Marketing Strategy
Change of Infrastructure and Business Functions
IT Infrastructure Cost
Premises Hosted software applications
Product Competition with big Giants in similar industry
Manpower Cost
Scatter business information
Unmanaged business Tiers
How SalesBabu CRM Helps to SME's to grow their Business
SalesBabu CRM helps SME's to Build & Grow their Business, brings more internal connectivity, accountability and reliability among all business functionalities at micro level to best customer satisfaction and increased sales revenue.
SalesBabu CRM offers a chance to Small & Medium Enterprises to take action on required areas, remove Complexity and makes it possible to simplify the maintenance and use of systems within the business accurately. This helps you to reduce the numbers of "Standalone" systems and reduce the IT Infrastructure Cost. So that SME's can pay closer attention to the matters of their business to further their growth and success.
Benefits of SalesBabu CRM in SME's
Reduce Implementation Cost & Streamline business Process
SalesBabu CRM is based on cloud Platform which allows SME, s to Use software @ minimal Cost, SME's don't need to maintain own servers to run this application, as SaaS solution enables SME to reduce their IT Cost, which they bear to maintain their IT infrastructure annually or monthly. So that it can reduce total IT cost and spare much capital to set other business functions.
Provide Centric Database without any tangible Data Storage
Cloud platform enables Companies to manage their data on Cloud space, so that they can easily retrieve and use from anywhere at any time, which increase the productivity and reduce the data maintenance cost at client site.
Enable Real and Transparent Functioning
Cloud Platform gives a smooth & transparent functioning on all business tiers, in sales process; it is an utmost requirement for each sales person that each transaction within the customer should be transparent, so that you can provide better service to clients and could reduce the unwanted errors.
SalesBabu On-Demand CRM helps SME's  to track entire operational things related to their major business process like; Sales Tier, Service Management and  Purchase & inventory Management. This allows SME's to manage their Vertical business functions Efficiently & Smoothly with SalesBabu without any Upfront Application Development COST.