Real Estate Industry is highly competitive industry. Real estate companies with ambition of growing business, even in quiet times, are constantly looking to serve their clients with better ways and really create a competitive edge between their competitors and those sleeves.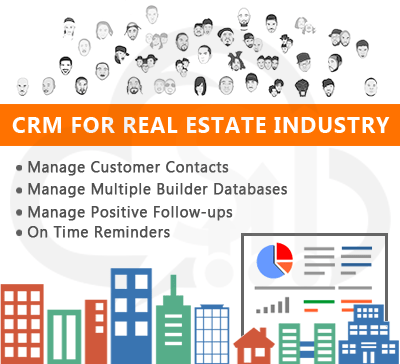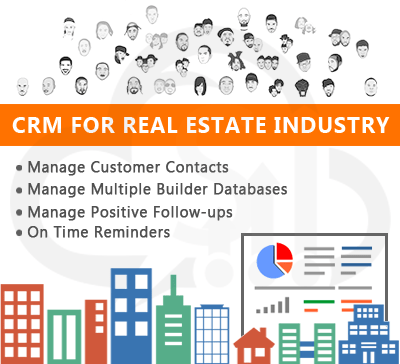 A real estate professional has several different things to manage his job effectively, like he has to monitor property listing in different areas and search for new clients in order to match people with their ideal properties. After that there are huge documentation process, transaction monitoring and other office management jobs to complete a booking.
As an Estate Agent/ Agency :
Do you just want an easy way to manage your contacts?
Are you interested in tracking deals and transactions?
Do you want web building and marketing tools on top of that?
Answer these questions before diving in, and you'll save yourself time, money, and headaches in the long run.
Shifting your customer relationship management from handbook to only  Cloud CRM simplifies all the IT challenges associated with software for your business — updating and upgrading, hardware compatibility issues, installation on home and mobile, etc. More prominently, you will make it easier for you to share & communicate with the customers more effectively whose relationships you're trying to manage.
What a real estate CRM should do for your agency and you ?
Manage detailed information about customer contacts.
Manage multiple builder databases.
Should be able to market different groups of your clients like Prospects, appraisal contacts, vendors and buyers.
Multiple communication channels like Letters, Emails and SMS.
Proper on time reminders to manage positive follow-ups .
Record Buyer feedback.
Generate Vendor feedback.
The software should have functionality to follow-up past buyers and past vendors so they keep coming to you with new requirements.
SalesBabu CRM Solution for Real Estate Industry work flow management:-
Make the process of sales more smooth & transparent
Get updated information for yours Sales Executives activities.
Keeps all the information of follow-ups & communication chain with the customers, at one platform.
Manage detailed information related to Builders, their projects & pricing centerlizing .
Store details of completed booking for future references
Shows an effective sales pipeline, that can be use in forecasting future prospects.
Gives timely reminders for pending or up-coming payments, pending documentation etc.
Thus, using SalesBabu CRM for Real Estate Industry,  you can easily manage Customer Segmentation according to their interest and requirements, communicate effectively using automatic reminders and multiple communication channels like email, phone, sms etc. , Track customer history, communication, updates, mange sales forecast,  Go green – and save all required documents on  Web.  Since it is a web based solution, it enable your sales team to access the information anywhere anytime and update realtime status of deals, customer communications etc.
Precisely, SalesBabu CRM for real estate industry is a complete solution to organize, keep in touch and build effective relationship with your clients, vendors, buyers and manage complex business information accessible at your ease.