There should be positive, enthusiastic and energetic work environment. Companies can enjoy the benefits of good environment. They can happily work in the company which also increases their productivity. On a personal level, do exercise regularly, eat healthy and get plenty of sleep. Stay focused on what's important for the growth of the organization. Our company culture is very good and employees are happily working and achieving their goals.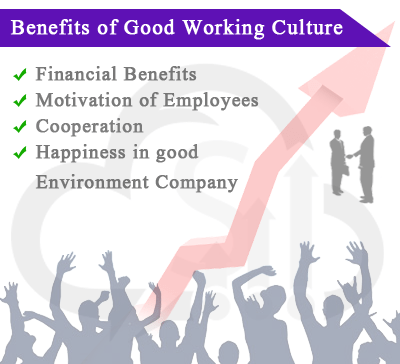 Things to maintain better environment of your company:
Everyone wants to improve their professional abilities. Create an environment where team members can learn and can give their best.
When your team does a great job, appreciate them. It makes them feel motivated and it helps them to work more dedicatedly for the organization.
Don't hire useless people in your team. It gives bad impact on a corporate culture if there is any useless person in your team.
Open Working environment allow employees to share their suggestions and ideas.
Corporate Culture is the personality of your company
Organizations culture affects teamwork, quality, customer service, productivity and profits. Well organized working culture is always profitable for every company. In bad work culture people cannot be productive. When we feel positive we act positive. Leaders and teams should make positive attitude. Leaders can make the environment positive and healthy. Every employee should actively handle their responsibility. Companies with developed culture can easily make strong relations with employees and customers. Easily handle the objections of your team and help them in improving.
Benefits of Good Working culture:
Financial Benefits: Good culture increases performance, finance and productivity.
Customer Service: Managers learn to manage the quality of every member in better way. Company with positive attitude can get repeat customers. Customer service plays an important role in any organization to increase revenue.
Motivation of Employees: Motivated workforce means more productivity and more business. Motivation is vital for any business. It helps your sales staff to achieve their business goals. Employee incentive program is best way to appreciate them. It includes bonus, reward recognition like  "Employee of the Month" to encourage your employees.
Cooperation: Developed culture increases collaboration, cooperation and motivation. Improved cooperation between all the divisions help companies to improve decision making and problem solving. Also improve communications and overall performance.      
Happiness in good environment company: It is pleasure to work in an organization where people cooperate and complete their work tasks easily.
Invite People to speak up in meetings: Invite people to share their ideas and issues in meetings. Never criticize any suggestion or idea with bad comment. Always give value to the ideas of other people.
·         Use latest technology: Use latest technology like CRM Software, Service Management software, ERP Software in your business to gain complete business visibility. It helps you to manage your sales process from lead generation to lead closure. It keeps everyone in the organization updated about sales order status, lead status, Sales pipeline, forecasts and payment reminders are also there.