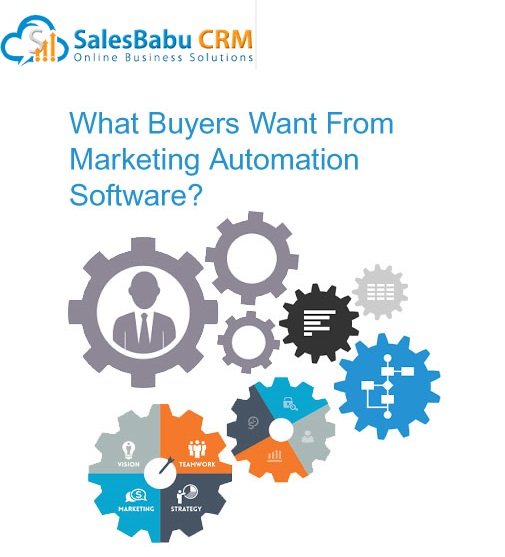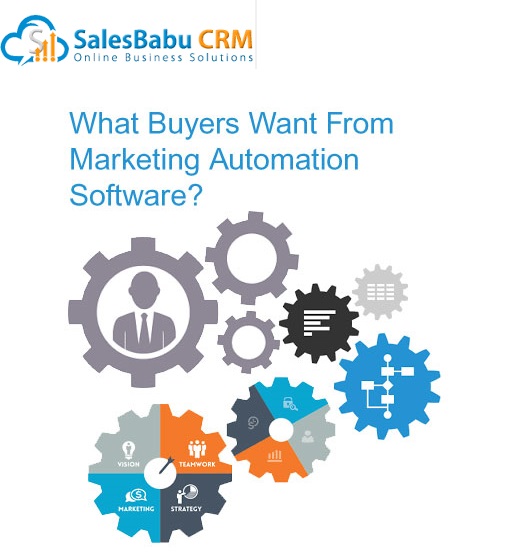 Like customer analytics, marketing automation is a key component in customer experience. It helps companies engage with their customers in a timely and relevant way. At SalesBabu, we use marketing automation, integrated with our analytics, to nurture leads, help on board new customers, and retain users.
Top 5 desired features are:
Analytics/ Reports: Modern marketers face increasing pressure to tie campaign initiatives to revenue and other metric. Demand for embedded analytics has more than doubled compared to responses in early years.
Lead Management: Buyers looking for lead management typically want lead scoring and lead routing capabilities, as well as the option to create custom stages and automation rules.
CRM integration: Without CRM integration a marketing automation platform will have limited visibility and no sales delivery method.
NO Software required: Premise hosted need to be installed to a computer. Thus it gets system specific. You can't avail the software once you change the software. Online CRM Software can be used anywhere and at any time, you can access the software any time you required.
No Capital Investment: Online CRM Software are cost effective. Whereas premise hosted software are much costlier than that. Here, you pay as you use, and can start with a very low investment with only few users.
"SOCIAL MEDIA INTEGRATION" Now a day's Social media has been playing a vital role in marketing, so people are looking for a Marketing Automation software which can easily integrated with Social media or it should has that inbuilt capability .
Tips for buyers:
Look for CRM integration: Pick a marketing automation platform that integrate with your CRM database. Two-way data synchronization can make the difference between a powerful business tool and an expensive toy.
Focus on Differentiators: During your purchase decision, focus on features that make each product unique, like build-in-social media tools, A/B testing or progressive profile
Do Your Research: Consult independent sources to get unbiased advice and opinions. According to latest studies 97% IT buyers rely on peer recommendations, rating, and reviews when choosing business software.
Use the technology. Don't pay for something you're not going to use. If you need something for only email marketing in a 50-person business, don't buy into a huge omni-channel suite intended for companies with hundreds of employees in multiple locations. But the converse is true as well: If you pay for it, use it. Marketing automation isn't just an email blast. Explore the possibilities, and don't be afraid to experiment or ask for advice.
Conclusion: Buyer want a Marketing Automation software which not only nurture his leads; but also, sort out his pipeline and go beyond it by integrated CRM software into it. Since, email marketing and social media response system is just not going to make sales. You need more than that you need total customer management system.