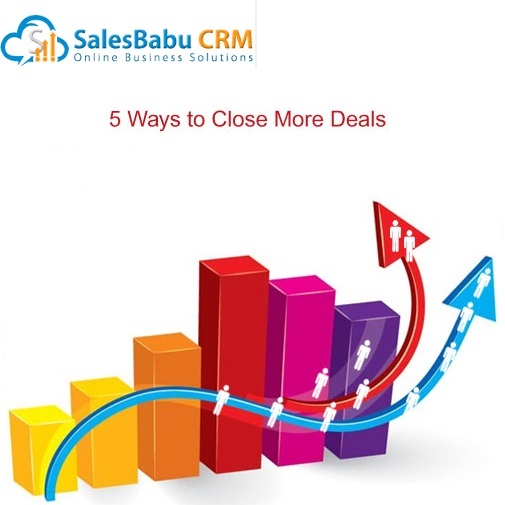 CRM is all about making good relationship with your customers; because your business require to be in touch with your customer at each stage at customer life cycle. CRM Software take care of this business requirement and provide us endless opportunities to communicate with our customers at all levels and build trust in them.
The more you interact with them, the more you know about their needs and prepare yourself to feed them with offers they can't resist to close more deals for your business. However, lets have a look how CRM software help sales team to grow sales:-
Less data entry time spend: Automatic data entry feature increase data entry efficiency of sales people and save their time. They can spend more time in selling then filling data. Rather than manually reporting every lead captured at a trade show or through webinar signups, CRM software with built-in web forms and list importing tools can record that data automatically. It gives you more time to work directly with customers and close the sale. It also improves your ability to quickly follow-up with leads.
Count your time: Time plays a vital role in Closing a Deal or Losing a Deal. Some prospects are only interested in comparing option and others are ready with quote and price. CRM software help your representatives to differentiate between them. As with most platforms, you can create custom stages based on level of qualifications such as inquiry, lead, Marketing Qualified Lead (MQL), Sales Qualified Lead (SQL) and opportunity.
Use analytics to improve your strategy: CRM software is an advance reporting tools that track the performance of the sales the sales team and his tactics as needed to accommodate. Most CRM solutions with a variety of built-in reports use these analytical tools come marketers to track their desired revenue and it can see which marketing campaigns generate the most new customers.
Know your buyers' needs: Collect metrics during pre-sales steps to close your deal you delegate your skills can organize more strategically. This data can provide insights into the sales pipeline is a possibility in what, they came from, what channel they have read or what content is downloaded, and what techniques (such as science-based sales) are not successful in the past or later.
Build better relationships with customers: CRM software improves relationships between your company and its clients. Although the world of business is increasingly digital, people always want to buy from the company that they know.
Conclusion: The traditional way to close the deal is always good, but as your business grows, you need a tool that allows you to increase the outreach and help the sales development. Understanding your customers, when a prospect is ready to close, and intelligent decisions to provide sufficient data for the sales teams is the key to effective sales. The right CRM platform will support all these.