Social media is the means of interaction with people in which they share, create and exchange their ideas. Popular social media sites are Facebook, Twitter, Instagram, LinkedIn and YouTube. Social media has become one of the important part of our daily life. It is not at all a time killer, it helps businesses to get more leads. Both small and big businesses are taking advantages from it.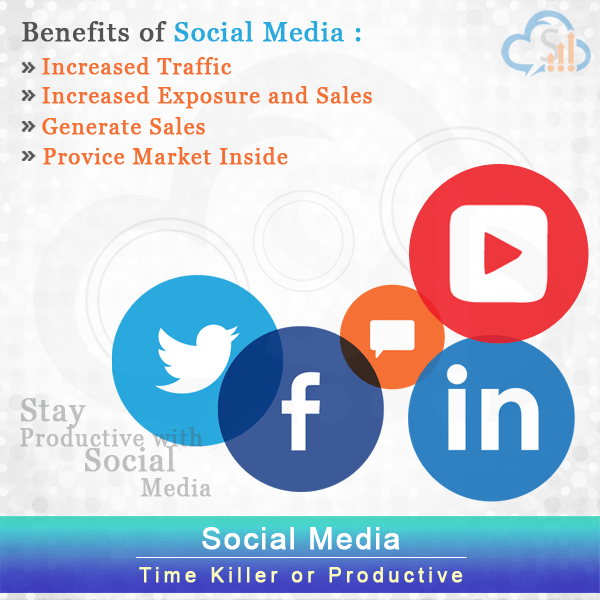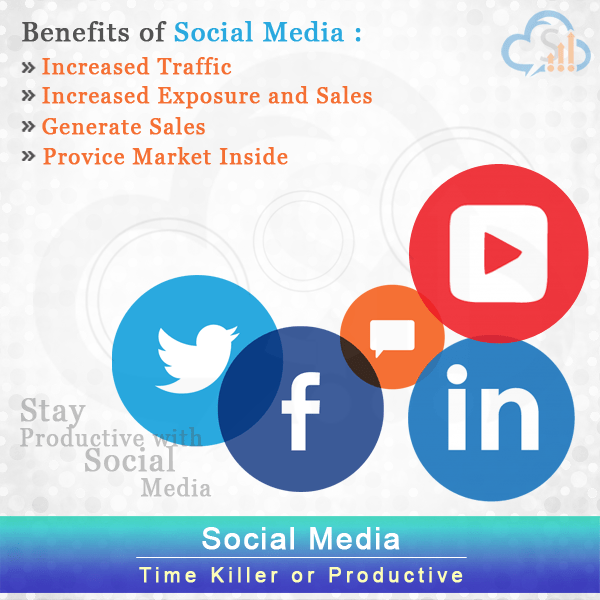 Benefits of Social Media:
Increased traffic
Increased exposure and sales
Generate leads
Provide market insight
Stay productive with social media:
Plan your weekly social media tasks like on Monday post on facebook, Tuesday on twitter, Wednesday on LinkedIn, Thursday on Instagram, Friday on Pinterest. Almost all type of businesses use social media and they are happy with the results. It is a great way to attract new customers and drive repeat customers. In this way you can build relationships. Show your customers and prospects who you are. Listen what your customers are saying about you. Social media is all about sharing your stuff.
Helps you to connect with your clients
Social media helps you to create a community of followers and fans. It helps you to connect with your customers and you also don't need large amount to invest. It also increase your rankings and traffic to your website. It is a perfect way to target your audience and build brand awareness. More people comes to your website through social media and the chance of conversion rates will be higher. You can spread messages about discounts and exclusive offers.
Analysis of Social Media Activities
Regular analysis of social media can be done to know which social site is more beneficial for your organization. You can view performance against set goals. Customer service can respond to user's comments, messages and posts. For some companies it has become necessary tool for long term success. Facebook insights is facebook's reporting tool which includes page reviews, follower sources, user demographics, total page likes and daily active users.
Importance of Video marketing
World of business is highly competitive. More people prefer watching videos. It increases brand recognition and YouTube is the great platform for video marketing. It encourages people to buy, visit and support your brand. People like to watch video than reading long paragraph. Your video should not be too short and too long. Make sure that your video is easy to understand. With too long video, your visitors start losing interest in it.
Benefits of Visual Content
Visual content is more popular on social media. It has become very easy now to upload images from your mobile phones. One can post images on sites like Instagram and flickr. It also supports search optimization and build audience. Images attract attention of the potential clients.
Become Smart with LinkedIn
Make your company profile on LinkedIn and include your contact details in the description box. Showcase your company with more than 3 images and set URL on the images. It helps you to expand your professional connections.