The travel and tourism industries are the two phases of a coin. Both are interlinked to each other. There are several sectors within the travel industry like – transportation, food and beverages, accommodation, entertainment and other related industries like financial services, tourism organisations etc which work together as a family. Thus, the travel industry needs to be organised and managed rightly.
Presently, the travel industry is the fastest growing industry and also the highest revenue generating industry in the world. The number of travellers are increasing every single year and it is surely a challenge for the travel agencies to meet their expectations and achieve customer satisfaction. Every customer is not the same, there are different kinds of expectations, needs and wants to be fulfilled in this sector.
You might be wondering why travel agencies or travel industry needs a Travel CRM? The fact is simple, travel industry needs a Travel agency CRM Software to provide better and more personalized and specialized services in order to fulfill the customer's expectations. So now let us know more about the Advantages of Travel CRM –
1. Optimize your time
The correct use of a cloud based CRM software ensures proper utilization of time. The Travel agency CRM software provides amazing features for your reps which helps the reps to optimize their time according to the assigned work. Some features which helps you to optimize your time and work with productivity are-
To-do list
The to-do list helps you to bifurcate your tasks according to your priorities. This list gives you an idea on how you can work more effectively without wasting time on tasks which may not be fruitful.
Automated Reports
You might have seen many of your reps spending hours together to prepare reports. But with the use of travel agency CRM software you can prepare reports relating to the sales performance, bookings or cancellation of tickets done, payments collected and to be collected etc. Thus, these automated reports eliminates manual errors and wastage of time.
Mobile CRM
The Mobile CRM can be accessible from anywhere at anytime due to the cloud based CRM services. You can have access to the overall data, no matter in which corner of the world you are. You can keep yourself updated all the time with just the help of internet connection. Thus, the use of mobile app has an effective advantage for your business.
Many small travel concerns prefer manual book entries which is time consuming and the chances of committing errors are high. But, you need not worry about manual book entries or occurrence of errors while using a Travel CRM.
Read our blog – 5 Amazing automation features of CRMs you need to be using
2. Overall database
The Travel CRM software helps you to manage the overall customer data and information in a single platform. It allows to track information regarding –
Customer information
Travel itinerary
Pre-sales and post-sales interaction
Customer experience etc
3. Right management of Leads
The travel agency CRM software not only helps the reps to track inquiries but it also lets you to capture details like lead source, date, industry, competitors, websites multiple contacts and hosts of other fields. The overall information of your customers in just a click away from you. Once you enter the inquiry details in the software it lets you to create activities like emails, follow-ups, appointment, payments etc based on the lead. Thus, you can also store this information for future reference.

4.Marketing campaigns
If you are a travel agency who wants to provide the best travel experience by your service but you are struggling to understand the best marketing strategy to attract your customers, CRM for travel industry is one of the best marketing strategies to get more customers. The marketing campaigns provides emails and SMS campaigns through which you can reach a larger group of targeted customers.
5. Follow-up management
Follow ups in sales funnel helps you convert your leads into sales and makes money in your business
The travel agency CRM lets you to manage a record of complete communication chain between the organisation and customer. You can send predefined email templates like welcome and thank you mails to your leads. You can also set automated reminders and alerts for the actions need to be taken by the agents. Thus, the travel CRM ensures continuous communication which results in efficient closing of sales.
Read our blog – 5 ways to close more deals with CRM software
6. Customer satisfaction
Customer satisfaction is one such aspect that is linked with several other benefits like – enhances brand image, retains existing customers, promotes customer loyalty, helps to acquire new customers and in turn increases profit and revenue of the company.
Thus, to achieve Customer satisfaction amongst your customer you need a bridge of communication. And that bridge is the travel agency CRM software. It helps you to understand your customer's expectations, needs and wants. It also ensures the right form of response from your side to the customers.
Read our blog – How CRM Boost Your Customer Service & Overall Customer Experience
7. Manage daily offers, deals and packages
The CRM for travel industry helps you to have a complete information of the offers, deals and packages and retrieve it with just a click. It also helps you to manage complex booking process and also ensures the visibility of payments, bookings and service history etc.
8. Multi branch access
The travel CRM is based on Multiple User based model & moreover it is online, it can be logged in by many different users at anytime and from anywhere. If in case any travel set up has multiple branches, then it becomes very fruitful for them to manage the internal coordination.


Features of SalesBabu Travel CRM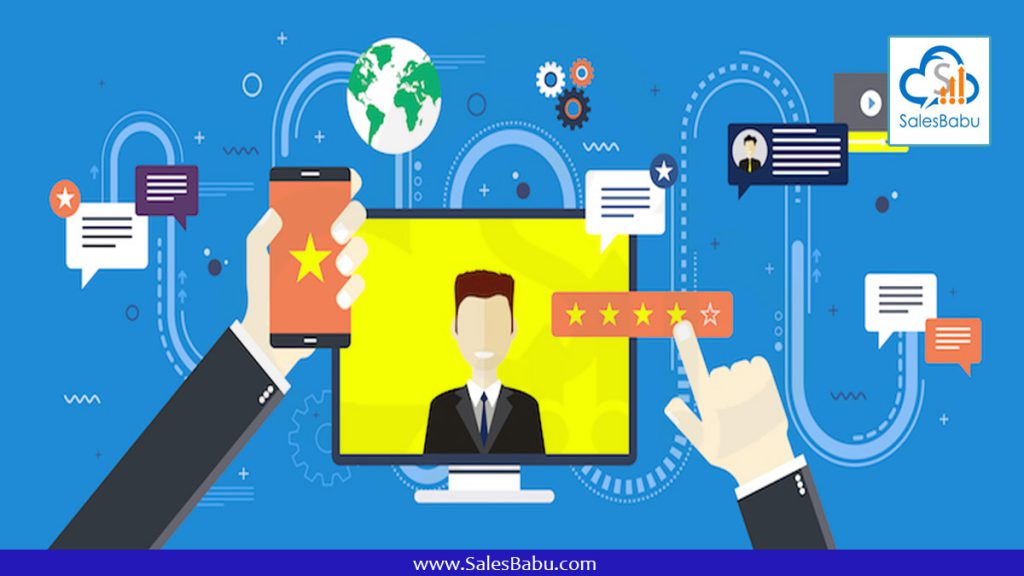 Enquiry management

Track customer details
Manage customer contacts for future reference

Follow-up management

Record of communication chain

Booking records

Tracks referrals
Payment visibility
Booking history
Service history

Payment records

Payment date
Payment mode
Pending payments
Due date of payments

Reminders and alerts

Reminders for follow ups
Tour plans/ events
Payments
Special occasions like birthdays, anniversaries, festivals etc

MIS and Reports

Reports relating to customers
Bookings or cancellations
Payments collection
Target vs. achievement
ROI (Return on Investment)
Effectiveness of marketing campaigns


Read our blog – 7 "Must-Do" steps before you buy online CRM software
SalesBabu Travel CRM software works on improving your business activities smoothly. You know the challenges your sales reps face everyday in this competitive market. And your customers choose the best travel agency which provides the best service and also puts efforts to maintain a good customer relationship with each other. And when you implement the best CRM for travel industry, you can retain your existing customers and also get new customers.
Keeping a track of your customers, managing customer details and enhancing work productivity has never been easier. You may be a small business or a large enterprise but these basic business aspects are never simple. You need to make use of various business strategies, tips and tricks to survive in the market. You may be just a single brand in the market but your customers have an ocean of options. And if you want to be that "only choice" , you need to work on maintaining a good relationship with them and also provide services which can fulfill your customer's expectations, needs and wants.
If you have still not implemented a CRM for your travel industry, don't waste time. Choose the right cloud based CRM for your business which is able to satisfy your requirements. Here at SalesBabu Travel CRM software, we provide the best Travel CRM which comes with amazing features and functionalities that enhances your work productivity and also helps in the growth of your business. For further information about SalesBabu Travel CRM, visit our website https://www.salesbabu.com/. You can also request for a free demo @ SalesBabu Cloud based CRM Solution .