Work, Travel, Save, Repeat!!
Travel!! Tell me who doesn't like travelling, being out for some days from all the usual chaos, usual routine? Everyone likes travelling to new places, meeting new people, tasting new foods and having fun and what not. Though travelling may be for many reasons. You may travel from one place to another for pleasure, business tour or any other purpose but the main agenda of travel industry is to cater the needs and wants of the traveller.
What is travel industry?
Travel industry is related to providing travel facilities or services from one place to another. These services include transportation services, accommodation, food and beverages, entertainment etc.
Travel industry is one of the most revenue generating industries in the world. Millions of people travel from one place to another for various reasons. And businesses in the travel industries require technology which can help them to enhance the efficiency of the business, customer satisfaction and profit margin. There is a huge competition in the travel industry and thus making use of the best technologies can help you to stay ahead from your competitors. In this blog, let us discuss about the travel CRM – which has become an important tech trends in the travel industry.
Customer experience and customer satisfaction play a vital role in the travel industry. And to maintain a good customer experience you need to focus on working smart with few tricks and tips. Travel CRM is one such business strategy that will help you to work smartly and achieve success and growth in your business. Here are some Pros of using the best travel agency CRM software-
Pros of Travel CRM
The cloud based CRM software comes with a user-friendly interface which is accessible from anywhere and anytime.
The travel CRM helps you to track the overall information of the customers or clients, pre-sales and post- sales communication.
With the help of travel agency CRM, you can get enquiries through websites and other sources. These leads can be further divided among the sales reps.
You can create follow ups, send mail or SMS templates and quotes in order to nurture the leads. You can set reminders for these follow ups and bifurcate them based on the client's interest.
It helps you to manage lead management and convert them into sales.
Travel agency CRM helps you to store every single information on a single platform. This data includes name, contact number, birthdays, special occasions, prior enquiry etc.
Each representative using the Travel CRM can have access to the stored files, documents and other customer related data.
You can automate repetitive tasks so that your sales employees spend less time with data entry tasks and can spend most of their time on sales.
You can set up automated emails for payments, birthday wishes or travel review enquiries etc.
You can also track down reports related to the customer's bookings, cancellations, payments and experience etc.
You can track and manage daily offers along with the packages available. Every detail regarding the traveling will be available on a single screen.
Travel agency CRM helps you to create customer satisfaction through the instant replies for the queries as it is accessible from anywhere at any time.
After analyzing your customer needs and wants you can create personalized emails or SMS for a better communication process. The main agenda behind personalized marketing is to deliver much tailored marketing content and attract customers.
It lets you to manage a well coordination across other branches of your company.
With the help of graphical reports you can have a look at the effectiveness of marketing campaigns, target vs. achievement and ROI etc.
Read our blog- Introduce Travel CRM to Your Travel Business
Cons of using Travel CRM
If you have not trained your reps to make the right use of the Travel agency CRM software, you can ruin your travel CRM.
If you are not making the atmost use of the information and data to analyse your business activities, you may end up with just doubts and problems.
Ignorance over converted and unconverted leads, keep your sales pipeline filled you cannot manage your sales cycle as planned.
If you are not making use of the Travel CRM software daily, it will surely not be a boon to your business.
The cost of the best travel agency CRM can be a limitation to your business.
Read our blog – Mistakes which ruin CRM and sales process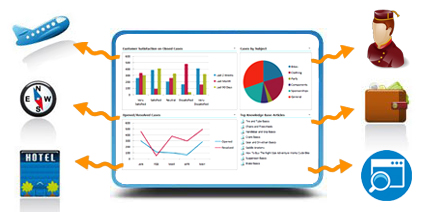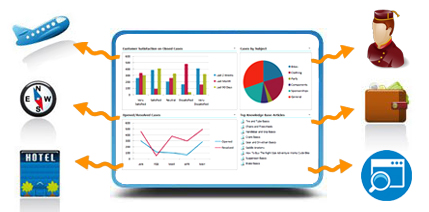 Enquiry management
Track details of customers
Manage customer data
Follow-up management
Maintains record of communication chain
Set automated reminders
Bookings record
Tracks positive aspect of sales process
Referrals can be tracked
Payments record
Record of payment details like mode of payment, date of payment and transaction codes etc
Set reminders for pending payments
Multiple agents login
Easy communication chain
MIS and Automated Reports
Target vs. Achievement report
Booking history reports
Real time visibility of customer billing and transaction reports.
Forecast of future business activities


How SalesBabu Travel CRM helps you to work efficiently?
SalesBabu Travel CRM helps you to enhance customer satisfaction which helps the organisation to retain their customers. The cloud based CRM software and Customer retention goes hand in hand. Thus, if you wish to retain your customers and also get four more new customers through your satisfied customers, it becomes very important to treat your customers right. Mainly, SalesBabu CRM is a cloud based CRM software which can be accessed from any part of the world with the availability of internet connection. We also provide Mobile app facilities through which you can access your customer's database with just a click. It also comes with a user friendly interface which will make it easy for your reps to use on a daily basis and it will surely be fun for your sales reps to manage their tasks and work efficiently with utmost work productivity at the end of the day. It is a cost effective strategy to invest at SalesBabu Travel CRM and we ensure you that you will not regret investing on our CRM Solutions.
Once you are successful in attaining customer satisfaction, increased the rate of customer retention and able to manage a well defined customer relationship, you can easily increase your revenue, ROI, build a standard brand image and gain new customers without much hard work. And it is obvious that you cannot see drastic changes over night, you need to give it some time with little efforts towards achieving the target goal. Thus, make use of the best Travel agency CRM software to organise and your manage business activities efficiently and effectively.


Without further ado, get your CRM software if you have still not implemented CRM for your travel company. You can check out SalesBabu CRM Solutions, visit our website https://www.salesbabu.com/ to know more. You can also request for a free demo, click below.