If you started off as a small business or a business start up, you would have had a handful of customers and distributors. And you might have not felt it too difficult to manage the activities. But then once you started growing step by step, you will have loads of work to be organised and managed. Don't you think you need to make use of technologies in order to make your work easier and well organised? Don't you think you need to maintain good relationships with your customers? If yes, the Customer Relationship Management software (CRM) is a great business strategy to inculcate in your business.
It's never too late to make a good choice!
You might have read the blog What is Cloud Based CRM? Now let us have a look of the CRM mobile apps in combination with business.
Ever since the mobile apps have entered the market, it has created a milestone for itself. Every category of the market has several kinds of apps that is at your fingertips. And in the future time period the smartphones and apps are going to be a fundamental part of the business. Even now you can see many small businesses that you interact regularly are making use of the mobile apps and stepping a step forward towards enhancing the marketing strategy. You can make use of the mobile sales app from anywhere at anytime. The only requirement is a good internet connection.
You may be a small business, large enterprise or a business startup, your requirements will differ from one business firm to another. And when it comes to choosing the best cloud based CRM software in the market, it truly becomes a tedious job! You would have heard about various shiny CRM mobile app services out there.
Read our blog – How to select a CRM system?
CRM system can serve as the most vital tool for en number of industries and companies of all sizes. The ability to capture, track and share customer data can boost revenue, enhance productivity, cut down costs and can also improve customer relationship. You might be wondering why online CRM software? Why CRM cloud services are so important to improve your business?
Read our blog – How CRM Grow Your Business?
Your sales and marketing team will make the utmost use of the mobile sales app. It helps your sales and marketing representatives to work hand in hand. With the challenge of finding a potential lead and converting them into a sale, the sales CRM apps in CRM software facilitates an integrated dashboard interface to manage the sales activity. Starting with  various automation facilities to setting up reminders and maintaining notes, the Sales CRM app gives the best personalized features that help in fulfilling the requirements of the business. Get sales CRM app in a trusted CRM solutions like the SalesBabu CRM solutions, that provides en number of applications that will not just keep you updated with the present business trend but will also support you to be ahead in the game with your competitors. 
Major Benefits of Mobile CRM
Strengthens the Relationship – The growth of the business depends upon the relationship you build with the customers. You should grab the business opportunities based on how you nurture the relationship with customers. CRM app will help you to meet the objectives of rapport management. The contacts and sales leads can be managed by the mobile CRM.
Improves Sales proficiency –  Each and every company strives for the improved efficiency of the sales process. But only a few salespeople have ideas about the elements of this purpose. It will be better if there is an application to possess all these elements. Some of these elements are improvised reporting, CRM integration, and automation, etc. CRM mobile application has all these characteristics which help you to lead the sales process to improve once you integrate it into the sales cycle.
Increases productivity – Mobile CRM has the potential to be one of the biggest productivity boosters. Mobile CRM helps to save the time of the team members in managing leads and following up the leads. Hence, the sales team can offer the customers in a personalized manner.
Offers Actionable Insights – Mobile CRM is more scalable. It allows you to streamline the sales process and gain actionable insights. By using these sights you can offer services with a one-on-one approach. You can go through the history of customers and interactions with your company with them on the move.
Provides resulted oriented experience – The mobile CRM is easy to install and customize as per the demands of the business. You can use the app according to the requirements of the changing sales and see the impact it has on the company's revenue. It gradually leads you to get tangible results. Mobile CRM also helps to increase the cash flow by 10 percent. Mobile CRM also helps to increase productivity and profitability.
Read our blog – SalesBabu Cloud CRM : Latest Emerging Trends



Why mobile sales apps are good for your business?


1. Keep all the data in your fingertips
No matter if you are a small or large business, you will have huge data according to the size of your business. And maintaining the data becomes easy with the CRM software. You can centralize all your customer data in a single platform that is available at your fingertips. You need not have to worry about the storage of the data as the cloud based CRM provides you with unlimited space. Ultimately, 360 degree view provides all the necessary data and information of your prospects, existing customers or clients in a single platform which is accessible easily by different departments of your company. And with the help of the CRM mobile App you can access the data from any corner of the world with internet access.

2. Align sales and marketing strategies
The alignment of sales and marketing becomes a key factor to retain existing customers and increase sales. The business firm that focuses on marketing and sales alignment in order to work more productively are the companies which are able to outshine in the market and push their competition into the background. Your employees can share documents, set priorities for the employees, assign tasks and also update information. Thus, it makes the work of your employees easy and they can work together as a cohesive team.
3. Automation is the new trend!
Automation lets your employees to showcase their fullest potential. You can hardly see any business handling manual data entry system in the present. Even the corner cafe in of your area makes use of automated technologies to manage data. By the help of the sales app you can eliminate data entry work as it comes with mobile sales app functionalities of customer data and service management. With the help of sales automation, you can
Maintain all your contact details
Schedule follow ups
Make use of the email and SMS templates
Indicate data regarding areas lacking in sales or creation of opportunity to boost areas of low productivity and many more facilities.
4. Quotation management
Mobile apps quotation system ensures that each quotation is quickly drawn up in accordance with company's predefined rules which increases your chances of success and remove the option of human error in the process of quotation generation. We can create automated quotations with these apps to send it to the customer along with added taxes & deducted discounts on total pricing & as well as on individual product level. Also, multiple currencies can be included as well to create these "one click quotations" to reduce rework and repetitive quotation creation.

With the mobile CRM apps (sales force tracking app) your team can focus on the important activities and track them as well. The sales management app comes with features like-
Calendars are easily integrated into sales CRM app to allow users to easily schedule meetings, coordinate events, and keep track of important dates.
Create reminders, tasks, calls, events, or other alerts with one click in the sales CRM app.
Set up and access activity notifications right from your sales CRM app.
With sales CRM app, agents can navigate through various social media and web chats to support customers on different communication channels and give round the clock support on customer's preferred mode of communication.
6. Customer loyalty is a brand!
Employees can customize the proposal of the company to the needs of a client, expanding the name of the brand and their capabilities. Thus, the sales force tracking app provides you with the ability to track how clients see your brand and adjust according to the majority of general comments that the sales team inputs.

7. Make selling fun with Sales representative app!
You can turn routine or recurring tasks into contests and also keep a check on your sales reps and add notes or send emails. The sales representative app comes with added functionalities like –
The sales tracking app provides added features for your sales reps empowers field sales and maximize productivity.
Captures and shares onsite customer interactions in real time. Sales intelligence puts you in control with Mobile Sales App.
Sales tasks can be distributed among salespeople and can be tracked and traced by the team managers with the help of the sales tracking app.


Importance of CRM mobile apps for customers
CRM mobile app creates a flexible environment for every business management process along with efficient customer care services. With mobile sales app functionalities for employees, customers can be reassured that their issues will be resolved and responded to by agent at any time of the day. Also, service agents are always aware of the complete information about the customer issue at any given time, which makes customer interaction and issue resolution more quick and effective.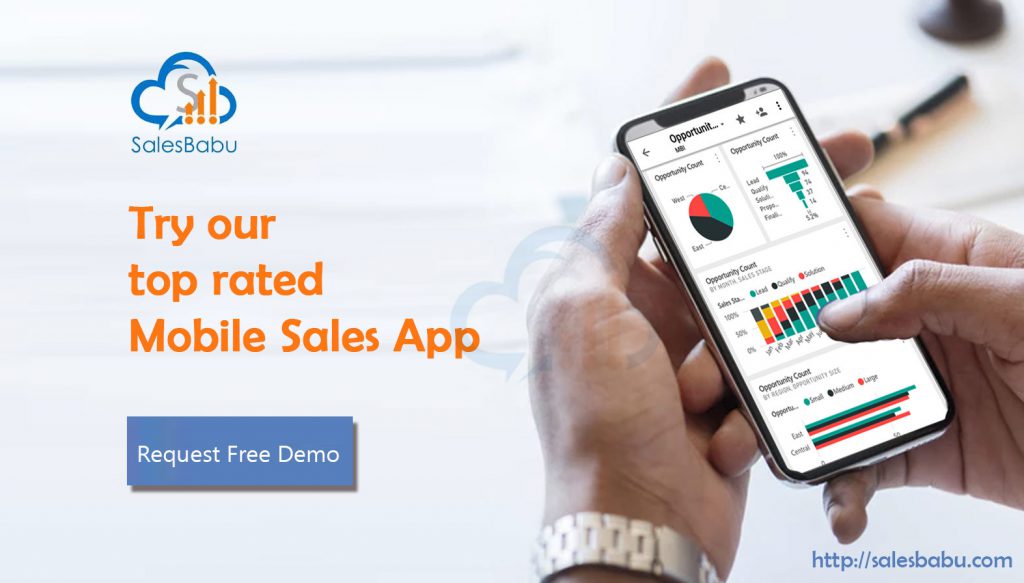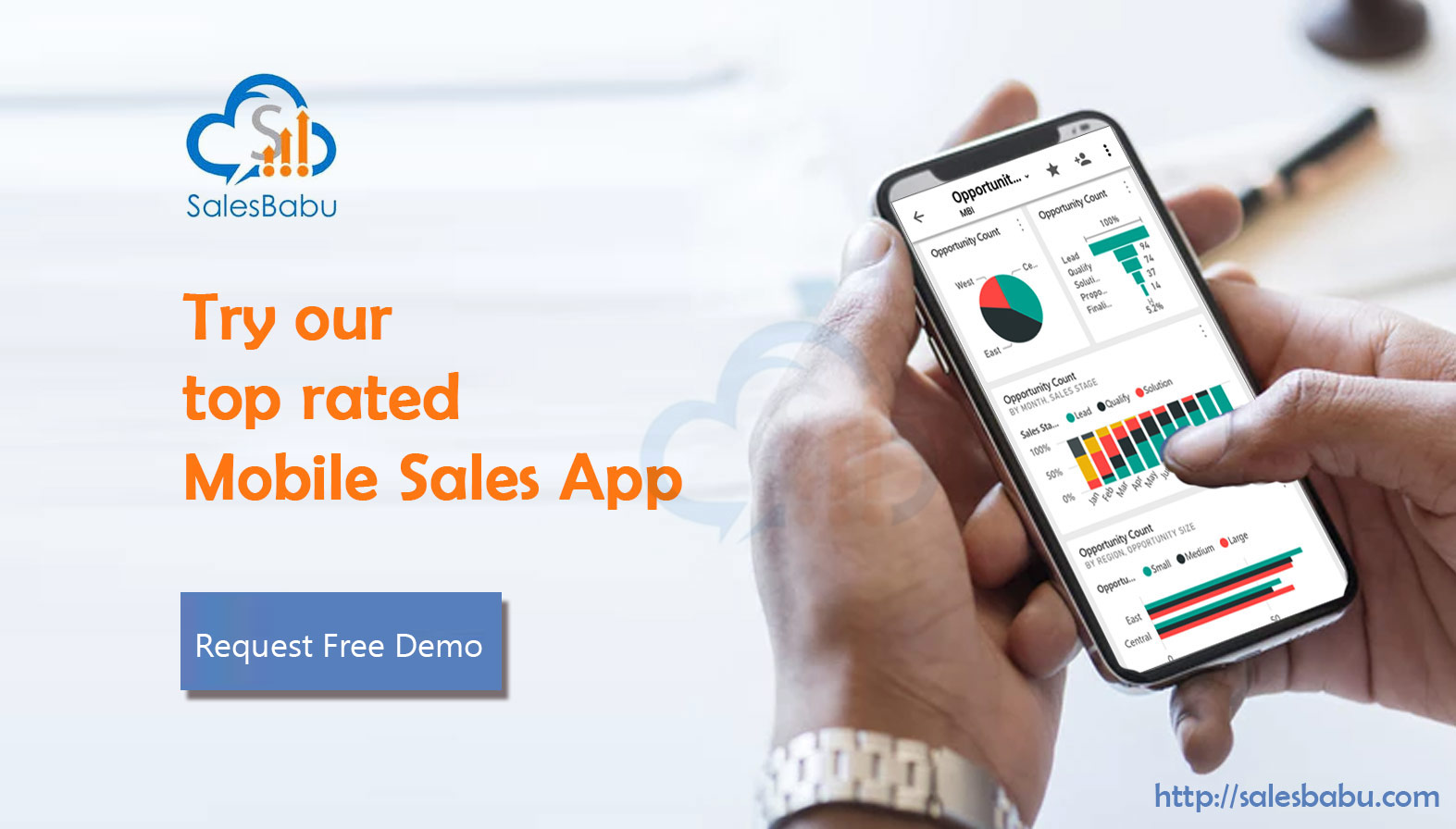 SalesBabu Mobile CRM app: An effortless CRM mobile app
The CRM mobile app offers simple and user friendly interface which is accessible from anywhere at anytime. It offers effective and secure tools with amazing features that help you to manage your business activities and customer relations in order to retain your existing customers. And luckily it's not an expensive deal. The mobile sales app comes with affordable prices and the facilities it provides is worth the investment. Contact us for free CRM mobile app demo, click here. You can use the best CRM which is basically a cloud based CRM application for small businesses as well. If you have not yet got one, visit our website https://www.salesbabu.com/ for further details.
In the present world where the use of smartphones and gadgets have gradually increased, it is essential to have a sales App to manage your business effectively and efficiently. Ultimately, it keeps your customers and employees connected.