There is a difference between a good sales person and a great salesperson. The ones who are great salespeople have a unique personality and are born to know to specialize the skills required to increase the revenue of the company end of all. And your sales team is one such department which has to put in a lot of effort in order to convert leads into sales. The customers will make a thought hit you very hard every time you approach a new customer, and do you what that is?
"You are not the only one in the market!"

Being a sales manager you need to wear yourself in the shoes of your salespeople. You need to motivate them and help them achieve their goals. When it comes to selling effectively your salespeople may have various myths regarding it. Some think only the way of expression and knowledge can make them get the sale. Whereas, few concentrate only on closing the deal and few will just call the prospect until they are done. And they may look right just as myths. But when it comes to the actual competition in the market, all you need is to work smartly in order to contribute to achieving your organisational goals.

Managing the sales team is surely a difficult task but thanks to the technologies that we are gifted within the present scenario. They have made our work easier and faster. If you are still wondering about which such technology I am talking about, its none other than the Online CRM software. The CRM application not only helps in creating a good relationship with your customers but also helps you to manage your sales team more wisely.
Customer Relationship Management
Customer Relationship Management is an approach to manage the company's interaction with the current customers. It focuses on the customer retention which ultimately increases the sales of the business.

Online CRM Software
Online CRM Software is not just a technology but is indeed a strategy which helps us to learn more about customer needs as well as behaviour with the main agenda of creating good relationship with them. It Enhances sales productivity, Improves efficiency in following leads, Detailed reporting and analytics, Improves customer satisfaction and it is also cost effective.


Cloud CRM for Sales Manager
CRM system behaves as a managing tool for the sales managers. It also helps the sales manager to be up to date with the updates and information. It also helps you to maintain notes, important tasks etc and tracks every stage of the sales process. Thus, you can manage your team rightly. You need not worry about verifying the sales report because most of the manual work is cut down as well as manual errors because the software itself gives you the report based on the data.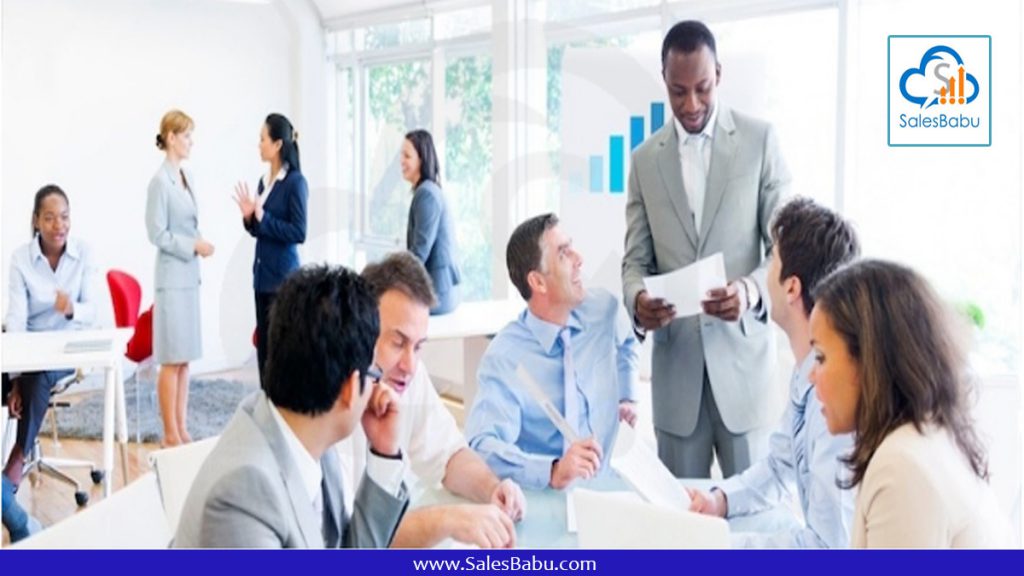 Cloud CRM for salespeople
Cloud CRM acts as an organizing tool for the salespeople. It gives the sales reps all the required data at a single platform. Your sales reps will not have to spend time on manual recording. You will also get an idea about the customer's preferences. The Online CRM application gives a 360 degree view of your leads. visual representations can help you to figure out the working and also helps you to identify the problem areas. Thus, cloud CRM system makes your sales rep's work much quicker and smarter.

Lets know in detail about the usage of cloud CRM system for sales reps
1. Centralize data storage space
Online CRM software helps to store data safely in a centralized platform. Data such as contacts, sales opportunities etc. The Online Sales CRM software will not only give you information about the basic customer history but will also provide all the data related to the previous purchases, likes and preferences etc.

2. Spare time to plan and manage
Cloud CRM helps salespeople to optimize their daily schedules and prioritize tasks to make sure customers are not ignored and the key prospects are contacted on time. In fact, CRM system allows salespeople to spend more time with customers, which leads to more deals closed and a stronger customer base.

3. Easy Activity Reports
You can also get standard reports as well as customized reports. Cloud CRM system helps you to streamline your daily activities to maximize your productivity, communication and overall customer happiness. Thus, you need not spend time on creating reports at the end of the week or month.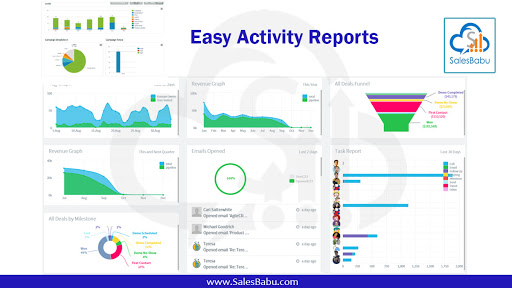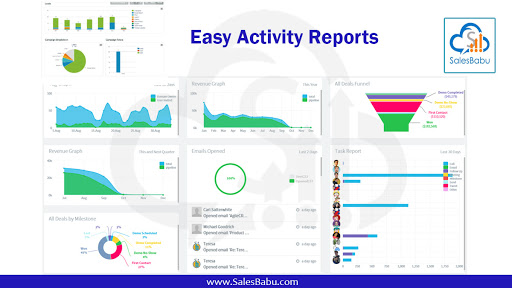 4. More organized sales leads and opportunities
With cloud CRM you are getting all your sales leads and opportunities on your dashboard according to your priority list. It helps you to manages all the details related to the leads, measures abandonment and close rate etc. You can prioritize your leads according to various criterias in order to not miss an opportunity. It is more like a guide which will help you to strategize the follow ups wisely.

5. Update Sales force information anytime
It offers shared calendars, email integration, document templates and notes etc to keep everyone updated. It helps to create two way communication between the sales force and sales management.

6. Increase new Sales from existing database
Online CRM system helps to find the opportunities to sell a new compressor with extended warranty for an existing customer with the existing database.

7. Rationalize your sales cycle
Online CRM software helps to streamline the entire cycle that results in closing of deals in the sales pipeline and also helps the sales people in the team to successfully achieve their target quickly and easily. Sales revenue is increased as the order processing and preparation of quotes are automated.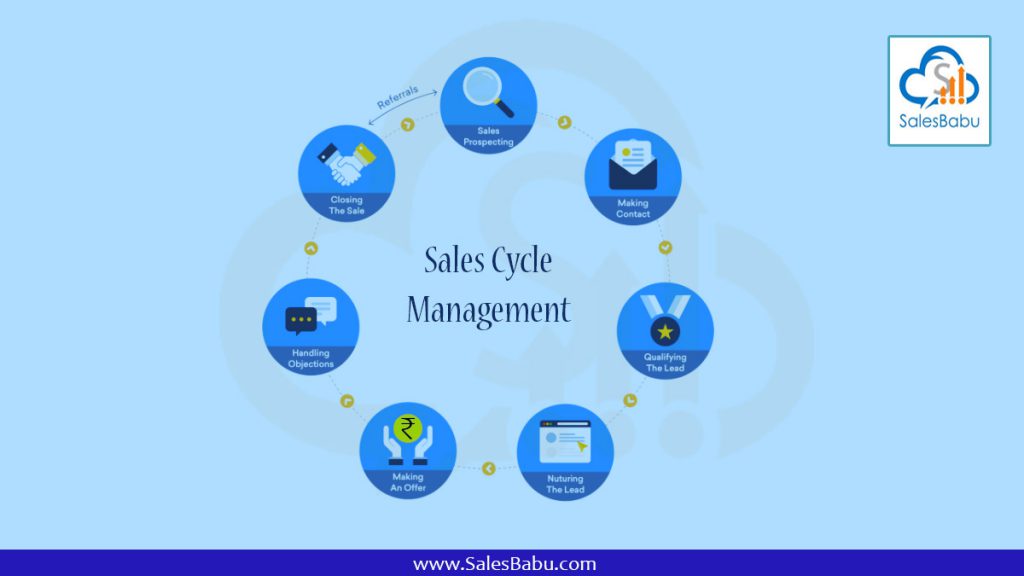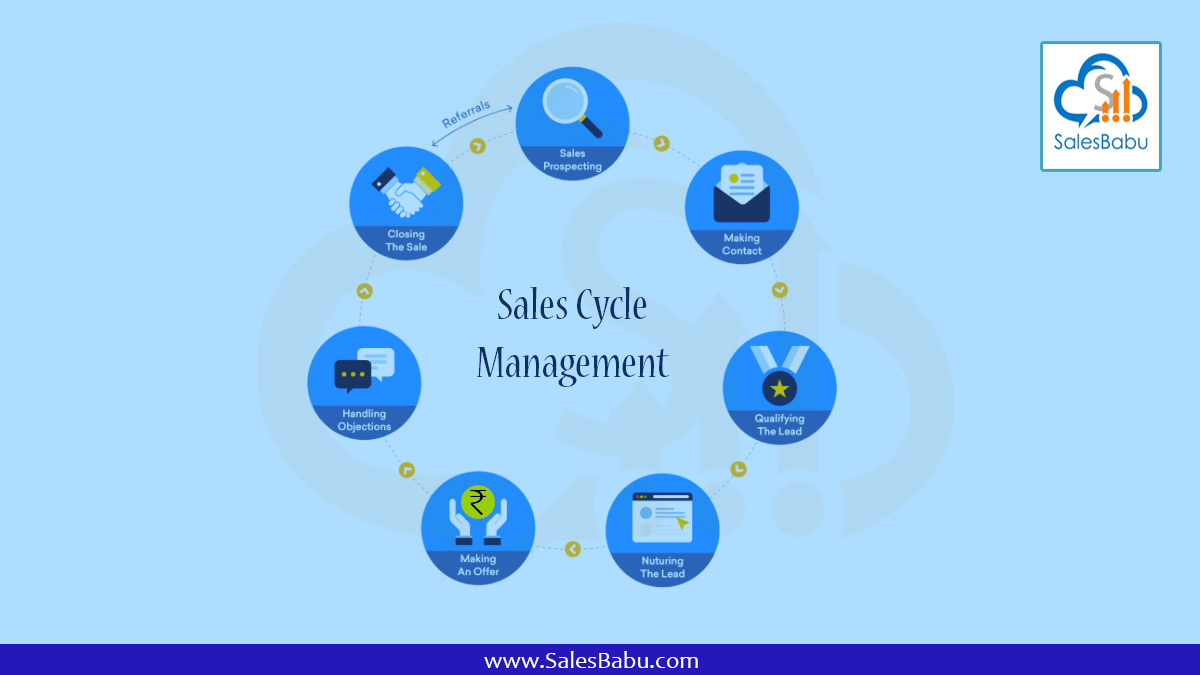 8. Get closer to your customer
When you know your customers well, you can sell accordingly. Cloud CRM information has the contact, purchase history and purchase patterns etc. You can communicate with your customers and create a good relationship with your customers for a longer period of time.

Have you got your best CRM Software which is basically a cloud CRM?
If not, visit our website
https://www.salesbabu.com/

9. Cuts down the repeated task and saves time
By the usage of a online CRM software you can cut down repetitive actions or tasks and save time in return. The online CRM software helps to store product's price details, reminders for activities and thus helps the sales people through the sales pipeline step by step.

10. Save Money on Operations and Increase Sales
CRM system is one of the most cost effective and user friendly software which reduces cost in every possible form. You need not have to maintain any hard copies with papers, all you need to do is back-up the data. Neither do you have to end up creating records at the end of the month. The records are already at your fingertips with just a click. Thus, with these benefits your work gets easier and also reduces cost.
Your time gets used wisely and you can save time and concentrate on converting leads into sales as you need not have to do much of manual work or worry about the manual errors. Thus, when money is saved and you have more time, you can make more sales.


CRM app
The CRM app or the mobile CRM is one such added advantage to the reps as it can be accessed from anywhere at any anytime. Technologies have their own impact on us, these days. We all have updated and upgraded ourselves. Most of us use smartphones for our daily works, which has in turn made our works much easier and faster. With your smartphone you can manage your business activities from any corner of the world. The CRM app helps you to access and update information and data easily. It is an user friendly CRM app that helps you to track your sales team and also help you to keep things up to date instead of updating informations through calls or visits. Thus, it avoids much of manual errors or miscommunication.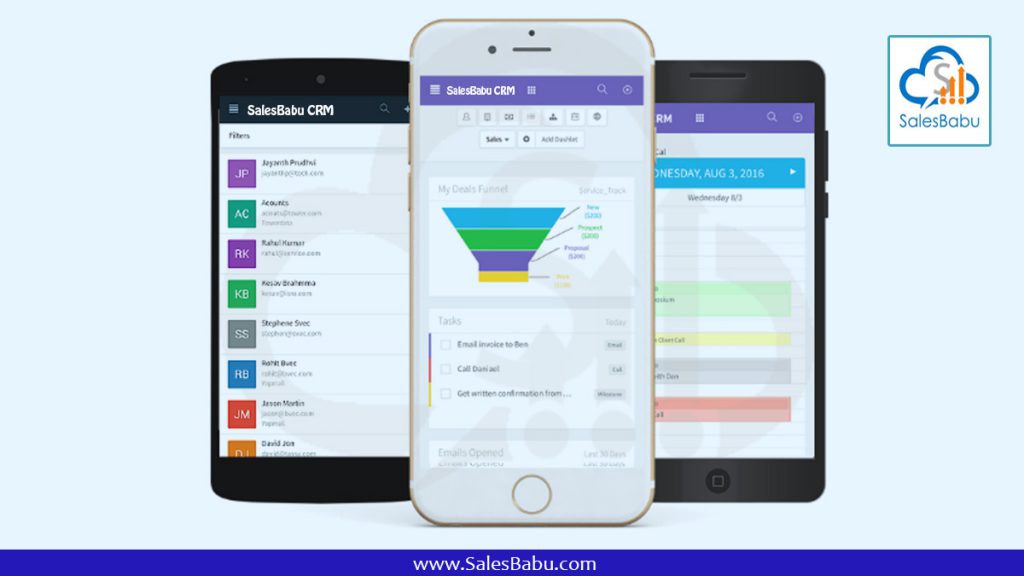 All you need to do now is, choose the best CRM software in order to work smarter and accomplish your goals. You can request for a free demo at our website https://www.salesbabu.com/. Get SalesBabu Online CRM system which is basically a cloud CRM now as we believe in quality.