Don't you want enhance your business? Obviously, you do want to enhance your business and also manage your business more wisely. Sales plays one of the key role in order to enhance your business. And managing a great sales team is no less than a challenge. No matter even if you have a good brand image or your product outstands the market, but if you don't have a great sales team it's of no use.

The qualities like confidence, focus, ability to create the best impression by just talks and the trait to maintain good relationships with others, etc are the main qualities you look for in a sales rep. When these like-minded people with similar qualities collaborate to achieve the organizational goals they can make wonders. Managing this sales team is surely a difficult task but thanks to the technologies that we are gifted within the present scenario. They have made our work easier and faster. If you are still wondering about which such technology I am talking about, its none other than the CRM software. The CRM application not only helps in creating a good relationship with your customers but also helps you to manage your sales team more wisely.

Before we get started with how CRM will help you to manage your sales team smartly, let us know about the four important ways on how to manage the sales team in an organisation.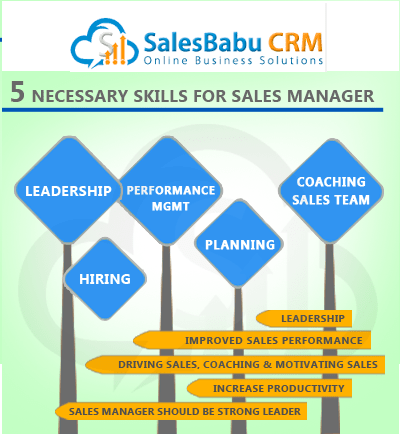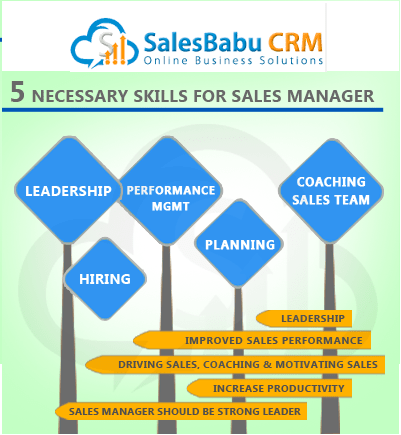 In a sales team when you put competitive people together who have the drive to achieve higher and better, you can get the right outcome. So when you are result oriented they will surely help you out in achieving your organisational goals.
Create an environment that is transparent. Hire people who are determined and driven. Make sure you are emphasizing the outcomes to prevent people from confusing activity with productivity.
Let them put themselves in your shoes. Do not command over always but let them solve obstacles on their own. And more importantly, make sure that they are good at taking feedbacks.  
Training is one of the most important aspect for the sales team. Make learning a basic part of the departmental culture. Let them develop their skills and knowledge about competitive intelligence, opportunity management and professional communications etc.

Things are not just limited to money, respecting their work is what also matters. Recognize them and let them know they have been contributing their best in order to achieve the organisational goals.
Invest a few dashboards around the office displaying the leads closed and the current monthly dollar value of deals closed by each person. This creates transparency among the team and a sense of motivation.
There is no size fits all solutions
There are lots of different personalities working in an organization. You should be the one who shields the team from bad politics or bad sales behavior. This makes it easy for employees to focus on their job and be successful. Different people need to be managed differently.
Specialize early to grow sales
Group the sales people according to their strengths and preferences. Do not treat all the salespeople the same. Segment the sales team to address them as they grow.


Now let us see how the cloud CRM can make things easier and better in order to manage the sales team smartly.

CRM is the strategy used to manage the relationships you have with your customers and it is the strategy used to drive efficiency in your sales processes. You can request for a free demo at our website https://www.salesbabu.com/ to know about its usage. The benefits cloud CRM provides to manage your sales team are –

1. Sales force automation
The Sales Force Automation completes the sales activities in a single platform and helps to increase sales force performance and profitability by giving you everything you need to sell effective. It is one such system that automatically tracks all the steps in the sales process. It is meant to encourage your sales reps to document and communicate their field activities. The additional functionalities of Sales Force automation are –
Your sales force has the facility and the comfort to store notes and contacts at a single platform which is easily available at anytime and anywhere. Thus, you not only make the work of your sales team easier but you can also gain employee trust and interest.

The Sales force automation gives you a clear picture about what your sales reps are up to and their work performance. Thus, you can monitor your sales team rightly.

As mentioned above that the Sales Force Automation stores all the data at one platform, you can evaluate the efforts of your sales team by calculating their performances. Thus, it is one such analysis where you can compare the performance of your sales reps time to time achievements against the targets they were assigned with.

As CRM system is a cloud based CRM, you can access it from anywhere at anytime in order to get updated with all the updates done by your sales reps regarding any sales prospect or sales closure.  
The benefits of Sales divisions :
Vendor's Perspective : Improved customer relationship, business revenue and staff productivity.
Manager's Perspective : Increase in salesforce productivity and accurate reporting.
Salesperson's Perspective :Trading sales , easy tracking sales and more closing opportunities.
Business perspective : Increase in sales revenue, improve market share and increase in profitability.
2. Sales tracking
The Sales Tracking CRM Software helps you to maintain consistently effective sales forecasting. It is a combination of mobile CRM and the cloud based CRM application. The mobile CRM helps you to manage the data and operations. The additional functionalities of sales tracking software are –
Sales pipeline visibility
The CRM system is build up with high pipeline visibility. It provides visual representations of the entire sales process of the organisation. These visual representations can help you to figure out the working and also helps you to identify the problem areas. You can also drill down to the required information with statistics and logical aspects that is required immediately.

Tracks performance and contributions
You need not have to wait until the week-end or month-end to obtain your performance reports. Our CRM application records the contributions of your sales reps. Thus, based on these records you can change the team roles or responsibilities of the particular sales reps according to your necessity.

Sales Tracking Mobile app
The Sales Tracking Mobile app which is mainly a cloud CRM gives a handful of benefits to the sales reps like –
Streamline Transaction coordination
Organised updates
Analytical insights
Document management
Calendar and events
Reminders, calls and tasks
Read more – SalesBabu Mobile Sales App: Best Sales Tracking App For Sales Management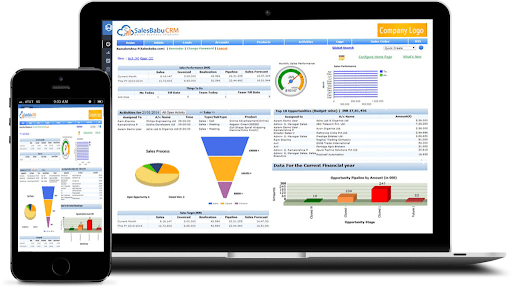 Have you got your best CRM application which is basically a cloud based CRM?
If not, visit our website
https://www.salesbabu.com/

3. Lead tracking
Lead Management Software System – a Lead Tracker: The growing focus on managing the customer relationship is leading to the automation and increasing penetration of lead managements software all over. One of the most crucial aspect for impressive marketing campaigns, sales, and rerun business is the change in the company's approach towards managing large-scale client management and customer relationships in the present scenario. The additional functionalities of lead tracking software are –

Conversion of more leads to sales
The aim of the online CRM – lead management software is to combine marketing and sales efforts in order to converge to a common goal i.e, Increase Sales. The system tracks the activities of all the leads and also triggers marketing actions like sending offers or promotions via SMS and email. Everytime there is a check for the pricing or spending of time on sales centric pages the sales reps are notified. Thus, this makes the work of the sales reps more easier.

The Online CRM application gives a 360 degree view of your leads. Thus it provides the graphical representation where you can compare the lead performance with the assigned resource, product and lead etc. And it also helps you to visualize and analyze your performance at managing opportunities.

The lead management software stores information regarding the mails exchanged and quotations generated in a single platform. You can also have a check on any kind of remarks or notes. The logs or history can be analyzed, reviewed by viewing the customer interactions and thus it helps to manage as well as optimize the sales workflow.

4. Sales forecasting
The Sales forecasting provides strategic value and increases the visibility in the supply chain management process which helps to grow your business. Sales forecasts are not just for the benefit of the business plan reader, but are a means to help managers make informed decisions. The additional functionalities of sales forecasting software are –

MIS which means Management Information System is an extensive module on all the facts and numerical datas. You can also get standard reports as well as customized reports. And the best part is one can also draw out the sales funnel to know the overall performance of the sales team.

The sales forecasting software also provides you the facility of planning for a budget in order to make your sales higher and also increase your revenue. Thus, you will not have to struggle much for the right budget plan.


To track sales activities in sales and marketing is the heftiest job in any organization. Most of the organization strives for a system that could streamline their entire process, reduces their efforts and save their time. The solutions to all these sales managing problems is to have  Sales Management Software .Sales Management Software helps the CEO's to track sales activities, maintain sales discipline by automating the entire process ,reduces their unnecessary efforts  and saves most of their energy and time. Get the best Online CRM system which not only makes your work easier but also helps you to manage your sales team smartly with very less manual errors.

Importance of Sales forecasting :
Forecast enables the manager to stay targets for the workers.
Business may match with none focus and also might end in the wastage of its resource within the absence of a sales forecast.
Sales forecast is significant in preparing a budget.
It helps to fix the responsibilities for every sales person.
Sales forecasting helps to workout the production capacity.
Helps to chop down the waste expenditure.
It also helps to mend the mixed decisions.
Sales forecast enables a business to figure during a system.
We at SalesBabu Online CRM Business Solutions take care of our customers as we believe in "We Commit, We Deliver". The features which we provide at SalesBabu CRM which is mainly a cloud CRM, can make your work smarter and can do magic in the market because all you need mainly is customer satisfaction as well as trust!