"Care enough to create value for customers. If you get that part right, selling is easy." –Anthony Iannarino
If we understand this quotation right, we can make a great business proposition. By creating value added services for your customers, you can do nothing but increase your overall product sales.
These value added services can be easily implemented by using a Cloud CRM software for your business.
What Is CRM?
CRM (Customer Relationship Management) software does exactly mean –  it's a software application that helps companies manage their relationships with customers.
CRM is a platform that connects different departments like from marketing to sales, sales to customers. This also organizes customers' notes, activities, and metrics into one cohesive system. CRM cannot be defined without taking into consideration Saas and cloud computing, both work together to allow the CRM platform to be available wherever a user has an internet.
Every user has easy and direct access to the client data they need.
There are many features of a CRM software which helps in creating more profit for your business:
Lead generation and nurturing
Sales closure
Contact management
Task management
Customer care services
Sales Tracking
Manage marketing campaigns.
Advantages of CRM software:
Enhances better customer services: CRM provides numerous strategic advantages in business. One such is capability is to add a personal touch to existing relationships between the business and the customers. It is possible to treat each client individually rather than in a group. Giving better responses to the customer when they need results in better customer services. The businesses should always follow up with customers on the items they buy.
Facilitates discovery of new customers: CRM is better at identifying potential customers. They keep track of profiles of the existing clients and determine the people to target for more clientage returns. The indication of future growth is new customers. CRM software encounters high numbers of existing customers versus new prospects every week.
Builds up on effective internal communication: The effective strategy of CRM is building up effective internal communication within the company. Different departments share data remotely, which enhances team work. This strategy is better than working individually without any links between the different business departments.
Simplifies the sales and marketing: Technological integrations like websites and interactive voice response systems can make the work easier for sales representatives and business organizations. CRM with better strategies will ensure appropriate delivery of communication and quick response for the inquiries and feedback from the customers. Online CRM software facilitates the development of better and effective communication with customers.
How does CRM help sales?
One of the key reasons to use CRM software is because it facilitates your business to nurture leads and convert them into productive sales – way more efficiently than you could do without this software implementation.
Let's understand the 5 most effective ways a CRM software helps you to close more sales for your business.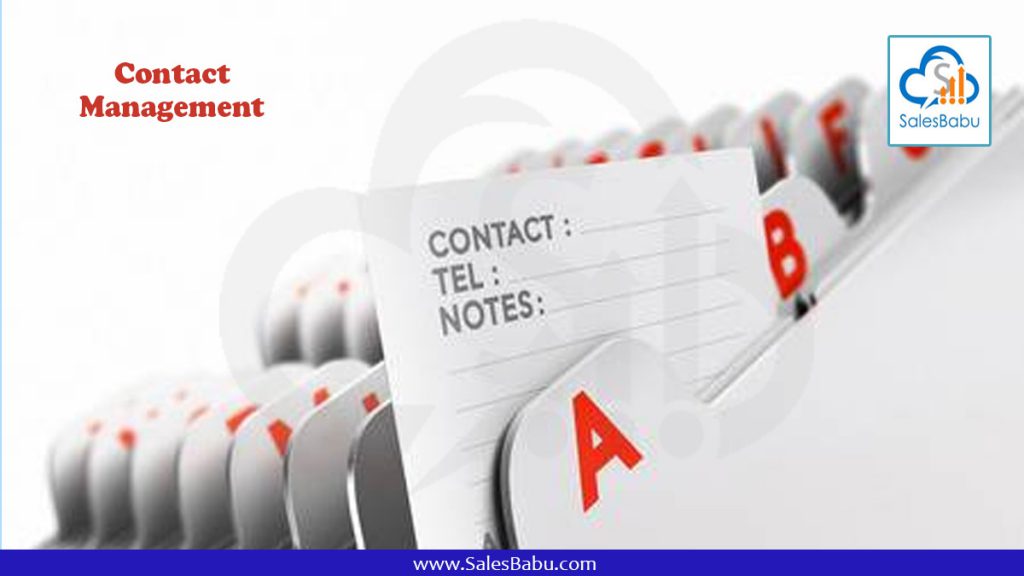 CRM softwares provide contact management facilities which covers the tracking of customer data like :-
Address information for billing and shipment.
Contact information like email Ids, phone no. and other communication modes.
Associated sales rep information, and quotations, sales orders details.
Verbal, email or any other communication of customer with the company staff.
With all these details in place, every minute to important information of a contact is well documents in a centralised database. These details can be accessed from anywhere and anytime by concerned sales and marketing team. Along with these personal details, other information like background details, interested products, personal and regional preferences, and other statistic are noted for each contact.
In the case of current customers, sales team can continue to send more specific information to the clients based on their owned products and services. Also, with a complete view in hand, service agents and sales rep can provide better customer care services to its customer and continue to have business with these clients.CRM softwares have email and SMS tools integrated to it which will help to send automated messages to customers with promotional offers and other update details. With constant updates on our company and product details, our customers stay happy and satisfied to continue their business with us . A good feedback from a satisfied customer is a great word-of-mouth marketing technique. A lot of prospective clients check for online reviews and other customer's feedback before investing in any business deal. Hence we should make sure our customers are happy with us and provide good reviews and feedback to attract more prospective clients.
Using these contact details, sales team can make customer-specific presentations and campaigns for prospective clients. Once a sales team is well aware of a lead's details, they can be more organised and accurate in solving client concern and providing effective customer support. As client discussions and presentations are specifically tailored for a particular lead, there are more changes of converting a prospective lead into sales.
Hence contact management is one of the key requirement for a business to perform better with our clients.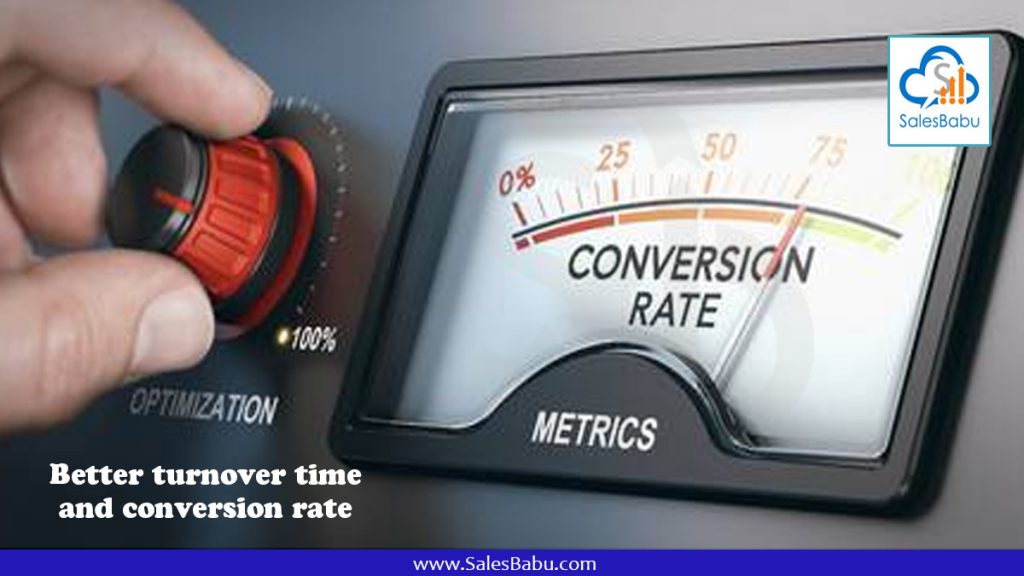 Lead conversion and management is a very critical part of the sales life cycle. With a CRM software implementation in place, you can create an organized lead tracking system which will track every detail of a new lead like – source, interested products, purchase behaviour, demographic backgrounds and many more. These features of lead tracking help in understanding your customers before approaching them with any business agenda.
Once we understand our customer needs, we need to nurture and track the leads based on their required services and products. The basic requirement for productive lead conversion is quick turnaround time. A CRM software has automated notifications and template response mechanism which respond to a lead queries promptly and also auto assign the lead to an appropriate sales representative. With these automated measures of detailed documenting and lead assignment, the lead turn over time is drastically reduced and lead leakages are minimised.
Once the lead is assigned to a sales Reps, the sales manager can track the performance of its team by sales Mobile App and live location tracking system in CRM software like SalesBabu CRM. Regular follow-up meeting alerts and pop messages can be configured to organise the sales and marketing team routine work items. Also, quotations and sales order details can be documented to understand the interaction between the customer and the sales team.
With all these measures of reducing lead turnover time, sales team can avoid doing the menial task of data updation and provide more constructive ways for maximizing lead conversion rate.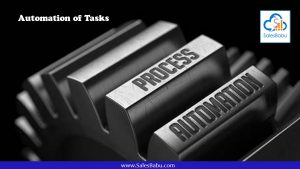 Automation is the key to increase your market value and eliminate your non productive workflows. A CRM software has an automated system for every business process which will help to improve the overall lead conversion rate.
Starting with automated lead trackers, CRM softwares have automated trackers which will keep an eye on every social media or blogs which are visited by prospective clients and help in lead generation process. Once a lead detail is stored in a centralised database, automated sales trackers will create follow-up meeting and tasks for a systematic approach to reach and track lead. With these sales trackers, the sales team don't miss any appointments and create futuristic plans to convert our lead to a prospective client.
Auto assignments of leads to sales and service agents are done based on region, specific qualification of sales Rep or other predefined parameters configured in the CRM software. These functionalities not only helps in reducing the overall lead conversion rate but also help in managing the workload efficiently.
After the sales assignments are done and tracking has started, automated qualification systems help to decide on which is a more promising lead and start lead engagements process by sharing the content of interest through emails, SMSs, blog, social media and more.
At the same time, sales lead management apps can send regular updates on our current products and services top dead and uninterested client to make them aware of our products incase they ever plan to change their mind.
Hence in a nutshell, automation in CRM software facilitates closing many more deals than we could have done using traditional lead management system.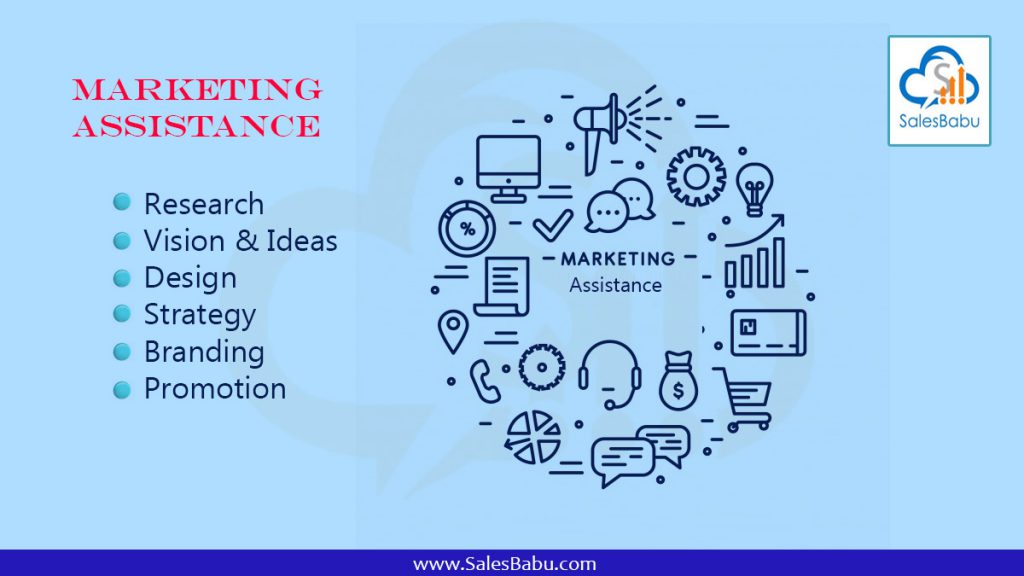 An estimated 75 % of marketing teams have trouble calculating ROI because they don't know the expectation of their prospective clients. Meanwhile, 42 percent of sales reps feel that they don't have enough client information before an interaction call with clients.With CRM softwares in place, the sales and marketing team have a birds eye view on every detail of an interested client by using a cloud based customer database.
Also, with metrics and report generation features in CRM software, marketing and sales team can generate various reports on interested leads and make client-specific campaigns to increase the lead conversion rate. These reports can be customised to fetch any required data like – the no. of leads who visited our bogs or company websites, or the social media review on a particular product or service and many more. These reports not only help to increase the company's overall sales but also help in improving our futuristic plans for the business based on metrics collected from multiple channels.
Companies who excel at lead nurturing generate 50% more sales leads at 33% lower cost. With email and social media integration system in CRM softwares, we can demonstrate and quote our positive testimonials received from a loyal and old customer, which can act as a good marketing method to keep our leads interested in our product and company services.
5. Inventory and after sales Support
Just converting a lead to a successful sales won't be enough in today's competitive world. We need to constantly strive to keep our customers happy and satisfied with services to continue doing business with us.
According to studies from Bain and company, 5% of customer retention can increase a company's profitability by 95%.Hence, we should continue to maintain our current customer base to have a profitable business model. CRM software provides various customer care facilities and after sales services like inventory and ERP management system. With these additional functionalities, CRM system like SalesBabuCRM provides end to end support for all customer requirements.
Wrapping up :With increased competition of various software support in the market, selecting the right CRM software for your business needs can be confusing and time consuming. But we should understand that the key to successful lead conversion is the timing. If we take too long, we will lose an opportunity, if we push too hard , then the potential lead could walk away. We should choose a Cloud CRM software which should be well equipped with all functionalities to give realtime end to end support for all business requirements.