Many traditional companies believe in the fact of Customer Relationship Management software is a tedious and complex software implementation which might fail with employee's reluctant to use these software solution or maybe increase the pain of completing tons of more menial jobs.
Sales Management software like SalesBabu CRM, is an integrated and standardised software solution which have easy to use features and are not only user friendly but are easily implementable by non technical staff as well.
With these user friendly facilities, SalesBabu CRM has become one of the most successful and trusted CRM available in the market. CRM rollout for this tool has become increasingly easy and simple with the usage of the latest technology and Cloud based services. 
Regardless of the size of the implementing company, the basic CRM requirements, goals and expectations of improved sales remain the same. However, I agree, the complexity of practical implementation, human and process issue may vary. We have put together a few important points below towards successful CRM implementation.
Choosing the right CRM tool like SalesBabu CRM along with organised implementation of strategy & planning it is very critical for a successful usage of the software.


Below are some of the steps that need to be followed for a successful CRM Implementation in any business model:
Choosing the right CRM Tool
Choosing the right CRM application is a very important factor and prerequisite for a successful CRM rollout. Companies should make sure they choose the right CRM for their specific requirements and should cover every aspect of business organisation to leverage the best advantage of a CRM implementation.
Some of the generic requirements of a sales Management software in the current era of technology are as below:-
Outlook integration
Reports
Dashboards
Knowledge base
Chat
Sales Tracking system
Escalations and more.
Once we understand that we have an integrated set of solutions for every business sector we can be rest assured to start the implementation of such CRM tool and organise our business processes.
SalesBabu CRM's user friendly features and ease of use has helped companies in faster, easier and smoother implementation. SalesBabu Automated sales force management software help companies to target their pain areas and provide the best software and business solutions for the organisations.
Some of the other non technical pre-requisite will be :-
System availability: 99.9% uptime
Scalability: Easily scalable to handle the company's incoming user traffic.
Backups: Complete data should be backed up continuously without any leakages.
Disaster Recovery: Redundant data centers with a minimum failover time
Cost: The system implementation and running cost should not cross a particular limit.
Read More – 7 "Must-Do" steps before you buy online CRM software
CRM support
Being system ready and mitigating the risk of a CRM implementation should be one of the foremost steps of CRM implementation. The CRM vendors should provide a good knowledgeable implementation team. SalesBabu support & implementation professional team provides a disciplined approach leading to faster successful rollout so that customers can start seeing the benefits as quickly as possible.
Also, a complete set of training plan needs to be shared before the CRM rollout is actually initiated. These training schedules should consider the availability of different employees, training heads, any major sales deals during the training period or timelines of the training session which might affect the regular work items of the employees. These details are very critical for a seamless implementation of the sales force management software as it majorly affects the adaptability of the software within the team.
Read More – Online CRM Software: A guide to how SMEs can boost its customer relations
Organizational commitment/Management trust
The organization and its management should be committed for the implementation of CRM system. Any change is resisted and here come the directions from the management with clear implementation message. Sales heads and business leads should form a core team for the implementation of CRM across the company.
In many coservative business models, CRM rollout requires a complete change of mindset within the employee which needs to be a gradual effort from the management official to provide clear insight on the advantages of CRM implementation to every aspect of the business model.
The employees which are most affected like sales and marketing sector or the administration field should have real time session which can explain them the real use of a Sales management software and make them more inclined towards taking up a new tool as their work model in future.
Read More – Boost your business by streamlining your sales process with cloud CRM
Open to changes
The implementing organization should be open to new ideas, new technologies and methodologies. In many cases, CRM rollout fails due to improper planning and employee resistance towards software implementation and new technology. Company heads and sales heads should make sure CRM rollout is well planned and educated among the stakeholders.
Read More – Transform your business with CRM software
Mapping of processes, deviation, MIS inputs to management for decision making
This is quite important and any system should provide input to the management with centralized quality data for decision making. Employees should understand the use of each feature like Mobile sales app, MIS reports generation, Customer service facilities, third party integration and more to understand the real use of a new CRM implementation.
Read More – MIS: Now Get All Your Reports Just by a Single Click
Automation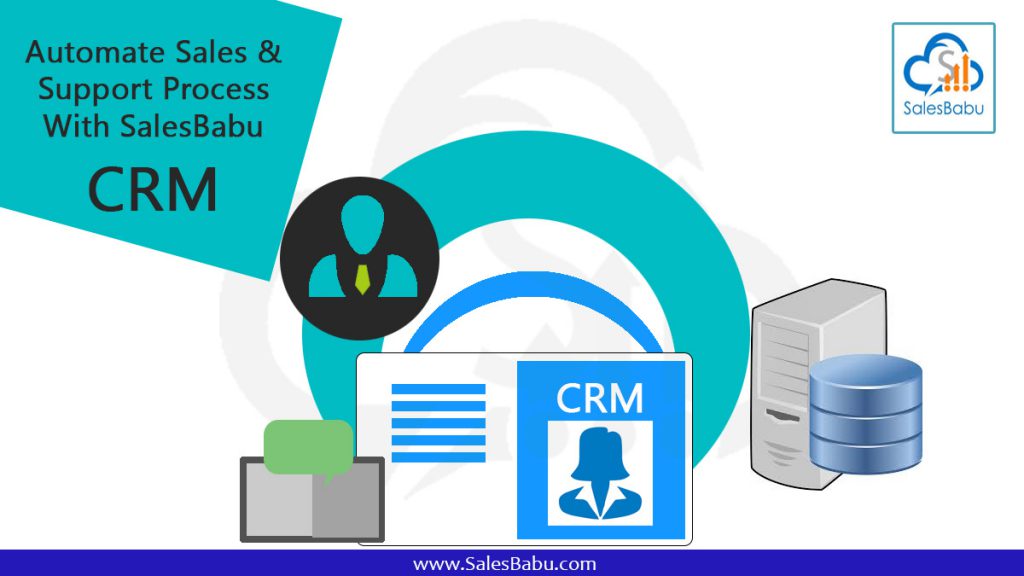 SalesBabu sales force management software helps automate full Sales & support business process leading to more and faster sales closures, increasing company's revenue and more happy & satisfied customers.
Auto notification and pre templates are quite beneficial for quick quotation, sales order and other document creation. Also, live location feature in Mobile sales app, automated the whole process of tracking sales team's productivity and management. At the same time, third party integration helps in automating the process of lead tracking and management over the internet and help in better revenue generation for the organisation. 
Read More – 5 Amazing automation features of CRMs you need to be using
Conclusion
SalesBabu is a thought leader in CRM and Enterprise Applications. By building its Software Applications completely from the ground up, SalesBabu has created what has come to be one of the most powerful and dynamic hosted CRM, ERP, MedSFA and Service Management solutions available in the market today.
The SalesBabu CRM solution enables organisations to automate all their critical business information, thus achieving a tremendous increase in business productivity and reduce costs to develop effective Sales & Marketing and Customer Service Strategies.