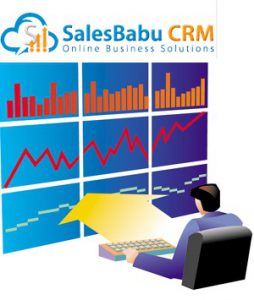 There are some questions that a sales manager in any organization is concerned about
How To Gauge Sales Pipeline effectively???
What Are Companies Top ten Products In Demand???
What Are The Top marked opportunities for Your Sales Process
How To Forecast Sales Projections???
How To Estimate Performance of Sales Employees???
How To Extract The Executive Summary report???
All these some of the very frequent queries in the mind of sales manager that becomes the major concerns in the long run.  Measuring sales pipeline, analysing target versus achievement of employees, understanding the market trends by checking which product is getting more appreciation, these all factors are important for an elevated sales graph. The Advanced reports section in SalesBabu CRM module fulfils all the requirements of a sales person. It generates multiple reports targeted to various important information. CRM analytics are good source of extracting Daily call reports, opportunity lists, most valuable prospects, and much more. You can also view employee sales funnel to analyse an individual's sales performance.
Different Kinds Of Reports As Available In SalesBabu CRM
DCR Report: daily calls report helps a sales rep compile his day to day interaction with the customers with latest updates. This report since also visible to the top management is help in scrutinizing daily performance.
Top 10 Products: Your company might be dealing with multiple products at a time. How to identify which product is in more demand in the market as compared to others. This is the report that gives information regarding this.
Account Details:-This report gives you an entire list of customers with their contact information and other statutory information.
Sales Funnel:-Sales funnel helps you identify the performance scale of the employees. How many inquiries handled, out of which how many qualified for the next stage and so on, and finally out of which how many were finally qualified for the order closure.  All this record can be deciphered from this.
Custom Reports:-In SalesBabu CRM, you can  easily maintain a customized report by selecting which information you are looking for out of what module. This is a powerful feature to extract the info of your need and exclude the other data. Thus the multiple reports giving multiple information help you analyze the complete organizational progress.