Has your sales process stagnated to procure new clients? Does your sales team feel uninterested and unmotivated to work towards customer conversion? Then it's time for a change in your sales process.
"Setting goals is the first step in turning the invisible into the visible." –Tony Robbins
Streamlining your sales process is the first basic step to improve your business revenue.
In today's world of technology and marketing expertise, sales teams already have numerous tools and resources to streamline their sales cycle and close deals faster. The core problem is knowing how to leverage these tools to make decisions on how to improve your overall sales performance.

Let's discuss the usual sales process for a successful business model to further understand the gaps in our company's strategies.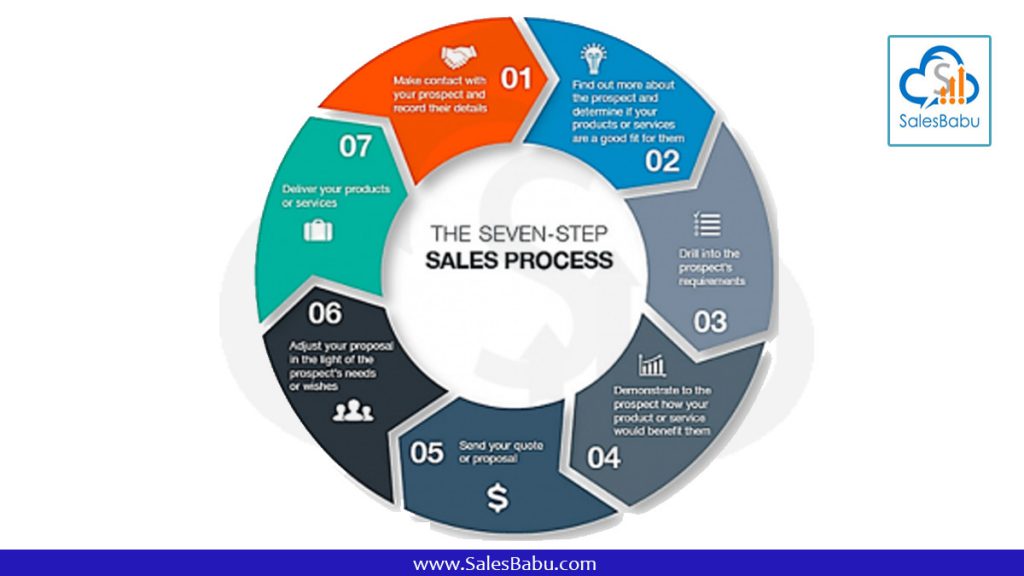 Seven Step Sales Process
Step 1- Lead procurement
First and foremost step for a successful sales is to use your sources and get interested Leads for your business. There are many customer's which might be showing interest in your products, but with efficient sales skills, we need to understand the true intentions of the customer and the willingness to buy from our company.

Step 2 – Understand your customer
Once you have an interested customer, you should understand and segment your leads with their demographic, personal and professional preferences, so that we can create more customer specific campaigns and presentations. In most of the cases, a well defined personalised presentative bags in more customers than a generic one.

Step 3 – Understand product specification
Every customer might be interested in your product details but will have many other thoughts in mind to customise it in accordance to their business need. If we listen to the customer properly we will have many pointers to make them happy and turn a lead to a sales. We need to considerate and flexible while giving product information to the customer and should be open for customization and feedbacks from customers.

Step 4- Marketing campaigns and sales presentation
Personalised marketing campaigns and sales presentations plays a key role in modelling our company's image in front of the customers. We should have a skilled set of sales and marketing representatives who should understand both companies and customer's requirement to convert maximum leads to sales orders.

Sales Quotation can be the deciding factor for getting or losing the deal with an interested client. We should always prefer creating well planned automated template based quotations with proper discounts and promotional offers per client basis to avoid any rework or losing business.

Step 6 – Rework on Quotations
If any rework is needed for the quotations or sales order, the sales team should be constantly in touch with the customers to make sure they stay interested in our products and need not drift away to other options in hand. Also, every change or additional offers given to the customer should be properly weighed to have profit for the company and avoid any revenue loss.

Step 7 – Product delivery
Product delivery and after sales support also is the driving factors for a customer to continue doing business with us or keep high customer satisfaction for our company. Once a sales order is finalized, the sales team should try to quickly dispatch the product with minimum discomfort the customer regular work. Also, customers should be kept in the loop in every stage of delivery and installation process to keep them aware of the progress of the deal. A well aware and satisfied customer is a real asset to a growing business.

Ways to Streamline our Sales Process
Now when we are aware of the complete sales process and requirement at each stage, we should be in a better position to analyze our present business model and find the gaps in implementing it further. We should have a clear understanding on how the current process limitations are restricting us to achieve our business model to the fullest and which changes to the current process will help to strategies the best process for maximizing revenue generation.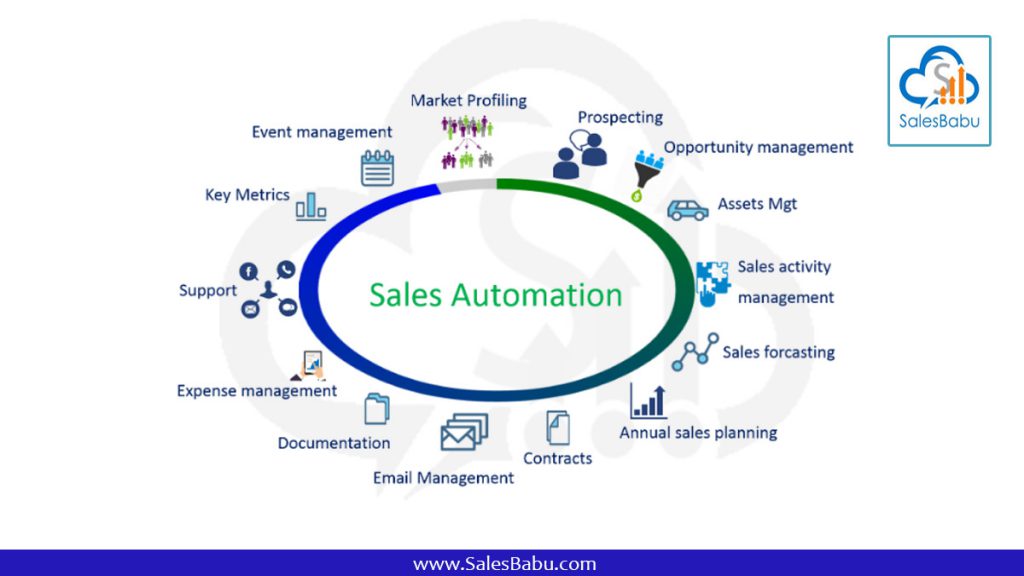 In today's world of technology and smartphones, a traditional sales strategy will not stand a chance in front of automated sales tools with streamlined processes. To achieve profitability and a systematic sales approach, we need to have an automated system of the sales process. Starting with lead management to after sales support, everything should have automated processes to reduce manual work for sales team and service agents. Studies have shown that traditional businesses that do not use automation spend almost 71% of their time and resources planning and defining processes.
Sales automation provides your team with real-time customer data, sales figures, upcoming meeting and opportunities,customer complaint list and other data that allows managers to take proactive actions to increase the team's productivity.
Mobile Sales apps in cloud CRM software like SalesBabu CRM, helps in giving a systematic view of all sales and marketing related data like sharing live location, sales reports, reminders for an upcoming meeting and more. Through this software, we get a one stop solution for all our sales requirements.
Also, many automated processes like auto notification to the clients, auto assignment for issues and customer tickets to respective agents and more, help in reducing overall sales closure time.
Automated process management also help in sending quotation and sales order to the customers by using automated templates which minimise the chances of human error and increase the productivity of the sales team.

2. Understanding your customer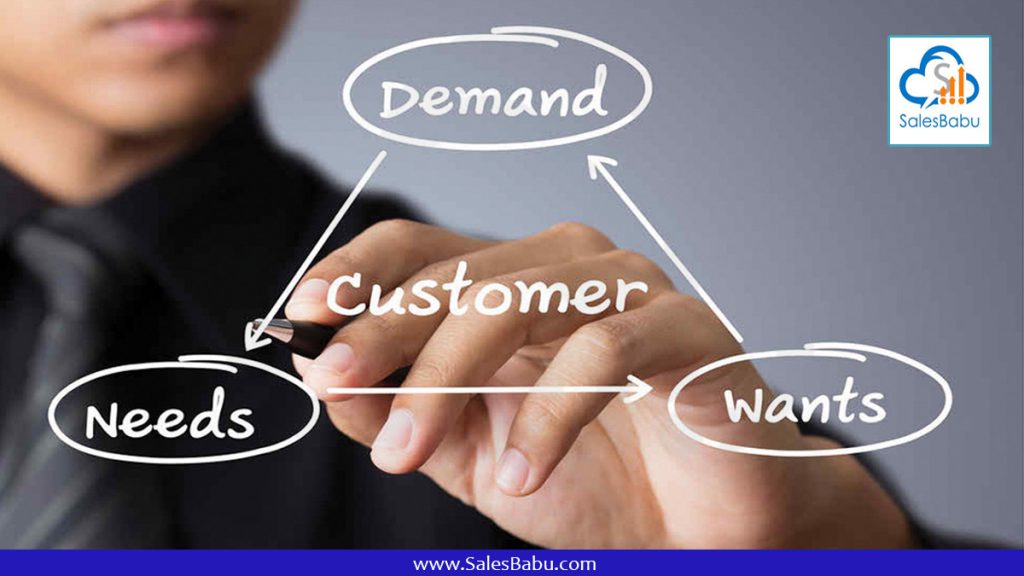 If we have every tool and software available to support our customers, but if we don't even know what our customers needs, then every effort of procuring these softwares becomes useless for our business.
Understanding your customers is the basic step for any sales process. There are many customer who merely increase incoming lead numbers but do not end up buying with us.
We need to understand each customer shopping background, loyalty rate and product preferences to filter out bad customers and nurture the best ones in the lot.
Good customers are the real asset to the business as they invest in our products, promote and market our brand and help in remarketing our products, but sadly a mere 20% of our current client base falls into this category.
By gathering 360-degree data and working backward to identify where, when and how we found our best customers, we can reuse this information to find more of them and increase our sales conversion rate.
Identifying and leveraging a good customer is a critical aspect to boost your business revenue.

3. Training Sales and Marketing team
An outdated technology or a sales executive both are of no use to the current market, where technology changes at a rapid speed.
An exceptional team of sales, service agents and marketing employees is a perfect recipe of a good sales market and business profitability.
By working together with our marketing team, we can create online content (blogs, ebooks, whitepapers, webinars, etc to help educate, nurture, and ultimately convert your prospective leads by answering questions and overcoming common objections.
A trained and well informed sales reps are a real asset to the business as they are aware of the market trends and understand every customer's preference to make personalized campaigns to win more customer for the company.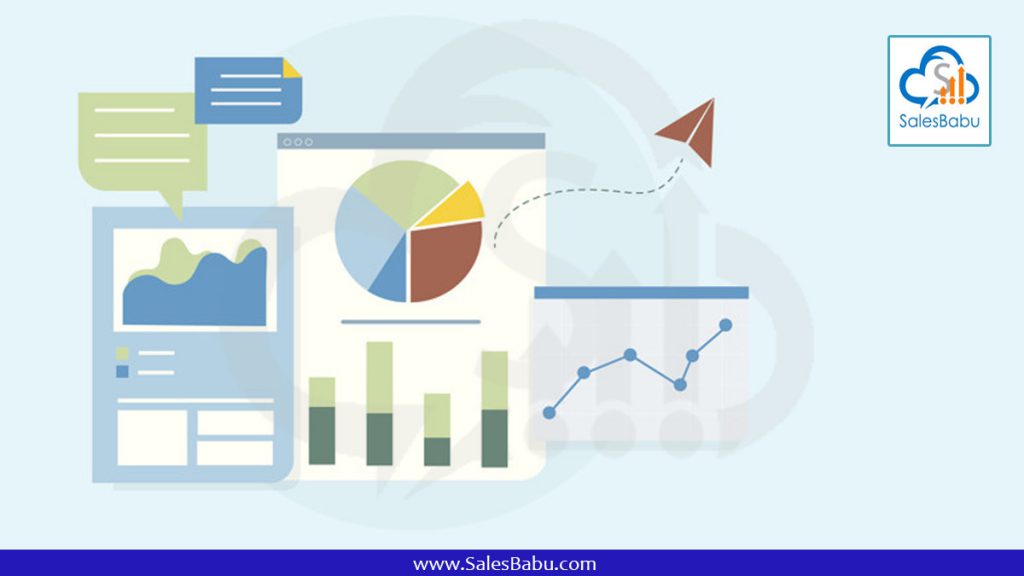 Understanding your customer trend is very important in making a successful sales process.
We can use a trusted online CRM software for cadence management to build rapport and keep top-of-mind awareness about our prospects. Market trends and metrics for customer preference can help to modulate our sales resources and reap better results of their efforts. Directionless efforts not only waste the company's resources but also reduce our employee's productivity and the company's brand name.
We can create various metrics on our incoming customer trends, most popular products, complaint area and more. These data metrics not only helps us to provide proactive solutions for any upcoming issues, but also create futuristic plans for removing any frequent bottlenecks seen in our sales process.
Statistics on internal processes like sales team performance, the workload on a particular team or individual, delayed reports or no.of open queries and more can help the sales managers and other higher authorities to distribute workload and create a more productive sales team.
With a proper understanding of your business requirements and trends, you can follow some of the best practices to overcome the objections of increasing your overall business revenue.
Tips to Streamline your Sales Process
There will always be movement within any company, no matter how great or focused on staff retention it might be. People leave, move around, change jobs, and can get signed off for many reasons. That goes for accounts you are working on but also your own company. Do not let leads go cold or worse still be lost forever when there are team changes. The secret here is having a CRM that fits for purpose, ensuring that everyone is properly trained and comfortable using it, and comprehensively. The data that your CRM holds will be the most valuable asset your company has, so treat it as such.
Qualifying leads is a key part of the sales process and an area where major efficiencies might be made. What you want is for every team to be spending their time where it will be most effective, marketing generating leads and nurturing them along, and sales focusing on only the hottest leads and closing the deal. BANT which stands for Budget, Authority, Need, Timeline is one good strategy which you can apply here. Progressive profiling is another strategy and can be a good way to go. It is about gathering a little more information each time you communicate with a lead and building up a picture of them. Marketing automation will also help with lead scoring, as it might help you to track leads and their behavior.
Conclusion
If we roughly take a days' job of a traditional salesperson, around 21% of their day, is spent writing emails to prospects clients, 17% is spent in manually entering data into CRMs, another 17% goes in prospecting and mining for new leads, 12% to internal meetings, and 12% is invested in scheduling and routing outside client meetings. If we formulate our processes properly and understand the lags in our sales process, we can efficiently use these ratios of a sales representative's day and increase our overall productivity and revenue generation process.