Your CRM system can become your most loyal partner if you make the right selection and use of the system. Most importantly, when it comes to achieving your organisational goals, setting up long term relationship with your customers or clients and improve employee productivity. In the present competitive market, CRM system is a technological business tool that helps you to grow your business to the next level. Besides the facts like – the size of your business, type of industry, no. of employees etc, the CRM software is a boon for managing your business activities smoothly.
CRM stands for Customer Relationship Management. It is an online software which helps you to track sales activities. In a click one can make detailed customer profile. It helps companies to manage customer relationship process. When a company knows more about its customers then they can better manage their relationships. It is easy for sales people to compile the reports. One can easily track all the customer interactions. It helps businesses to manage customer relationships in an organized way.
Read our blog – Choose a Perfect Cloud CRM For Your Growing Business
Why does Customer Relationship Management matter?
If your business is going to last, you should know that you need the right strategy to run your business very successfully. You would already have so many targets which are related to sales, business objectives, and also profitability. But getting up-to-date very authentic information on the progress towards your goals is very much tricky.
Using a cloud-based CRM system can give you a very clear overview of all of your customers. You can see everything in one place which is a simple, customizable dashboard that will tell you the previous history of the customers with you, any issues with the outstanding customers, order status of the present customers, and still more.
You can also include all the information of the customers about their activity on social media such as their likes and Unlikes, also about what they say and share about your products and services on social media. Marketers will use CRM software for a better understanding of the sales pipeline and making the sales forecasting simpler and more accurate. CRM will help to have clear visibility of all the leads, which will show you a clear path from starting inquiries to sales. CRM is a platform that will enable the business to manage all the sales and inquiries without losing track.
Benefits Of Using An Online CRM Software
Streamline major areas of customer interactions
Tracks daily activity and tasks
Sales rep's performance management
Keep track of leads, opportunities and sales orders
Real time visibility with dashboards and analytics
Centralized database
Streamline sales and marketing process
Streamlines reports
Accounts management
Provides security and privacy
Read our blog- CRM System Software: Just not for sales
Get Centralized Database With An Online CRM Software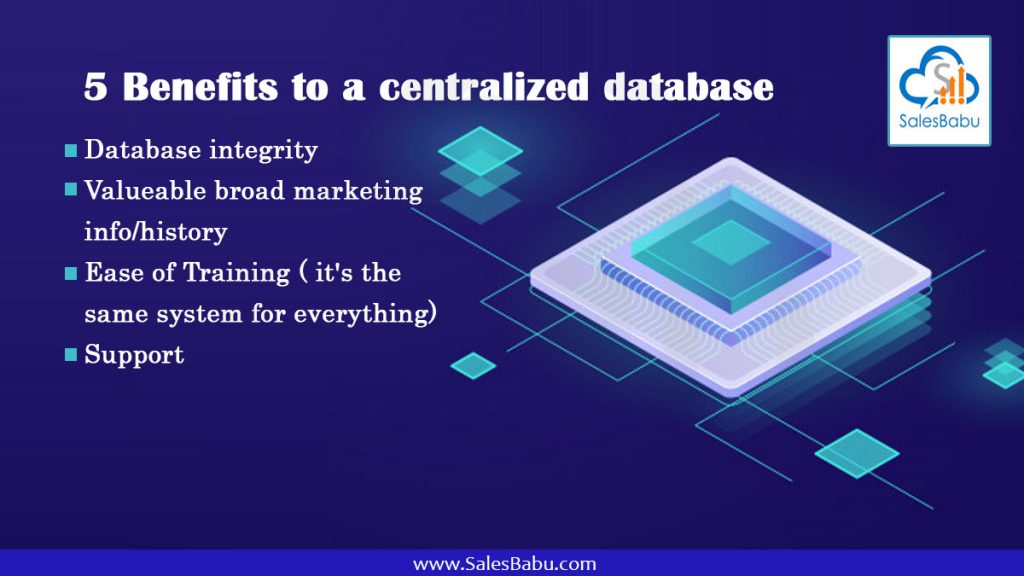 From sales, customer service to management all use one centralized CRM Solution.
Employees can access information from anywhere, anytime. All the departments can work together effectively.
It automates the process of the company and increase customer loyalty and revenue.
It is easy to get a 360 degree view of your customer's information like appointments, notes, tasks, sales opportunities, orders and complaints.
It provides instant updates even if you are not present at the workplace. Thus, you will not miss on any updates.
The availability of customer database also helps during decision making, research and future references.
Read our blog – The What, the Why And How Of 360 Degree Customer View


Enables Your Workforce To Work More Efficiently
Your workforce will never miss any opportunity by using an online CRM software.
You are able to get an overview of the sales process without any great efforts. It ensures that every employee has updated information about customer profiles, follow-ups and appointments.
Your team can provide better services to the customers as you will be able to understand the customer behavior and needs.
It reduces the time spent by sales reps in data entry.
Improves up-selling and cross-selling.
Decreases manual errors.
The availability of CRM app that can be installed in smartphones, can make it easy for the field workers to keep their managers or supervisors updated.
Read our blog –Sales Motivation tips: How to improve Employee Productivity
CRM System Is Not Only Technology, It Is A Business Strategy
CRM software records and maintain all the details of your business process.
One can easily map and monitor sales activities. It removes the time spent on unnecessary admin tasks.
It provides up-to-date and easy access to any information.
It improves response time to the customers and prospects.
It helps businesses to close deals faster.
Online CRM software helps to develop better communication between the departments of the organisation.
Online CRM ensures higher customer retention and makes it easy to identify potential clients.


How online CRM software is helpful for the Organizations?
The Cloud Based CRM Software Is A Time Saving Business Strategy
CRM reduces the paperwork.
Company can better analyze sales and marketing trends, that helps in prioritizing workforce.
Provides automated MIS and reports.
Provides other easy and quick to use features like call logs, reminders, appointments and follow-up alerts etc.
SalesBabu CRM believes that "Never compromise on quality – Satisfy your Customers with our smart solutions". If you are looking for a cost effective way to grow your business, then contact the best CRM software for a free CRM demo at https://www.salesbabu.com/.