In a world of smartphones and gadgets, moving your business to a digital mode is the need of the hour. Customers are getting smarter, and to retain them, you need to switch to a smarter solution too.
We should change our strategies from being reactive to becoming proactive, finding solutions to issues before they become a bottleneck in the key to a successful business.
In today's world, every incoming customer has its preferred mode of communication, to support and keep them satisfied we need an integrated solution which can seamlessly give a common platform to support every customer's need.
What is a CRM software?
A CRM (Customer Relationship Management software), provides a cloud based integrated solution for all sales management and after-sales support to your business. It not only takes care of your customer management, but support you in every phase of converting a prospective lead to a sale. Also providing various inventory, help desk services and other after sales support.
A trusted CRM like SalesBabu CRM provides an end-to-end support system in digitalization of your business and reducing the overall business cost.
Benefits of using a CRM software?
Following are some of the advantages of switching to a good CRM software.
Being a good CRM software and helping in overall cost reduction are two different criterias. The best CRM software in the market will not only organise your day-to-day work but also help in different ways which can reduce your business cost.
Let's understand further on how a CRM software can reduce our business cost:-
1. Organized System
If you have a business model which manually track their customers and organise its data through excel sheets and manual ways, then it's time to look outside the window. These traditional ways of lead management are not only inefficient and time consuming, but also increase your business cost due to repetition and duplicacy of daily work.
With a cloud based CRM software, we can organise our daily jobs and create a systematic system to track and manage our data through a centralised database.
An organized business is always in a better position to serve his or her customers. With CRM lead management system, we can organizes our leads by streamlining all our customer data and information, which helps you track and manage your leads efficiently, and proactively.
In today's competitive environment, being ahead of your competitors is very important. With an effective task management system, a CRM software creates an automated follow-up activities for all your current and upcoming interactions with the customer. This helps in reaching out to your prospect customers on time, and serving your current customers proactively with complete details on the customer information.
A good CRM software also helps in providing integration facilities with many email servers, SMS service vendors, social media websites and more, which helps in automating our customer interactions through these integrated softwares and provide a better and faster response time.
An organised organisation will be able to serve its customers timely, quickly, and efficiently. No wonder that a CRM software will increase your organization's revenue, and it also leaves you with a lot of time, which you can utilize in a more appropriate and productive manner. The more judiciously you use your time, the more you reduce your organization's investment cost.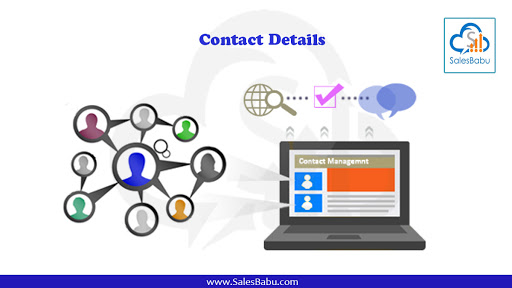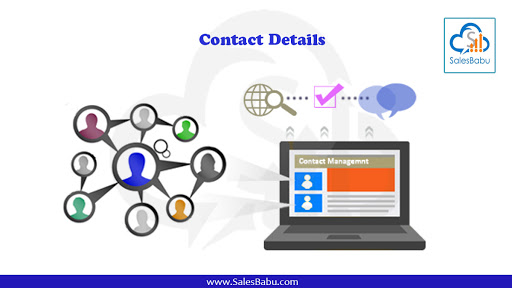 We cannot serve our customers efficiently if we don't know them or relate to their issues. Many surveys suggest that the major issue with the sales and marketing team is faced due to improper and incomplete knowledge about customer details. If the sales and marketing teams are unaware of the prospective client details, they make generic campaigns which might need a rework to make it more customer centric or we may completely lose the deal altogether.
With a good CRM software, every minute to an important detail of a client is stored in a cloud based centralised database, which is shared across the teams for a 360 degree view on customer preferences for every stakeholder of a lead management team. This helps in organising your customer upcoming events like meeting, birthday's, agreement renewal deadlines and more. These systematic methods considerably reduce the overall business cost by avoiding many repetitive and unproductive work items.
Duplicate contact records are an enticing target for fraud and overall performance problems. A benefit of CRM is deduping of lead and customer records through complete transparency in identifying and displaying the customer records in a centralised database.
3. Reduce Paper Waste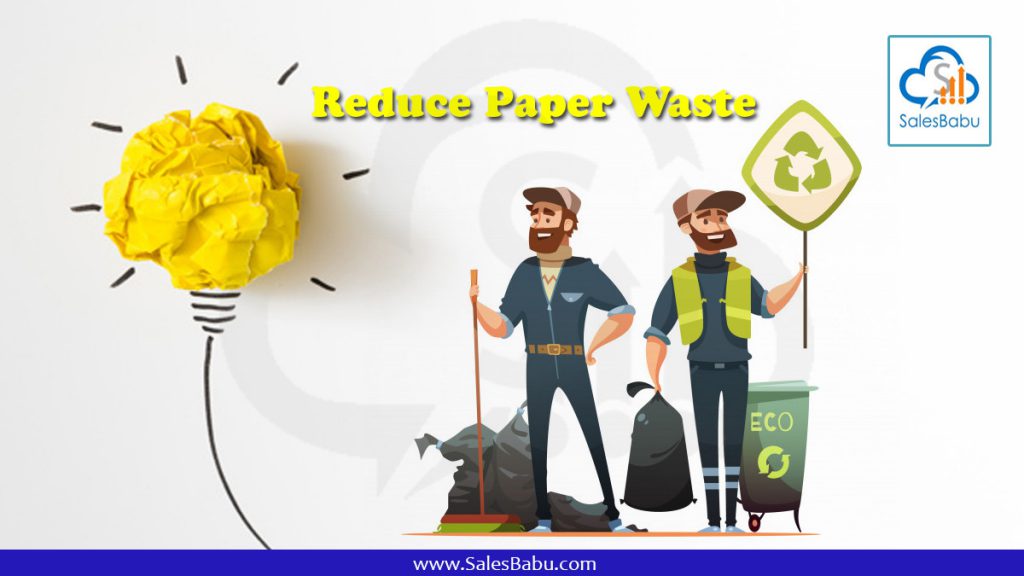 Being paper free is the buzzword in today's world to go green policies. A good cloud CRM software keeps every minute to important details, just a click away. Every customer contact info, sales figures, documents and more are stored in all in one, easy-to-access centralised location, which can be accessed via the internet at all time from anywhere around the world. CRM sales tracking apps and versatile compatibility features makes it accessible through smartphone, laptops and gadgets at all time, with no need of printing unnecessary paper for the information which can be seen at realtime without any need of paper and pen.
Limiting your paper waste considerably reduce the overall cost of business and also helps in saving the environment.
4. Easy sharing
In traditional business models, sharing manual messages and documents creates an inefficient way of data sharing and increase the probability of losing contact information and lead to information leakages.
A Cloud based CRM software is designed to have a centralised database which can be shared and accessed by every stakeholder in the team. Based on proper access permission and security level, every team member can access the relevant information that they need.
Different email server, social media and other third party softwares can be integrated with CRM software. These help in seamless sharing of documents, emails and more. Also, each shared item is traceable so that we can ensure the information has reached the intended recipient.
5. Better planning
A good online CRM software helps organisations to integrate multiple and fragmented functions into a single powerful system- ranging across sales, customer service, marketing, business units etc. No more need of window-shopping to get information on any data, as a 360 degree view of every information is available at your fingertips. This will significantly improve the efficiency of customer facing teams and save time to provide effective customer experience.
With Live location updates and better Sales tracking apps, every sales representative can plan and organize its daily work well in advance and provide more productive customer services. Sales Manager can organise his team's work in a more productive manner by reducing reworks and better tracking of sales representatives.
Also, cloud CRM software like SaleBabu CRM provides various inbuilt and customized report system which can create statistical metrics on various inhouse business process. A lot of business decisions and futuristic plans can be proactively fabricated to increase the overall productivity of the organisation.
6. Electronic Templates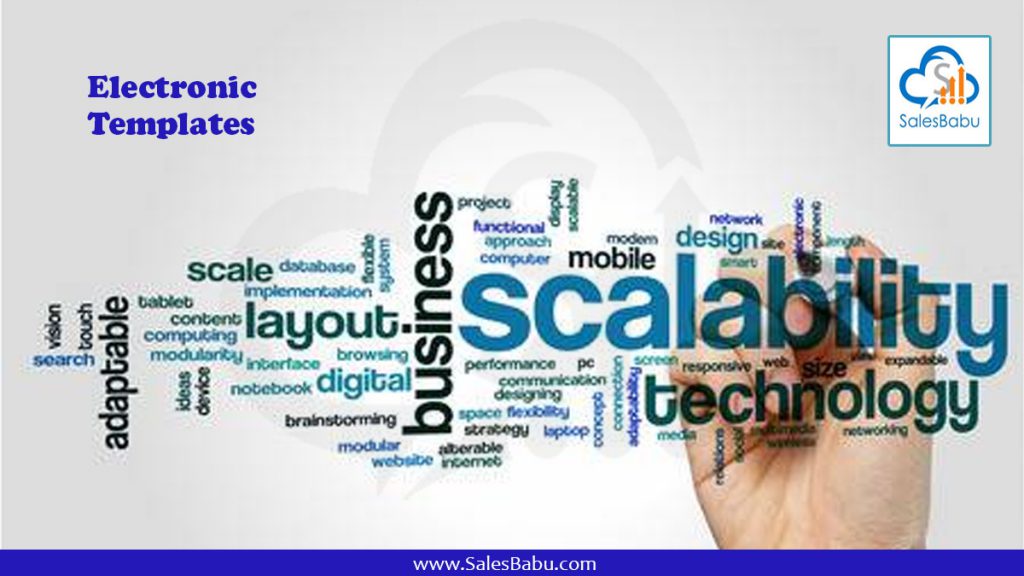 Templates are pre-formatted document which can be reused for our regular repetitive work items. Having templates in place will save you tons of time and money – rather than recreating them each time.
CRM software allows you to store a library of electronic templates in form of Email, SMS and other business document formats which can be reused over and over, allowing your employees to focus on more important tasks.
Sales and marketing teams can just fill additional details and reuse the predefined template every time quotation or sales order is sent to the customers. This considerably reduces the rework time for the team and they can spend more effective time for resolving quality customer issues.
7. Scalability
Cloud based CRM softwares have every details stored and maintained in a cloud environment. End users need not worry about any underlying software and hardware requirements. This makes CRM softwares scalable and easily expandable along with your business.A business can thus increase its potential with minimal costs This is very useful for small ventures and startup firms which need to be very scalable and flexible as per their incoming customer rate.
8. Customer service
With smart processes and real time information details, CRM softwares can help in reducing rework and faster sales closure. This helps in delivering high customer satisfaction levels for an existing customer. With efficient customer experience, we can expect high volume of referrals and word-of-mouth advocacy leading to an exponential growth in new acquisitions and lead conversions. Also with the help of a good CRM software , you can formulate targeted campaigns for your audiences, which can generate good quality leads. Furthermore, this ensures that the investment cost for a customer centric lead tracking doesn't dig a deep hole in your pocket.
Many surveys suggest that a business can make a profit by just retaining their loyal and old customer. Just 5% of customer retention can increase a company's profitability by 95%. Also, it is 6-7 times more expensive to acquire a new customer than it is to retain an existing one. Hence by providing systematic and efficient customer experience you not only increase the incoming client rate but also reduce the overall business cost by retaining the old ones.
Conclusion
As we understand there are numerous ways to reduce the overall cost of the business, but a strategic way to do that without compromising the quality of products and services is the real deal to make your business a successful one.